You may have started your web design career working with a design team, only to step out on your own as a freelancer. Or, you might have started working as a freelancer to begin with.
At some point, you've likely discovered that, while a freelance web design career is great, there is something lacking. To advance, you need to take on some extra work and personal responsibilities; you need to become an entrepreneur.
Becoming an entrepreneur involves more than working from home, avoiding commutes, and having no need for meetings. As an entrepreneur, you will be marketing your skills and yourself. You will be working as a business.
What do you need to do to make this transition? Perhaps the best way, is to apply the value for money principle in everything you do.
Consider your work costs. If you're using Be's pre-built WordPress websites; you are already saving precious time. You are meeting and beating deadlines, while producing high quality websites. Analyze the time you spend working with Be. Including the good support this theme provides, and you'll realize you've made a wise business investment.
Successful entrepreneurs are always keeping an eye out for new business. Make this an important part of your business plan. Work at it proactively by seeking out testimonials and client referrals.
Constantly work on improving your skills and work standards. More important, work to a single goal– improving your service.
Passion may have led you to become a freelancer; now it's time for some business thinking.
This is why focusing on "value for money" is not only important; it is essential. As a freelancer, you've developed some outstanding resources, but now you want to spend the ones you use with care. Now, it's time identify the value vs. the resources spent in every one of your work processes.
That will take you further. You will also be in a much better position to show your client's why your effort was well worth their money.
As you are learning to use your resources wisely and efficiently, you'll discover how much easier it is to go that extra mile for a client. You'll find that under-promising and over delivering, delivering your work before the deadline, and giving discounts or recurring client, are not burdens.
Let's Look at the Value of Your Tools
Let's examine your WordPress theme of choice to see if it is contributing to your providing value for money for your clients, and if so, how.
Ask yourself this:
– Am I spending way too much time on technical issues involved with installing and customizing the theme? Or, is it a smooth, straightforward task?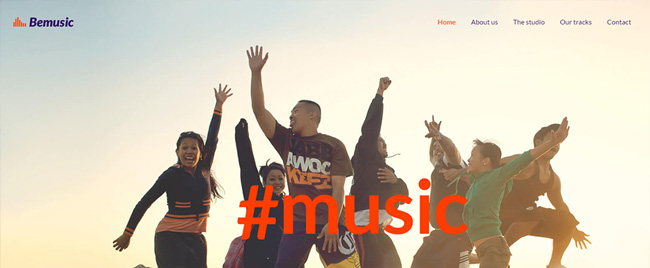 – This WordPress prebuilt website, destined to a younger audience, can be customized in no time.
– What specific features does this tool have that helps me most in my work?
– When using this tool, am I spending my time, effort, creativity, and technical skills effectively?
BeTheme has recently become one of the most popular themes on the market. Be is extremely easy to use, it places 220+ WordPress pre-built websites at your disposal, it requires zero coding skills, and it offers tremendous value for your money.
This eBook pre-built website a can quickly and easily be customized to create a presentation website for any e-book category.
Be is a picture-perfect example of a product that provides value for money:
– It saves you valuable time. Its pre-built websites have quality design embedded in them. Pick one that best suits your client's industry; and then it's simply a matter of going where your vision takes you.
– You can dispense with wireframes and mockup. This saves you time, plus your clients will find editable layouts easier to understand and work with; and they'll love you for it.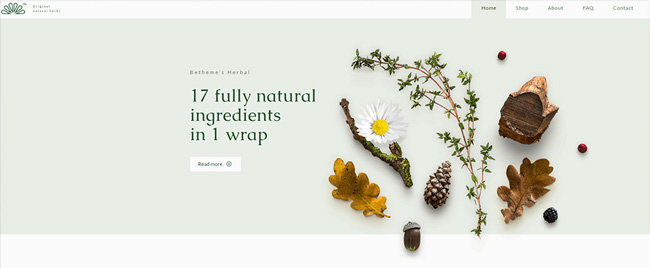 A recent pre-built website; a minimalist herbal shop.
– There's an abundance of WordPress pre-built categories to choose from; ranging from business and entertainment, to one page and creative, and from lifestyle and sports, to food and beauty, and everything in between. Each is easily customizable. You can add your client's brand and content in no time.
What do other web designers say about Be's WordPress pre-built websites?
"Best multi-site theme I've ever seen, you can create a whole network within one WordPress theme, multi-layouts and page styles make this theme perfect for websites with more than one theme eg: media/ professional/ person all-in-one." – Nezzmedia
"I love this theme; it has made my life so much easier and the fact that they keep releasing more and more demo's just makes it better and better. A customer asks for a website, I pick the demo that looks the best for the industry in question, import data, add some new images and it looks like a completely custom site made for my client. Thank you, keep up the great work and keep the full demo's coming!" – mlidgett
"One of the most robust and amazing themes I've ever worked with. I could use this for almost any client with the endless possibilities!" – ncfan2030
Can You Honestly Say Your Finished Projects Offer Value for Money?
You will never be able to answer this question in the affirmative unless (1) you have excellent communications with your clients, and (2) you understand their work needs.
Ask yourself, and if need be, your clients, these questions:
– Are they pleased with the solutions you provide to their briefs?
– Are they particularly pleased and surprised because you can sometimes offer innovative solutions to their problems?
– Do you client's rate your work as (1) good enough, (2) quite good, or (3) "the best I've seen."?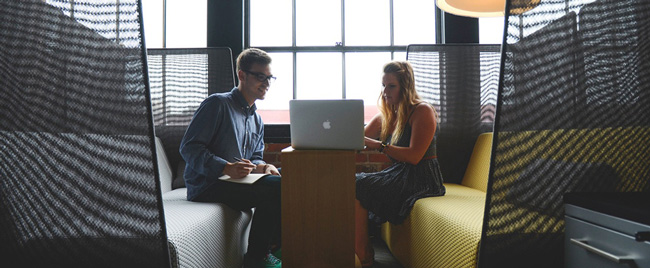 Delivering excellent projects for clients demands skill, experience, and good communication.
– Are previous clients asking you for more work? Are they referring others to you? In e-commerce, a returning client often means that business is good, and that client is looking to you to make it even better. Why? Because they see you as a freelanced who knows how to provide value for money.
– Your willingness and flexibility to modify layouts if necessary is another test of the way you work, and one that sends a positive message to your clients. Or, looking at it from another perspective, does your work convince clients that you fully understand their specifications from the very beginning?
If, after making this brief analysis, you should be able to tell if everything is as it should be, or if you have identified some points that suggest otherwise, and you see a need to start improving.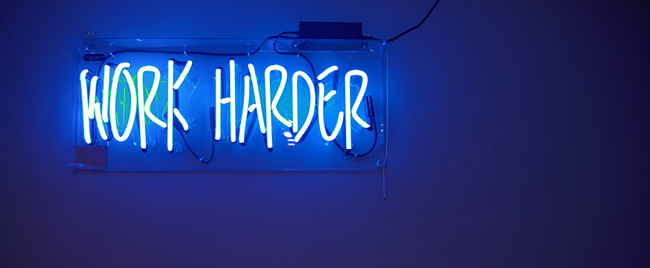 There are times freelancers need to work harder; but usually it's simply a need to work smarter.
Having identified the areas in which you see a need for improvement; set a specific purpose. If you see a need to improve how you communicate with your clients, research the areas where you feel you could use some help, learn new rules, or simply listen more closely to what your clients want. Some new work procedures may be called for — keeping value for money in mind here.
If you want to give your clients value for money, are you working on creating value for yourself?
This is a complex question, but you are the only one who has the answer, and it's not that complex at all. If you strive to produce more value for money for yourself, your clients will eventually reap the benefits.
Startups invest some of their money in areas ranging from employee pay, to the monthly power and Internet bills. They expect these investments to provide value in excess of their costs. As a freelancer, your investments are the time and effort involved in your work. You need to see that these investments are paying off, or if you need to improve certain skills and techniques. A profitable month is a sign that you've created some value.
It's not only about money in your profit, value you've created can be reflected in your lifestyle, and your happiness.
It's the way you enjoy it that defines a beautiful experience.
It's important to take note of how and where you improve on a personal level, and what the gains have been. This is true in other aspects of your life as well, not just in your transformation from freelancer to entrepreneur.
You have many talents and resources that provide more value than their financial costs. Explore in detail, and in various settings, what value for money means to you. Learn from it, and you'll eventually become more confident and relaxed as you pursue your freelancing profession.
Take-away Ideas
Make it a habit to used value for money as a conceptual criterion.
-Using good products to produce your designs, may not be enough. Those products must be more than good. 
Be Theme, and its 220+ pre-built websites, and easy to use features, is a clear winner. It will provide you with value for money that carries over to your clients.
– Apply your skills when using these pre-built websites, and it will tell a tale. One your clients can not help appreciating.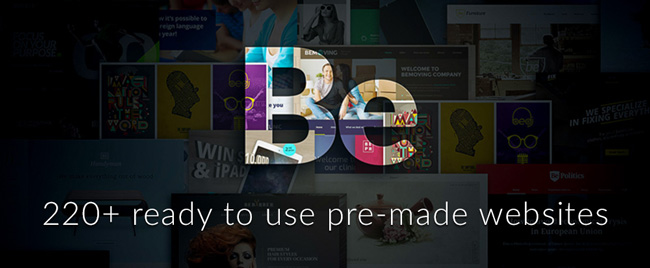 Be Theme – 48,000 designers around the world love it!
– Your goal? To provide real value to your clients.
– Work at making the way your work reflects on your income, your lifestyle, and your dealings with others.
– All this is doable, and with Be, likely so.