Social media is such a powerful tool these days. People surf newsfeeds looking at pictures, news and
the most interactive of all videos.
With users spending countless hours on social media websites and apps like Facebook, Twitter, Instagram and Snapchat, they form a big online market. Even though it seems possible to capture all the benefits of social media through themselves solely at first,positioning your brand to take advantage of this audience is a powerful tool to growing your business.
Imagine the following. One day someone hears about your business. Then he searches for you online. And what does he find? Nothing? Just a Facebook page? That does not give much credibility, does it? Of course you don't want your business to be on that page. And even if you already have a website associated with your social media pages, here are some tips to improve even more your brand awareness.
Go after your perfect customer
You need to know who your perfect customer is, identify his patterns and preferences to put yourself
in the perfect place to captivate him. The way marketers refer to this is having a persona. They are
literally the personification of the habits of your perfect customers. You want to go after as many of people as possible that f it into your persona's traits.
Write a blog
This is an awesome way to engage people and increase organic growth of your audience. Writing a blog allows you to establish a direct connection with your most engaged users and to bring in a whole number of new visitors to your website and social media pages. Your most engaged users will love the fact that you have a blog and will read it every time they have the chance. And you will benefit from the entire internet to get new audience. When you have a blog and write original content, Google and the other search engines index your blog posts to their databases. This way you can be found through any search engine when people search for content related to your blog. It is a great way of associating your social media posts to your website and benefiting from SEO at the same time!
Have eyecatching design
A layout that instantly takes the visitor's eyes into your website and leads them through your content can be the key to making they stay on your website and actually browsing through the entire thing. Your good looking design will be indispensible to captivating the visitors and paving the way to turning them into customers. To get a nice looking website, you need to balance your colors and keep the design simple. A fine color balance will guarantee that pleasant sparkle. And keeping the design simple makes sure the user doesn't get tired of your website because there is too much to look at.
You want to have everything as clear as possible and yet beautifully organized to amaze your visitors.
Promote your products
It will not matter if your especial product is a revolutionary spacesuit that can take humans to the sun
if you do not know how to promote your product. After you have all the functionality and production aspects taken care of, you need to get into taking some good pictures of your product. This will allow
you to take advantage of all kinds of marketing through banners, flyers, social media pages and many more. Remember to have a store on your website and promote your products there as well. This is a
very powerful tool and there are thousands of businesses making millions selling their products
online.
THE OPPORTUNITY – SITE123
If you are able to excel in the aspects mentioned above, you will certainly captivate your visitors, communicate with them better, present your products in a more pleasant way and hopefully increase your engagement and sales. It can sound a little too much to handle at first but it will get easier as it goes. Before you start getting overwhelmed by just thinking about how to get it done, know that we have brought you a good opportunity. So let's get started.
STEP 1– HOW TO MAKE A WEBSITE
Go to SITE123.com and sign up by clicking on "START HERE". You can register with your Facebook or Google account or by entering your name, email and password.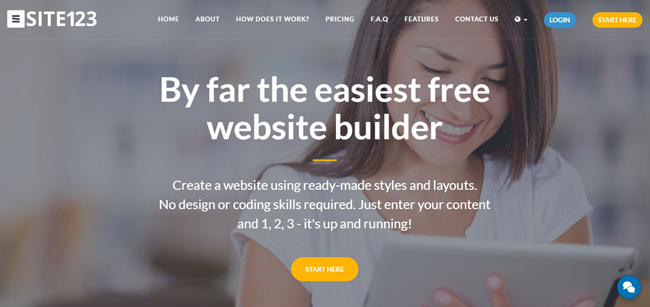 STEP 2 – CHOOSE CATEGORY
Now you need to choose the category of your business website. There are various categories to choose from. Make sure you select the one the suits your business best. The system automatically mounts your website so this will facilitate in putting your website together.

STEP 3 – ENTER YOUR INFORMATION
After you choose your category, you will need to quickly enter some information that will go onto your website and will also be used for registration purposes.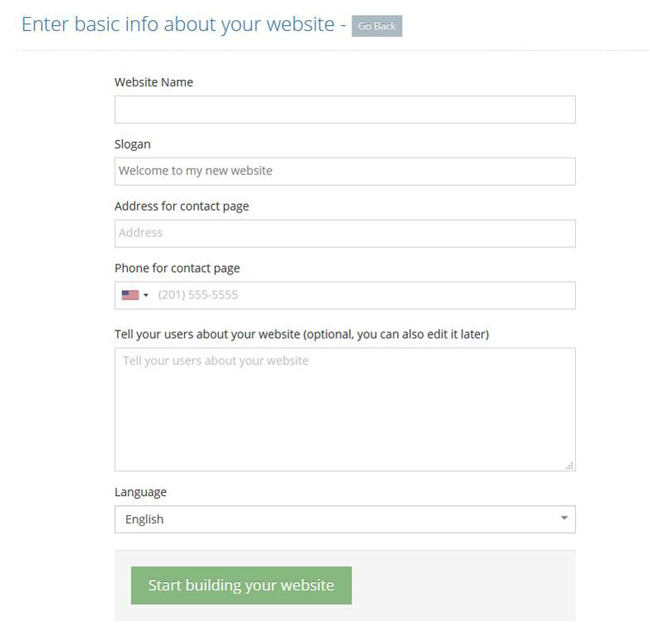 STEP 4 – ADJUST YOUR DESIGN AND UPLOAD YOUR CONTENT
After you pick your category and insert your business information, the system takes you straight to the website builder. This is where you will edit your website. The platform is very easy to use and you will be able to figure out your way effortlessly.
All you need to do here is adjust your design and upload your content. As soon as you add your pictures, the website will pretty much look like it's ready. Remember: if you have any questions, the SITE123 team is always there on the chat to give you a hand!