Many of you asked for premium tools. We've delivered. After long hours of research we're happy to present to you this awesome showcase of premium tools that contains everything you need in your projects. These are the tools that you should know about and after you try them, you'll ask yourself, why didn't I use them since day one? Enjoy and share your opinions!
Browserling.com

We begin our showcase with Browserling – world's first and oldest online cross-browser testing service built entirely in JavaScript and HTML5. Before Browserling people used screenshots, Flash and Java applets to do cross-browser testing online but Browserling was a real game changer. To put it simply, Browserling is a cloud-based web testing tool that lets you interactively test your websites in all the browsers without installing anything. Every web browser is a little bit different and Browserling lets you quickly go through all of them to find bugs.
It currently offers access to the five main browsers (IE, Firefox, Chrome, Safari, Opera) on Windows and Android, with OSX, iOS and Linux coming soon. You can try it for free now by going to www.browserling.com. You get a free 3-minute session testing right away or if you get the premium developer plan you get unlimited sessions, access to all browsers, features, OS platforms and premium support.
With a recent rebranding and a new interface, Browserling also brings a ton of new features. You can capture screenshots, report and track bugs on your website with Bug Hunter, bookmark browsers for quick access, do responsive testing, and local testing through SSH tunnels.
With more than ten thousand clients, they've proven to be a great service. Their biggest customers include NHS, UK's National Health Service, PBWorks, Blekko/IBM, and Coderwall. You should consider Browserling for your next web project. Give it a try!

Lucky Orange is an exceptional analytics platform that offers heatmaps and shows you how people actually use your website, so that you can turn more visitors into costumers. Even if it is used on over 50000 sites, the Starter Pack is still $10/month! So, what can it give you?
Thanks to a realtime dashboard, you can see exactly how many users are on your site right now and how they found you. Moreover, it also gives you the chance to play back everything a visitor did and it automatically creates recordings of every person on your website. Also, you can easily discover where your visitors abandon your site, thanks to the conversion funnels, which show you the exact moment they are getting frustrated or confused. At least but not least, we would like to mention their amazing polling system, that is fully customizable, can have multiple questions, redirect to URLs, and can be triggered at just the right moment, to get the needed feedback from your customers! With Lucky Orange, it's like you are reading your customers' minds! Go on and give it a try. 🙂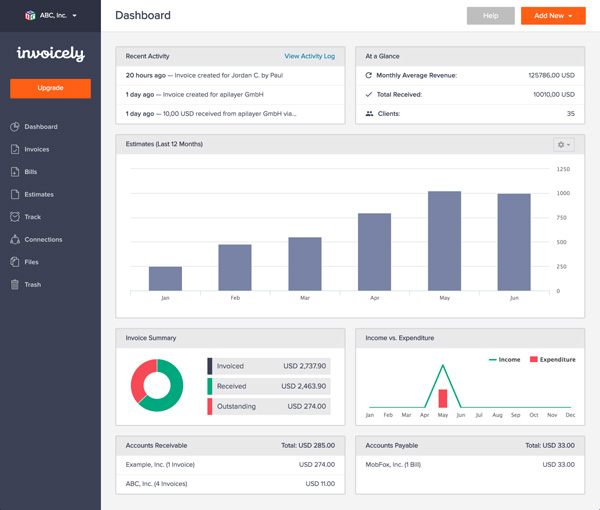 Whether you are a web designer, a freelancer or you are running a small business and you got enough of the time and effort spent in sending invoices to your clients, Invoicely is a free and simple solution for you, that will make your life so much easier!
It comes with many great features that will help in creating beautiful and useful invoices, such as the possibility of sending elegant estimates and invoices in any language or any currency very easily to your clients. You can customize them to represent your business as much as possible and you can send unlimited invoices for free, regarding your account level. Furthermore, you can track your time, expenses and mileage, turning them into invoices and bills at the click of a button and ensure you are fairly compensated for the work your business does, and also for the expenses you make for your business, such as buying drinks for your favourite client or staying at a hotel. Lastly, you can even manage multiple businesses, each coming with individual team, settings and clients, that you can manage from anywhere. Go check them out!

Are you looking for a revolutionary way to pay your bills online? You are a businessman and you want an easy app to do that for you? Stop searching! The answer is right here: InvoiceOcean. Created in 2014, InvoiceOcean is an easy app with invoicing solutions for small and big businesses, with a plethora of features that will help to manage all their business finances in one place .InvoiceOcean also runs a warehouse management system. It gives you the ability to manage one or more storage and to give different product prices for each product. Still not sure if you should use this app? No problem, you have the possibility to create a test account or use it with no cost with Free plan..

Are you looking for a program to code your sketch design? Then Xfive is exactly what you need. The conversion of your design will look just like the sketch thanks to the high quality resolution of this program. Not mentioning that your site will load much faster because Xfive is using modern technologies, such as SVGs which helps reducing the number of HTTp request. Take a look!

uKit provides all you need to build a successful website for your business or create an online professional portfolio. It's available to anyone regardless of the skills: the drag&drop interface is intuitive and doesn't require any coding. Professional-looking designs are mobile friendly and business oriented, featuring industry-specific images and widgets. uKit offers such tools as connection of a custom domain, MailChimp, Google Analytics, popular social widgets, contact forms, galleries, and much more.
Having been in the market for slightly over a year, the platform is already recognized as one of the best by mmthomasblog.com and other popular services.

Mobirise is a drag-and-drop website builder, which is a perfect choice for users, who are going to create web-based projects of diverse complexity levels. The tool is a nice choice for building small and medium sites, promo projects, landing pages, portfolios and other types of websites. It has everything you need to build a responsive user-friendly website from scratch. The availability of options and features, like pre-designed website blocks, integrated social network buttons, versatile Google fonts, background videos, Google maps, image slider and other options helps boost your website ranking in the search engine. These are only a few features that make Mobirise your number one solution!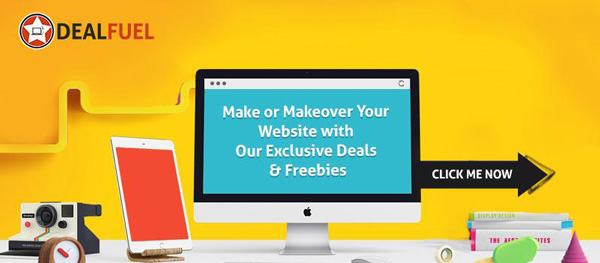 DealFuel is not only a community of web designers and developers, but it is also an amazing platform that gives you the best web designer deals right from the creators! It has a lot of great resources, from designer freebies like eBooks and eCourses, to web design tools like themes and plugins and even graphic resources like fonts, icons, actions, stock photos, backgrounds, and buttons. Thanks to all their freebies, you can you can actually get your site up and running for free! That's awesome, isn't it?

Photowhoa's products include a mix of software, tutorials and other informational tools for photographers, regardless of the genre of photography (you can find products for glamour, weddings, portraits, fine art, landscape or even food photography). Curated with love, all the resources are aimed at improving your photography skills! You can find products from the likes of Lindsay Adler, Trey Ratcliff, Michael Zelbel, Ana Brandt and more.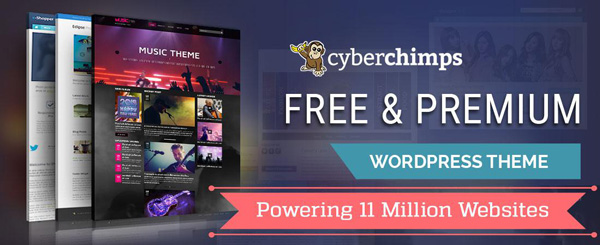 Building a website has never been easier, now that you have CyberChimps! It is a service that offers you free & premium WordPress themes that are truly Responsive and SEO-Optimized. All CyberChimps' themes are easily customizable and trusted by millions of people. CyberChimps' primary objective is to provide customer satisfaction, and that can make you one of their next happy user!

A small business needs a cheap, but memorable logo and Logo123 is the place you should head for one. You ask for one at a prise of $5 and receive your concepts in 60 minutes, then you choose your favourite one and receive the complete design files for only $49. Fast, reliable and professional, Logo123 is definitely a place you should check before creating your own logo.

LogoDesignContest.us creates online design contests that last whatever you like in which more talented designers build your social brand identity with their skill set. You can set any contest prize over $99 and you only pay upfront a fee of $29. You have the ability to provide feedback so you'll end up with just you want.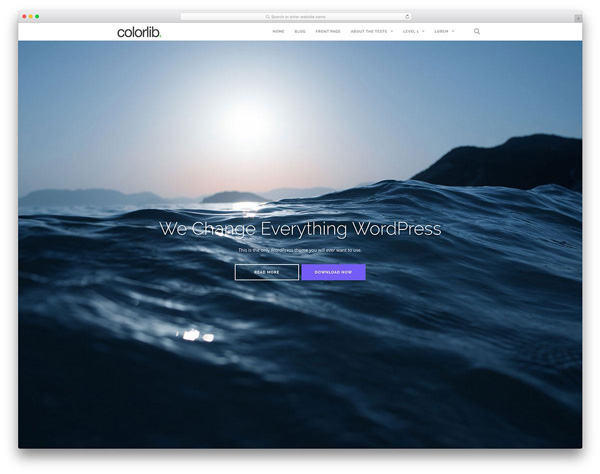 Why should you start using COLORLIB as soon as possible? It provides you with highly customizable functionality and design, making it possible for you to create the website you've always dreamed of. By using COLORLIB, you have access to a large number of Theme Options in order to make it look the way it suits you best. It's extremely easy to use, so you don't have to worry about using codes to create a website.

For those looking for a professional website builder, MotoCMS will definitely be the best solution. The tool comes with a variety of pre-designed website templates, which allow the non-techies choose those that come up to their web design needs.
What's more, the site builder offers content management options, thus making the process of designing a website easy and exciting. No special coding skills and knowledge are required to manage the content. You just have to learn the basics of using the in-built admin panel of the site to make the improvements any time you need without any extra help!

Typeform is a powerful, intuitive tool for creating online forms. Perfect for 360 degree feedback, Typeform's free account provides access to unlimited basic typeforms and responses, while the $30 Pro account lets users take full control of the form-building process. Using drag-and-drop tools, special fields, and a beautiful user interface, clients from Facebook to Adobe are already reinventing the way they interact with customers. Try it out!
These tools are really useful and it will help you in your projects. Behind every single one, there are wonderful teams that invest passion and knowledge and all of this can be seen in the awesome features.