Sometimes, your client wants the projects done promptly and this pressure may result in websites that aren't really design award material. You naturally want to take pride in your work, but it can be difficult to do so when you are unable to create an awesome website because of limitations in the tools you are using.
Most WP themes have their limitations, and these can prevent you from building the high-quality websites your clients want. Most WP themes are seldom flexible enough to make that happen.
Uncode, on the other hand, is well known for its exceptional flexibility. It enables you to build websites you can genuinely take pride in.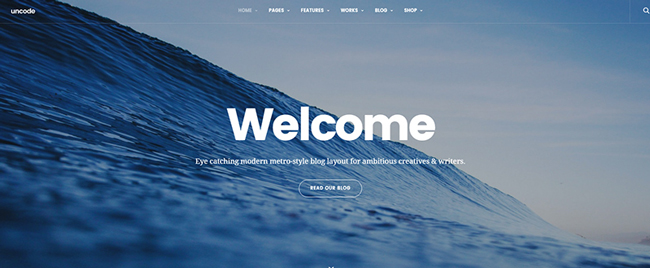 Uncode's blog metro visual concept
Over 100 Options in the Posts Module – With No Resets
Uncode's hierarchical options system is one of the reasons why this WP theme is so extremely flexible. This is where Uncode differs from its competitors. Its options system enables you to drill down to the most intricate of details without coding and without having to deal with design restrictions that are all too often present in other WP themes.
In theory, if you have enough themes to choose from, you should be able to find one that's closest enough to the theme of your website; and if you look long enough, you might even find an exact match.
Searching for a close match can take time, and it's time wasted if there's no reason to do so; if the WP theme you choose can always give you exactly what you want, there's definitely no reason to waste your time. Flexibility rules!
Once you switch to Uncode, you'll find you have the ability to work right down to the pixel level. Having to be satisfied with "close enough" will become a fading memory. Uncode is like a personal trainer – you decide on your goals, and this WP theme will turn them into reality. It's your personal web developer!
The Creative Studio Concept
A Grid System Like You Won't Believe
If you have access to a template that allows you to create the precise layout you want, then there's no need for a grid system. But how often does that happen? You can, of course, edit most templates. You can also bend a straight steel rod to a desired shape if you have the right tool for the job. But, bending things to make them fit is seldom a good way to design anything.
Web designers prefer to spend their time and effort being creative, instead of having to spend their time trying to make things fit.
Uncode's Grid System takes care of the implementation part, and lets you handle the creative side of your design effort. It's a fluid, responsive system that allows you to scale and customize up to 12 columns in either a boxed or a full-width format.
This fluid, flexible, and responsive Advanced Grid System allows you to take your layouts to the new level.
Equal heights
Vertical alignment
Full-width row
Horizontal and vertical gap settings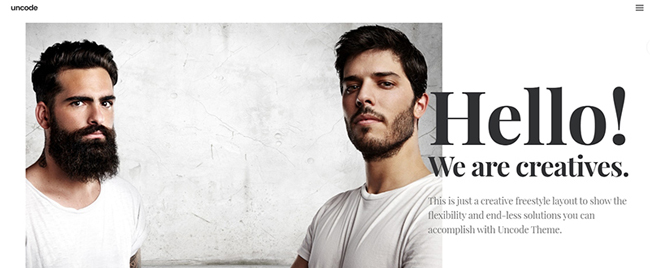 Uncode's creative concepts give you literally unlimited possibilities for original layouts
Give Life to Your Menus
Menus, while essential, are often treated like distant relatives as far as their appearance is concerned. The fact that most menus are actually somewhat boring-looking seems to be of little consequence. If you want to provide a truly awesome user experience however, let your menus have their place in the sun.
Uncode, with its 7 basic menu types and plenty of options, can make this happen. You have modern patterns, colors, and typographics to work with. If you need to make a change in a menu's appearance, whether it is on a page, or throughout the website, it takes just a click or two to get it done.
Look at it this way, when your website menus begin to make a statement, your reputation as a professional designer will suddenly become that much more solid.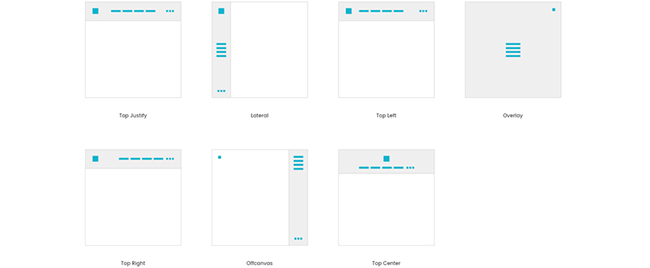 Uncode's seven menu options: top justify, lateral, top left, overlay, top right, off canvas, and top center
A Learning Curve to Fear? – Not Here
An abundance, or overabundance, of features can make a WP theme's learning curve a steep one. Uncode is different; while there is much to learn, it has fewer modules you need to become familiar with, plus you have Uncode's smart tutorials to guide you along the way.
Uncode admittedly has more than a few clever tricks to learn, but even a novice web designer with little to no previous experience with WP themes, can become a highly competent user in short order.
View the video below to get a sense of just how easy it is to use Uncode's many options.
What Uncode Users Are Saying
A sampling of typical user comments
"I own over 50 themes and have made countless WP websites. This theme is one of my favorites at the moment. It has clearly been made with a tremendous amount of attention to detail. It looks very modern and highly professional. We had a problem with the images not showing on the website and immediately 2 people from Undsgn were on it (even though it turned out the problem was with the server and not with the theme). Highly recommended."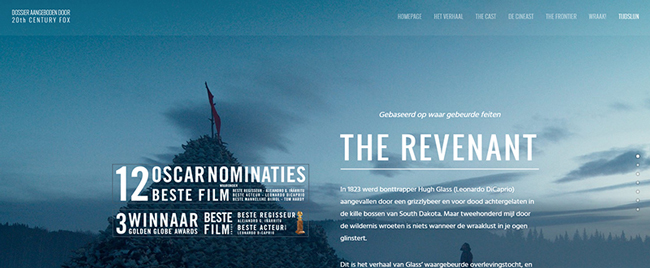 A beautiful website created with the flexible Uncode WordPress theme
"Just amazing. If you need something really flexible and custom this is the theme. I have lot of other featured and popular themes from ThemeForest (Jupiter, Salient, Bridge), but even if every single one of them is fast, beautiful and simple, this one has become my favorite one in the amount of options. It takes a while to set it up but I think after is done is the fastest one because you can set character and color styles and some other modules to uses with a lot of flexibility across all the website."
Another example: the website of a creative agency, built upon the Uncode theme
"I have purchased this theme because it is one of the most amazing themes I have seen and that I have worked with. The clean look and the choices of different layouts and design ideas was truly outstanding. The support was great and I look forward to working with these guys from here on out."
What you've just read with respect to Uncode's features is only an overview; we could stop right here. The key features, options, advanced grid system and its superior flexibility have been covered.
These key features alone are enough to account for the fact that 8 out of 10 users selected this theme because of its modern, innovative design. 7 out of 10 will tell you their choice was based on Uncode being different and better than other WP themes.
But besides these main features, there are a number of other reasons worth mentioning for choosing Uncode:
Fewer modules – More Flexibility
The many advantages of the Hierarchical Theme Options
The advanced Masonry Isotope and Carousel layout features
Centralized Colors and Typography
1-click demo
Built-in Headers
The convenience of Online Documentation
A photography portfolio; the design is based on an Uncode concept
It's worth repeating why you should consider Uncode. While there are multiple reasons, the most compelling one is its extreme flexibility, which is why Uncode stands head and shoulders above its competition.
Flexibility is what allows you to build one awesome website after another without having to wrestle with the limitations imposed by other themes or templates. You don't have to struggle to bend things to your will; Uncode does the bending for you.
All of this should be reason enough to convince you to purchase your copy today.