Web designers and developers have passion for the work, but not every project is a passion project. Many times, we are flattered that a client wants to hire us and fail to think through the details of a project before jumping in. Soon, we're doing twice as much work as there is time in the day and can't get completely immersed in any of it.
As passionate as you may be about your work, it's hard to pour your heart and soul into a project that you're not getting anything out of. Projects that aren't good fits for you or your team decrease morale, increase frustration, and lead to mediocre results.
With only 29 percent of employees in the U.S. reporting they are engaged in their work projects, joining that happy minority involves being more selective about which projects you take on.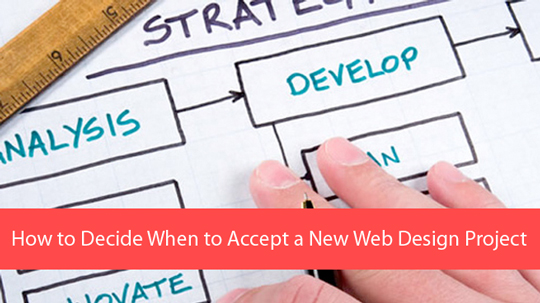 The Dangers of Indiscrimination
Without selecting projects carefully, your business risks losing its original focus when it's forced to work reactively instead of proactively. When you're working through the umpteenth iteration of a design concept, it helps to have a solid motivational factor to keep you going that extra mile to please your client.
Taking on a bad project — or a hard client — costs more in the long run, as you'll constantly have to hound the client for payment, prove your worth, and argue against incessant design changes. That's a sure path toward burnout for everyone on the team, and it can lead to a workload imbalance that could tank your whole company.
You'll also miss out on better opportunities, as every minute spent on a bad project is one you're not out looking for new projects. If a dream project manifests while your team is knee-deep in the complications of an aggravating one, you may not be able to accept it. And the consequent missing out and leaving money on the table is never a happy experience.
Before taking on that next web design project, consider three factors to determine whether it's a good fit.
1. What does it add to your portfolio? Some clients and projects look great on a résumé, and these projects are great additions to your work portfolio. For example, if you've never designed a mobile app before but get the opportunity, take it. This project may steer you to future mobile app projects and lead you down a path you've always wanted.
Building a strong portfolio helps smaller agencies grow larger by becoming more recognizable in specific areas of expertise. Because growth is a key indicator of business success, smaller agencies might focus on creating portfolios that attract larger clients.
2. Is the budget worthwhile? Coming up with ideas for web design projects is easy, but following through on them takes a lot of work. The project budget needs to be in line with the amount of effort required to complete it. There are no small projects, only small budgets.
Many projects won't necessarily bolster your portfolio — perhaps because of the nature of the work or nondisclosure and other confidentiality agreements — but if your team is offered a large sum for a project that you know you can knock out of the park, by all means, take it. A large budget can support a terrific team effort without having to cut corners to meet client demands, and it may be an opportunity to try new ideas that wouldn't fit into a budget-constrained project.
3. Does the project interest you? Sometimes a certain project or client is interesting enough that the budget and portfolio benefits don't matter as much. Some "fun" projects might allow your team to think about something from a unique perspective or to use a new technology that everyone's interested in learning more about.
This is especially true when working with nonprofit organizations. My team first started working with nonprofits and cultural institutions after we had an opportunity to work with a local museum. These organizations are often underfunded and have little or no budget, so taking on design projects for them may be labors of love, but the effort is often worth the experiential return.
Striking the Right Balance
Each of these three aspects should factor in your decision to accept or turn down a project, but how they're ranked and prioritized depends on your short- and long-term business goals. A successful studio knows how to balance projects on its docket to ensure a blend of these criteria. This allows it to balance challenges with results on the basis of the agency's focus, core values, and goals.
Teams with regular, stable workloads can afford to base their decisions more on their levels of interest than on budgetary concerns because money is already coming in. And smaller firms looking to grow might want to focus on building solid portfolios, even if the budget is smaller. Of course, sometimes acquiring liquid assets is the goal, which makes budget the most important factor.
Just as you would with other relationships, instead of falling in love with every client who requests your attention, be discriminating about which new projects you take on. Consider your portfolio, interest, and the project's budget before committing yourself to a new business relationship that may end up being more trouble than it is worth.
Ultimately, which projects your company takes on (and which ones it declines) determines the outside perception of your brand. One of our largest clients came from an opportunity we originally rejected because the project wasn't a good fit. They were impressed with our candor and focus and later came back with a project that was a terrific fit. We've been working together ever since. Sometimes saying no is the best possible business decision you can make, as it places value on the quality of work your team performs and on the end product.
Jaron Rubenstein is the founder and president of Rubenstein Technology Group. His experience, deep technical expertise, and passion for design empowers creative partners to identify opportunities, manage complex projects, and maintain the integrity of their work from concept through launch. Rubenstein Technology Group is the leading technology partner for top creative firms. Brands ranging from Bloomberg to Edgewell to Nizuc have benefited from his design-led engineering focus on empowering user experience.