Dedicated to offering Linux web hosting service since its establishment, Host28 is powering tens of thousands websites around the world. However, many people knowing little about this company are wondering whether it is reliable enough. To figure it out, we have reviewed this company from several aspects, including price, features and customer service.
Now, read the following parts to learn the details of Host28 hosting service and make clear whether it is worth going.
Host28 Hosting Price
Host28 has launched 3 Linux web hosting packages which are named after Basic, Advance and Business. Regularly, these 3 plans are respectively starting at $5.99/mo, $7.99/mo and $15.99/mo. However, people who making a subscription through now are able to get a huge discount and cut the price down to $2.49/mo.
No matter which package people choose from this company, they are allowed to pay for their plans via PayPal, so they can complete a payment easily and securely. Besides, if people feel unhappy with the solution they choose, they can terminate their accounts and ask for a refund within the first 30 days since their contracts were created. Therefore, webmasters hosting with this provider can enjoy a worry-free and risk-free purchase.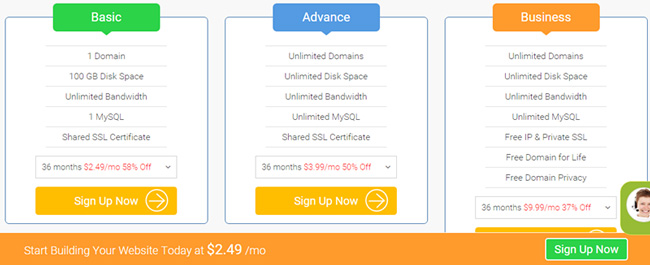 Host28 Hosting Features
Features are very important to guarantee hosted websites can run smoothly and stably. When it comes to features, there are some similarities as well as differences among the Host28 hosting solutions. Each of these plans comes with PHP 5.2/5.3/5.4/5.5, MySQL 5.5, Ruby on Rails, Perl 5.1, Python 3.2 and PostgreSQL 9.1, making them 100% compatible with the most popular applications used to create websites.
In addition, Host28 offers an easy-to-use cPanel control panel for all of their hosting users, with which webmasters can manage their sites, domains, emails, databases, applications, and FTP accounts effortlessly. There is a Softaculous 1-click installer included in the cPanel, so customers are able to install more than 310+ applications with just a few clicks. Besides, all the solutions are featured with SSH, SQLite 3.3, Git, Node.js and Cron Jobs.
What's more, Host28 utilizes a first-class Chicago data center which is equipped with quality Dell servers, UPS, diesel generators, N+1 power and BGP4 connections. Moreover, each server is featured with 32 GB+ RAM and RAID with SSD. Besides, this company also provides CloudFlare CDN service for free to enable visitors in 42 locations across the world to visit the hosted websites with faster loading speed.
Furthermore, technicians are monitoring the data center and servers 24 hours a day, and 7 days a week. Therefore, no matter when any issue happens, they can find and resolve it immediately to ensure the hosted websites run without any expected interruption. With the quality facilities and cutting-edge technologies, Host28 offers 99.9% uptime and fast speed.
However, there are also many differences among the Host28 hosting packages. People who choose the Basic plan are allowed to create 1 website and offered with 100 GB SSD space and 50 email accounts, but those who purchase Advance and Business are allowed to create unlimited websites on a single hosting account and provided with unlimited SSD storage and email accounts.
Additionally, Business hosting users are offered with a free domain registration, a free dedicated IP & private SSL and free domain privacy service. There are also some other differences. Learn more in the following screenshot.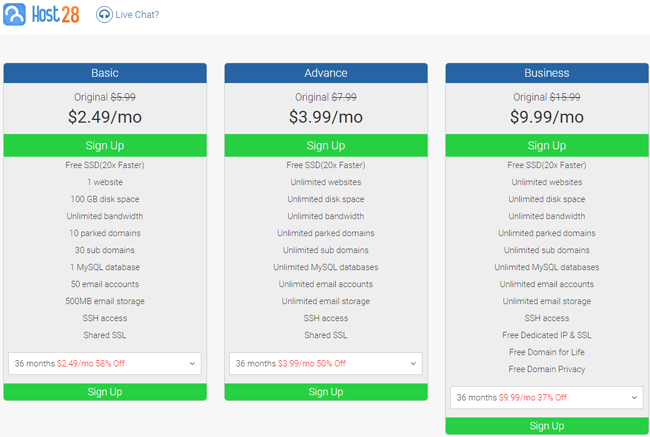 Host28 Customer Service
When choose a web hosting solution, it is important to make clear whether the provider offers responsive support. In terms of support, Host28 support team members are standing by 24×7 to answer questions and provide assistance via emails, tickets and live chat. We have tested their support by sending emails and starting an online chat several times, and each time we got instant response and right answers.
Moreover, their technicians have developed many useful guides in their knowledgebase to teach customers how to use the cPanel and many other tools. Besides, they also worked out many tutorials on site optimization.
Conclusion: Host28 Is Reliable
From the information above, we can learn that the solutions released by Host28 are rich-featured, fast and reliable. Besides, these plans are affordable when compared with the solutions from other companies. Another advantage is that this web host provides responsive support for customers, so that customers can concentrate on their businesses without being distracted. Therefore, this web host is absolutely reliable and worth going for people who are searching a dependable company for hosting small-to-medium websites.
To learn more about Host28 hosting service, visit https://host28.com/.