Today we bring together free thin line icons for your web and app projects.In recent years both web and app design industry have been affected by minimalistic design and we mostly call it flat style design.Simply minimalism is defined as eliminating all unessential elements in order to allow fundamental features.Minimalism has affected many artists for years and since the birth of world wide web it's been also quite popular among web designers.
So here is the collection of hundreds of free minimal thin line icons for your web and app design projects.
Nanoline Icons

A set of thin line icons designed and released as a freebie by Agung Syaifudin.200 line icons are included in this set with 32px dimenson.Each icons comes in AI, EPS, SVG formats.
Windows 10 Icons (AI, SVG, PNG)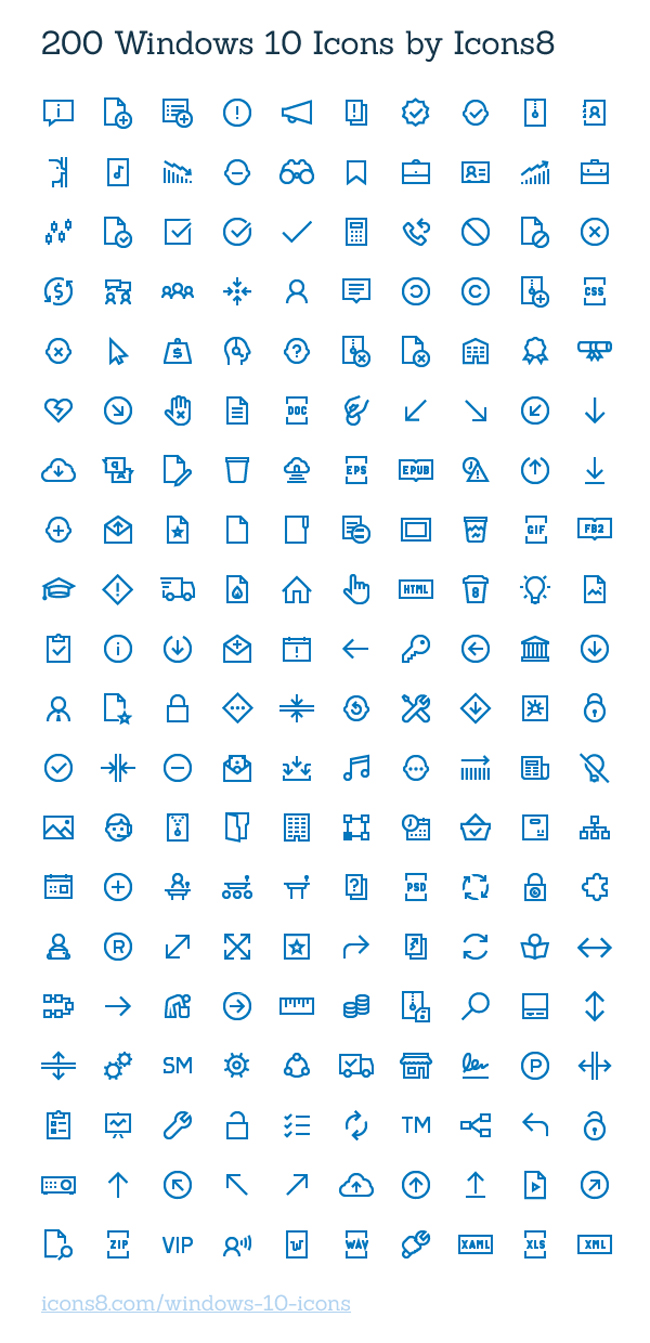 This icons pack contains 200 icons and all icons are in AI, SVG, PNG formats.You can use these icons freely in your personal and commercial projects.
Micons – 230+ Tiny Outlined Icons
These outlined icons are well crafted and playful. The consistent style is visible in all 231 icons and are a must-have for your collection.
Minimalistic Icon Set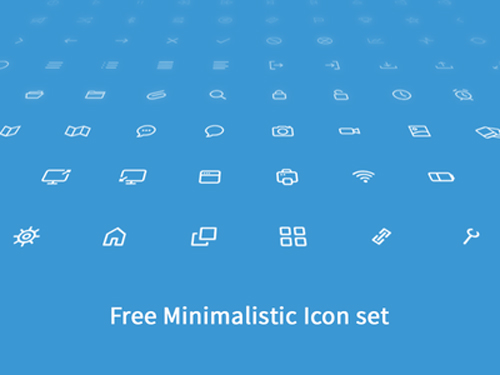 Minimalistic Icons are a clean, scalable and editable icon set. They are free for commercial and personal use. The package includes the icon set in Ai, SVG and PNG format.
Organic Food Icon Set (AI, EPS, SVG, PNG)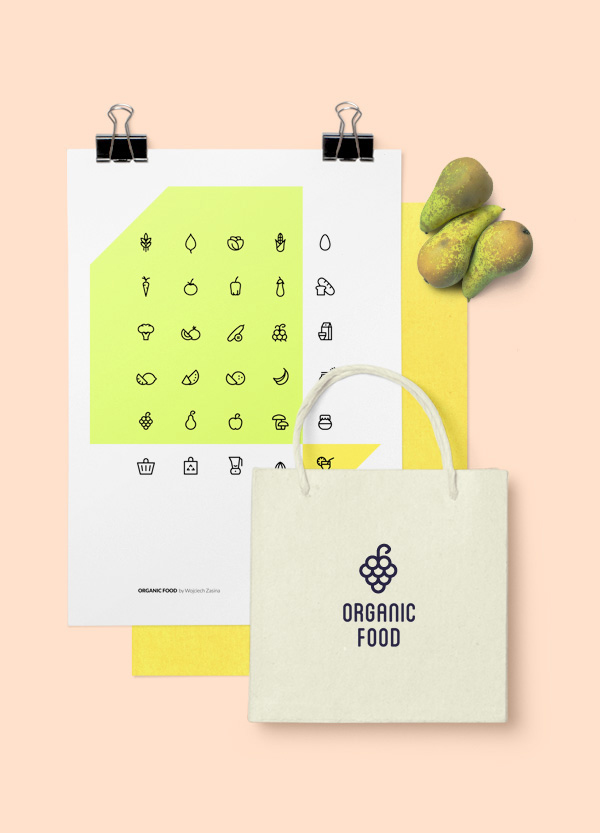 A set of 30 organic food icons that come in all common (vector-based) formats. The food icon set is perfect for modern food related projects.The set was designed by Wojciech Zasina and it comes in all common formats like AI, EPS, SVG and PNG.
Responsive Line Icons (100×3 grid sizes – AI, EPS, SVG, PSD)

This package contains 100 icons (AI, EPS, SVG, PSD) and the icons are based on 3 different grid sizes: 16×16, 32×32 and 64×64. The line weight always stays the same, 2px, which gives them a super-consistent look.
Ingenicons Icons Set (Filled & Outlined AI, PSD, PNG)

These icons are available in both filled and outlined versions with stroke width control in Illustrator.This icons pack contain 100 free pixel perfect icons in AI, PSD, PNG format.
Home and Public Library Icons
The package contains 50 free vector icons.All icons are fully scalable vectors in AI format.If you have a plan to create a library or a school design project then the below icons are for you.
Business Icons (PSD,AI,EPS,Sketch)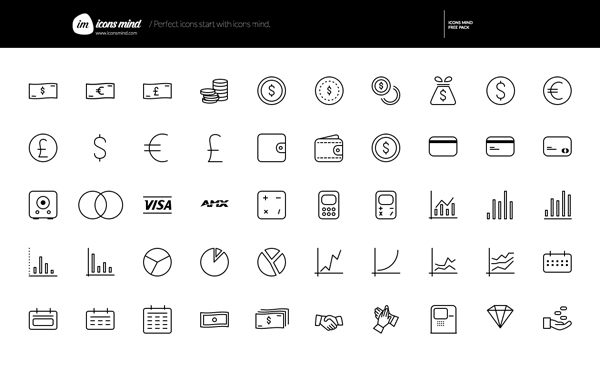 The set comes with appealing designs with beautifully-crafted details with 2 perfect pixel sizes 48 & 60 Pixel, all to contribute to your upcoming design masterpiece!
Retina Ready Line Icons (PSD , AI , EPS)
This icon pack contains 400 retina ready line icons with vectors and strokes for easy editing.The package comes in PSD,AI and EPS format.
Outline Icons For Restaurant or Pizza House Website (AI,PSD)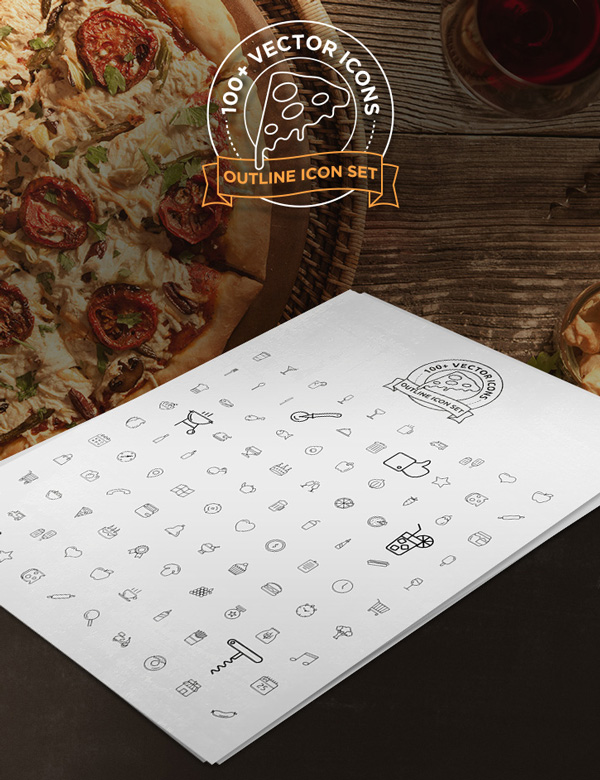 This icon package contains more than 100 icons and best for restautant,pizza house or for bar website.Each icon comes in .AI and PSD format and you can easily resize icons for your wish.
Line Icons – PSD, AI, EPS

This icon set contains 300+ line icons and designed by Marco Lopes.Each icon is created with vector shapes & strokes in order to be easily edited. Inside the package you will find some PSD, AI, EPS and PDF files.
Vector Line Icons (SVG, EPS, PNG, PDF, Iconfont)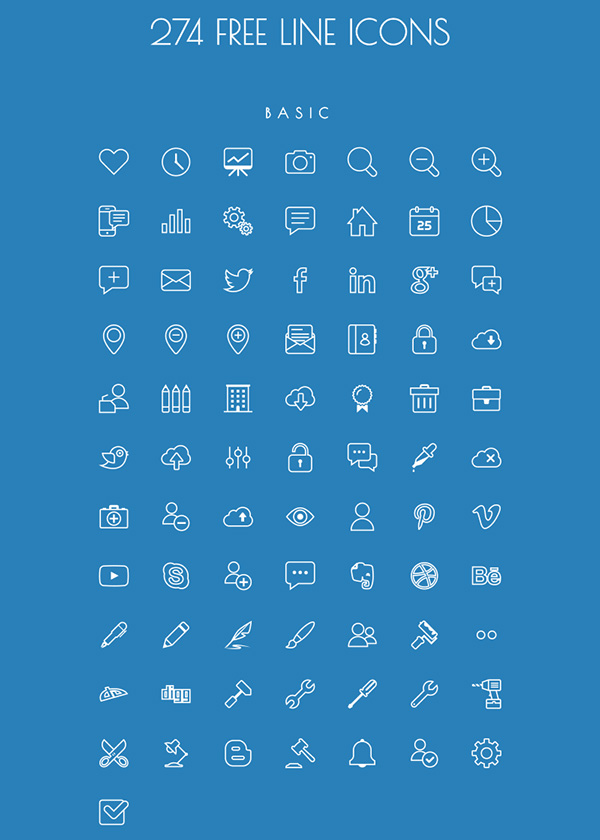 This icon set contains 274 free line style icons for your web design projects.In the pack you can find icons in PDF, SVG, EPS, PNG formats and finally as an icon font.
Simple Line Icons V.2
The icon pack contains 100+ simple line icons for web and UI design available for free; checks the preview file to see all the icons.
Crispy Icons in PSD, AI & SVG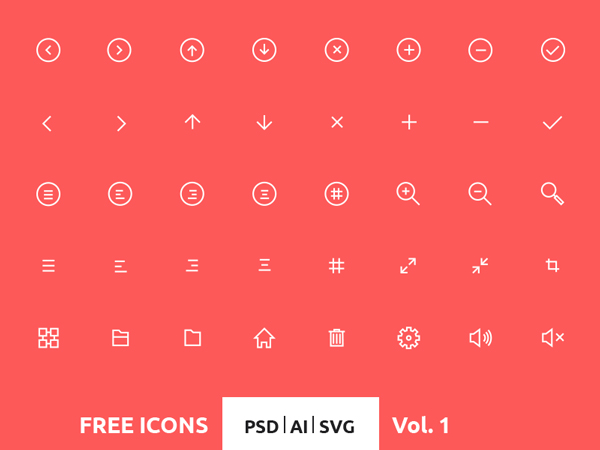 This icon set contains 40 FREE tiny icons created using vector shapes and released in PSD, AI and SVG formats.You can use the icons both for your personal and commercial projects.