When people land on your mobile app,web app or any other product, there are some requirements the landing page should meet and there should be recognizable features in order to make sure people know they came to the right place.The landing page needs to offer value and it is not only for the advertising purposes of the product, but there are many more other things.
Anyway,today we have gathered premium landing page WordPress themes to showcase your mobile app, web application, new products, ebooks, extensions and modules.Each theme comes with multiple layout styles with many color schemes.
Here is the collection of handpicked landing page WordPress themes.
xLander – Startup Landing Page Bootstrap WP Theme
Bootstrap Responsive Landing WordPress Theme it's an advanced, unique and powerful premium WordPress theme suited for personal onepage/singlepage websites/blogs, business websites, users who want a very nice portfolio website where they can showcase their work, or for any other purpose website. It's fully responsive, flexible, clean, with a professional design, Search Engine Optimized and comes with an advanced framework with tons of powerful and flexible theme options in order to make your life easier and build your site very quickly.
Demo | Source
Xmobile – Landing Page WordPress Theme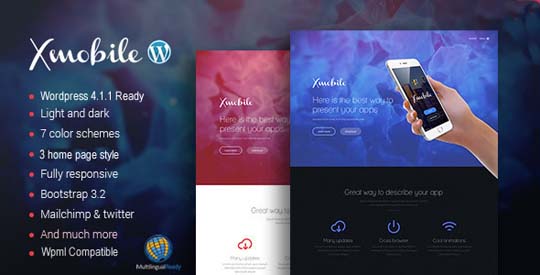 xMobile is a modern and clean landing page WordPress Theme for Mobile App, designed for many kind marketing website. Built with twitter bootstrap 3.2.0, CSS3 and HTML5 code. It has different homepage styles and color variations. It has clean structure, professional design and SEO friendly code, Well Documented so it's very easy to use in your project according to your needs – all these make this template to be the best suited for your mobile apps.
Demo | Source
LandX – Multipurpose WordPress Landing Page
LandX is a multipurpose responsive wordpress Landing Page Template. 5 homepage styles, unlimited color schemes, mailchimp, pricing table and more features available. Well commented and Advanced theme option and Pagebulder will help to customize the template very easily.
Demo | Source
SmartMvp – Startup Landing Page WordPress Theme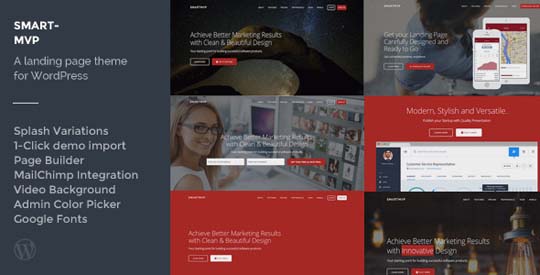 SmartMvp is a Clean and Modern Startup Landing Page WordPress Theme. It can be used to promote saas, web apps, mobile apps and all kind of marketing websites. It is built upon Twitter Bootstrap 3.2 framework and is fully responsive. It adapts to window resolution and works nicely on all devices: smartphones, tablet, PCs and desktops.
Demo | Source
Hype – WordPress App Landing Page
Modern, responsive, retina ready, landing page for mobile apps. Compatible with latest WP 4.0
Demo | Source
CrossWay – Startup Landing Page Bootstrap WP Theme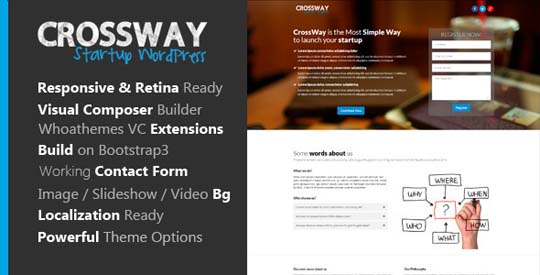 Startup Landing Page Booststap WP Theme it's an advanced, unique and powerful premium WordPress 2 in 1 – onepage and multipage theme suited for personal onepage/singlepage websites/blogs, business websites, users who want a very nice portfolio website where they can showcase their work, or for any other purpose website. It's fully responsive, flexible, clean with a professional design.
Demo | Source
Cian – App Landing Page WordPress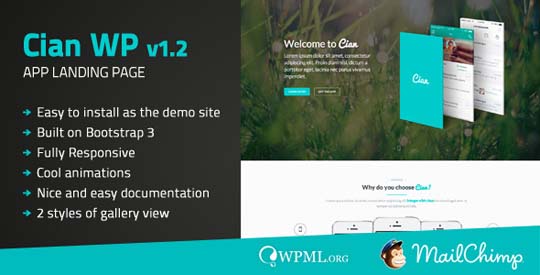 A Mobile App Landing Responsive WordPress Theme with clean and modern style. This theme design includes features, newsletter with Mailchimp, a great gallery, prices section, psd mockups included, support contact and more. Perfect mobile app showcase for iPhone, Android and other mobile devices. Choose from 4 background options: image slider, video (from your server, Youtube or Vimeo), and Parallax.
Demo | Source
Bivio – Bootstrap 3 App Landing Page WordPress
Bootstrap 3 App Landing Page WordPress Theme it's an advanced and powerful premium WordPress theme suited for startup / landing page websites, personal, blogs or business websites. Using it, you can create the web site of your dreams in a few minutes for example it can be used to promote web services or launching startups. This is a WordPress theme with unique features and well-structured code.
Demo | Source
Landy – Clean & Sleek Landing Page Theme
Landy is the perfect way to show off your amazing application for any mobile device. Thanks to it's straight forward and easy to use controls you'll modify it within minutes after your purchase. It comes loaded with a demo file for you to use to get it up even faster!
Demo | Source
Sync – WordPress App Landing Page
Sync is a responsive WordPress theme for app landing Page with clean and modern design.
Demo | Source
Landy – Responsive Landing Page WordPress Theme
Landy is the Ultimate Bootstrap 3 Landing Page Template for Your App with different homepage styles and color variations it fit your needs and your brand , it was designed to rise your conversions and downloads .
Demo | Source
Event – WordPress Landing Page Theme
Event is a simple, modern and responsive WordPress landing theme that is perfectly designed for any events, conferences, concerts and exhibitions. It is based on Bootstrap 3 Framework which means that it will look great at any screen size.
This theme comes with working register, subscribe form, paypal integrated and stripe compatibility and unlimited color schemes.
Demo | Source
Cayse – Clean Product Landing Page
Cayse is the perfect way to show off your amazing application for any mobile device. Thanks to it's straight forward and easy to use controls you'll modify it within minutes after your purchase. It comes loaded with a demo file for you to use to get it up even faster!
Demo | Source
Petrichor – Responsive WordPress Landing Page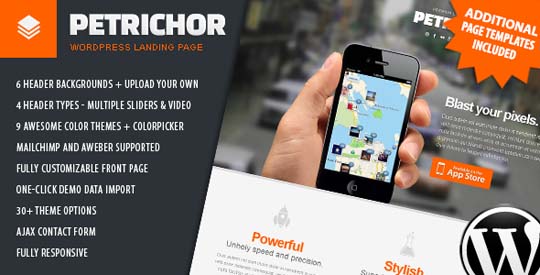 You can expand the landing page into a full site; all standard WP objects are designed and available:full width page,page with left sidebar,page with right sidebar,post with comments,blog.
Demo | Source
Nostalgia – Responsive WordPress Landing Page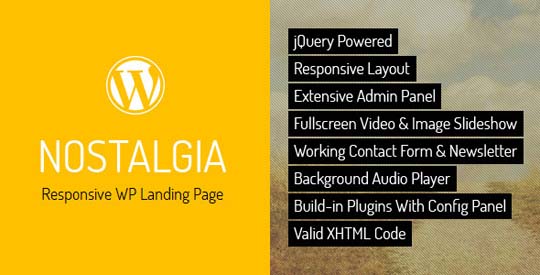 Nostalgia is a responsive WordPress Landing Page – personal or corporate, based on full-screen slider. The Theme is maintained in a minimalist, contrasting style. Background images kept in retro tones contrast with modern minimalist content.
Demo | Source
Kourse – Video Course Landing Page Theme
Kourse is a responsive content driven landing page WordPress theme created for authorities who wants to boast their internet presence. It is designed to increase your conversion rate and look professional behind the knowledge you're about to share.
Demo | Source
Kodax – Full Screen Landing Page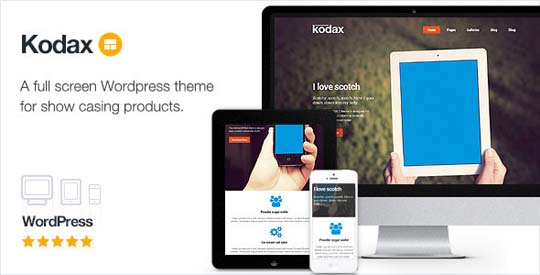 A beautifully designed multi-purpose WordPress theme, perfect for blogs, portfolios, company and personal websites. Kodax is clean minimal and sharp, putting critical focus on your content and photography.
Demo | Source
Lotek — Modern App Landing Page WordPress Theme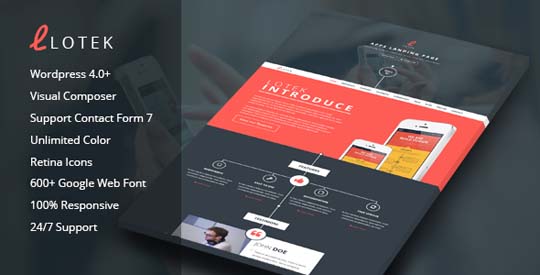 Lotek is modern app landing page with unique design, designed for many kind app website. It is fully responsive and looks stunning on all types of screens and devices (desktop, notebook, tablet and mobile), this template built with twitter bootstrap 3.1.1, css3 and HTML5 code. coming with 4 index variant, 20 color skin, 499 fontawesome v4.1.0, CSS animate, Woriking ajax contact form and many more.
Demo | Source
Appy – WordPress App Landing Page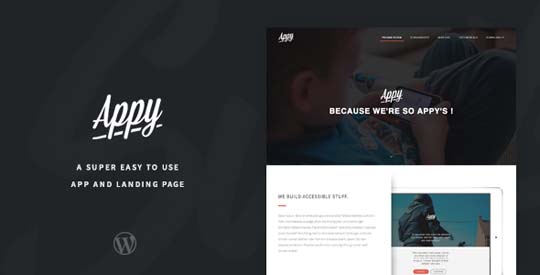 It's an awesome Clean, Minimal and Elegant HTML5 / CSS3 One Page with crisp features! This template has been designed for presenting a Application or would fit perfectly for a Future Website.
Demo | Source
Permatex – Leads Generating WordPress Landing Page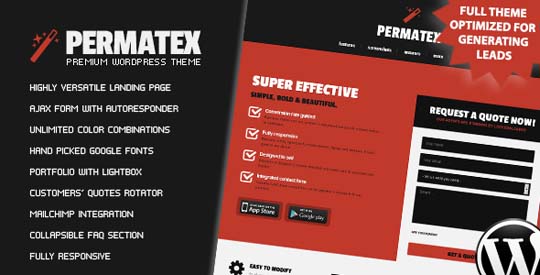 Full theme with extremely versatile home/landing page and customizable leads generating form.
Demo | Source
Apley – A Mobile Application Landing Page
Apley is the perfect way to show off your amazing application for any mobile device. Thanks to it's straight forward and easy to use controls you'll modify it within minutes after your purchase. It features a custom homepage with over 8 possible layout options for you to choose from.
Demo | Source
Meminz – Download Software Landing Page Theme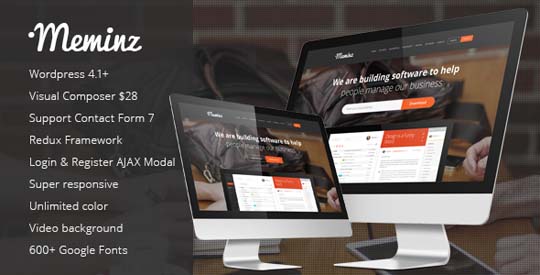 Meminz is download software landing page with modern design, designed for many kind software download and app website. This template built with twitter bootstrap v3.2.0, css3 and HTML5 code. coming with 6 index variant, 170 sroke icons, unlimited color option, working contact form, css animate, video background, extra login and register page.
Demo | Source
Landlr – The All-in-One Landing Page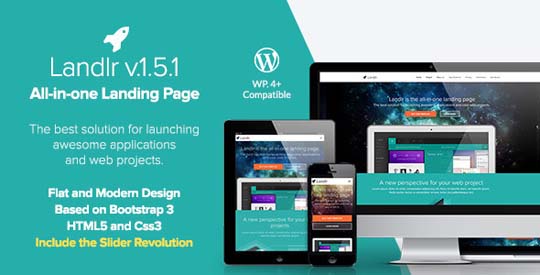 Landlr is flat, modern, flexible and has a fully responsive design based on WordPress and Bootstrap 3. Built by using the latest HTML5 and CSS3 techniques. With Bootstrap and responsive design it is easily usable with any device (Desktop, tablet, mobile phone…), without removing any content!
Demo | Source
Appster – Clean Minimal App Landing Page WordPress
Appster is the ultimate clean and minimal one-page parallax app landing page wordpress theme for advertising and showcasing apps in a sleek elegant delivery.
Demo | Source
Ledgard WP – Clean Responsive Landing Page + Blog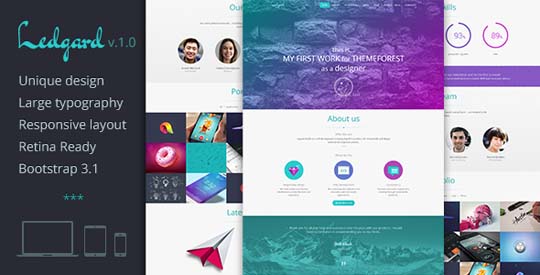 Ledgard WP is clean one page and portfolio and blog page responsive and retina ready WordPress template. You can use it for Photo Studio, Freelancers, Portfolio Theme, Creative Agency etc.
Demo | Source
Exhibition WP – Photography/Art Landing page
Exhibition is a responsive WordPress powered landing page specially made for art galleries and museums which want to promote upcoming and ongoing exhibitions, it's suitable for any kind of events though. Exhibition uses a minimal and swiss style with a focus on multi-device functionality and usability. Exhibition features HTML5 Geolocation with Google Maps integration, Touchable Carousels (ioSlider – worth 15$), Responsive Design and a stunning ·3D Gallery.
Demo | Source
Premi – Premium Business WordPress Landing Page
Premi is premium business wordpress landing page template that built with very cool responsive template with cool design, clean template, elegant color and a slew of features. This theme completed with 2 layouts and 6 colors option that you can choose your own.
Demo | Source
PixelPerfect – Responsive Landing Page WP Theme
PixelPerfect is a responsive, retina-ready landing page WordPress theme. It's primarily intended for mobile apps, but with a little modification it can have many uses.
Demo | Source
Ethority – One Page eBook Landing
Ethority is a clean landing page perfect for selling your ebooks. It is designed to easily show off all of your ebook's features in one page so that your customers don't have to look for it.
Demo | Source
EOS – A Responsive App Landing Theme
An app landing page which comes with many accent color schemes and light , dark version . EOS has 4 layout styles , features representations with simple line and font awesome icons , parallax sections , pricing tables , testimonials , images Slider , newsletter and ajax based contact form.
Demo | Source
Driver – Responsive Multi-Purpose WordPress Theme
DRIVER is the ultimate creative multi-purpose WordPress theme built for anyone who wants a creative website. With DRIVER you will be able to build a complete multi-pages website, onepager website or landing pages.
Demo | Source
Aire – App WordPress Theme
Aire is multipurpose landing page designed to showcase your mobile app, web application, new products, extensions, modules and other. It is fully responsive and looks stunning on all types of screens and devices (desktop, notebook, tablet and mobile).
Demo | Source
JustLanded – WordPress Landing Page
JustLanded for WordPress is the ultimate responsive WordPress landing page theme, a lead generation and online marketing theme designed to provide you with all the building blocks required to sell a product online – within minutes.
Demo | Source