Mockups are usually easy to create. They are useful for uncovering particular issues early in the design stage, and they serve as valuable communication tool. Most importantly, they are excellent for conducting usability tests on a design.
Mockup.io is a mobile UI presentation and prototyping app that performs several important functions. It can be used to upload and share one or more mockups for presentation in stylish device-like frames. It allows app functions and features to be examined interactively, modified as needed, and tested. This platform makes it possible to display app mockups during the various stages in their design. What is more it is possible to simulate the final app on a phone, watch or a tablet's screen in the native iOS or Android Application.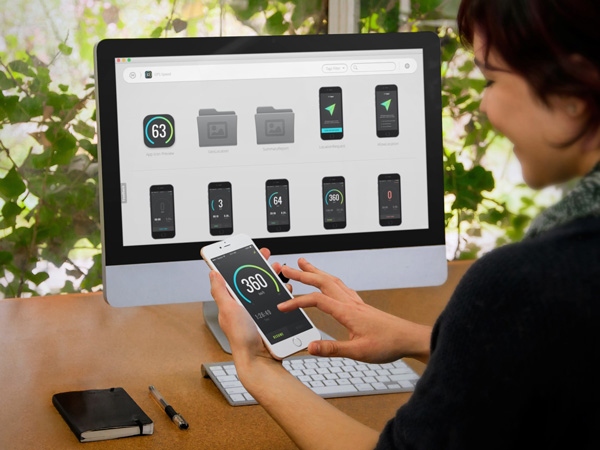 How does Mockup.io Function?
The first thing you need to do is to sign up, which requires only your name, email address, and a password of your choice. Once that is done, you can immediately begin loading your designs into Mockup.io, where they will be displayed in simulated tablet, phone or wearable frames. There are three groups of devices you can upload mockups for: Apple devices, Android devices or custom sized devices, where you can manually set the screen size of the appliance.
Through the use of the Project Settings Menu, you can open a project for public access, team access, or simulate a prototype by means of the iOS App or Android App, a feature that can be used by team members only. Dropdown menus allow you to specify project types and screen sizes. Project types include iPad, iPhone, Apple Watch, Tablet, Android Phone, and Custom. A project can be cloned using Mockup.io, and a project can be deleted.
Presentations make excellent platforms for team collaboration. Team members, client or stakeholders can run prototypes individually and provide useful feedback from what they observe.
A Correct App Icon Display on a Device is a Necessity, and is an important reason for giving these preview presentations. An app can either gain acceptance in the using community or be rejected. It drastically depends on how attractive the app icon looks in the real life context: on the home screen or on the App Store. No matter whether you prototype for iPhone or Apple Watch. Rejection or appreciation will obviously have an impact on sales volumes. App Icon Preview for Android OS application is not far off.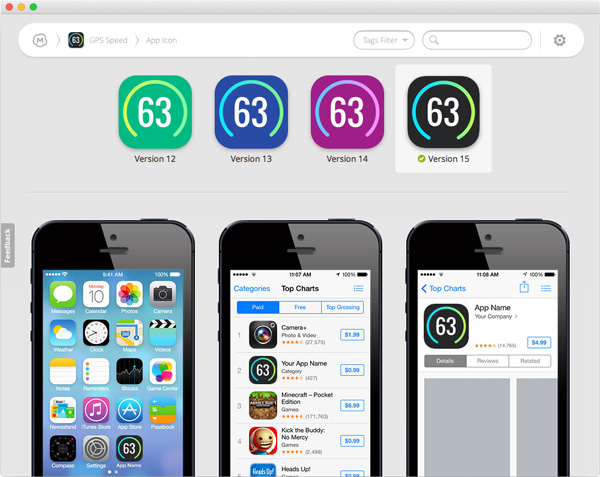 Once you've uploaded your mockups, you are able to create interactive app prototype. While linking hotspots and screens, set variable Transition Animations to add life to your prototype. Scrollable screens are are created automatically when you upload a long mockup. Use fixed zones that remain still during scrolling to make your prototype look like a real app.
Folders keep everything in order. Making the most of folders is always one of the best ways to keep a project organized and on track. New prototype versions can be uploaded and stored in folders as they are created, making them easy to access and share.
Modifiable tags also assist in keeping a project well organized by simplifying the file management process. Clicking on the appropriate Settings button makes it possible to set color, rename, or add new tags. These functions can greatly simplify information and idea sharing among team members during feedback sessions. By default you are offered Draft, Approved, Problem, Unlabeled, and Implemented tags that you can customise in no time.

A sketch illustrating an idea can be imported for display. Take a photo employing the iOS App and import the screen to Mockup.io for sharing or presentation.
Animated GIF files are fully supported in the prototypes. This allows to display unusual app animations in the app: loading processes or drop down menus.
A prototype can be run on a real device with the Mockup.io iOS or Android App for a final check by team members. It should be noted that every project that is entered is private by default, and it is totally up to the user to decide who will be invited to a presentation, or allowed to take part in the project.
Mockup.io Plans and Support
You can choose one of three different plans: a Freelancer Plan, a Team Plan, and a Business Plan. Each plan includes all of the Mockup.io features, is open to an individual or a team of any size and has no restrictions on the overal size.
The Freelancer Plan is yours at no cost, and it is a good first choice if you are working on one project. Or if you are going to work over multiple projects with multiple team members, but want to pilot Mockup.io. Freelancer Plan subscribers can use Mockup.io for as many as one project and 10 mockups in it. There are no limitations on the number of team collaborators or other features restrictions.
The Team Plan costs $19 per month, with upper limits of 10 projects and up to 100 mockups per project.
The Business Plan, at $49 per month, sets 50 projects and 250 mockups/project as its limits.
The size and number of your projects will normally be the determining factor in choosing either the Team or the Business plan. You can upgrade or downgrade to another plan at any time without losing any of your information or data. If you have a question or a problem, email is the vehicle to use to contact the customer support team. They will make every effort to respond within a few hours.
Payments are made through PayPal, with the billing period beginning at the first payment.
You can expect to receive regular updates. The current version is 3.1.
A Useful Tool with a Wealth of Features
If you rely heavily on prototyping when designing or developing a mobile app Mockup.io should be a real blessing. The prototyping process itself is usually a timesaver, but the presentation and team sharing features this tool provides will save you even more time. You can always sign up for the Freelancer Plan initially, no matter the size of your team, and upgrade to a paid subscription plan later if the need arises.
This prototyping and presentation app is definitely worth looking into. It is to be recommended as a team collaboration tool, and especially so for teams working on several different projects at a given point in time. Sign up for Mockup.io, try it out, and tell us what you think.