Images have long been a staple of WordPress websites as they play an important role in communication and entertainment. However, many online marketers and business owners tend to underestimate their usefulness.
This may be due to a general lack of knowledge surrounding the influence images can have upon consumers and just how integral they are at increasing conversion rates. Though, it's more likely that WordPress website administrators are simply overwhelmed by the sheer volume of image optimization plugins available.
With that in mind, this article aims to present, clarify and provide arguments for the WordPress plugins that are the best at what they do and can supercharge any website or blog within minutes of installation.
Even those new to WordPress will likely have heard of this plugin. WP Smush.it helps to streamline page load times by stripping images of superfluous and hidden information, reducing their file sizes in the process.
Additionally, the plugin scans every image you upload to WordPress via the media library – including those uploaded before its installation – and removes any unnecessary data that could be limiting your site's responsiveness without you even knowing about it.

In a bid to address an area that most other image optimization plugins seem to ignore, BJ Lazy Load works by loading images only as the site visitor scrolls down the page.
This plugin will be of particular interest to online businesses that feature large galleries containing high-resolution images and do not want to sacrifice quality. Effectively, its function is to reduce the need for compromise in such areas, and it's very good at what it does.

If you're after a WordPress plugin that will reduce the file sizes of your images without compromising quality, Hammy offers the perfect solution with an impressive number of downloads to its name.
This can be used in tandem with other image display plugins and allows online businesses to effectively capture and convert sales, regardless of what browsing device site visitors are using. It dramatically reduces load times as a result.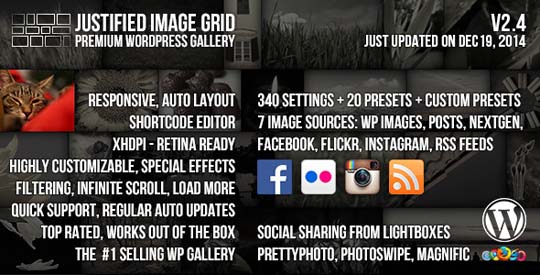 As far as premium WordPress plugins go, Justified Image Grid is certainly one of the best. It is loved by the WordPress community and has achieved a near perfect five-star rating. It sells for $28 and includes an 86-page PDF manual containing detailed documentation about implementing its many functions.
This responsive plugin formats images galleries in ways that consumers are familiar with – think Google Images and sites like Flickr. It aligns everything with careful attention paid to creating a positive user experience and allows synergy with most social media platforms.

One of the biggest inconveniences where image preparation is concerned is finally addressed with the Manual Image Crop WordPress plugin – namely that of cropping images to fit standardized sizes.
This plugin allows site administrators to crop every image registered in their chosen WordPress theme – including featured images – with an intuitive and easy-to-use interface.

Alternative and title attributes are powerful communicators, and this is something that many website owners in general seem to overlook. With SEO Friendly Images, you'll be able to update all of your files for search engine optimization and can boost your Google Image display rankings.
While title attributes play a lesser role, visitors to your site or blog will benefit from the added text, as tooltips that will appear automatically when they mouse over the image.

Managing and renaming files in general has always been a hassle. The Media File Renamer plugin alleviates the time-consuming nature of such undertakings by renaming files succinctly. It also updates all references to that particular piece of media in any associated posts.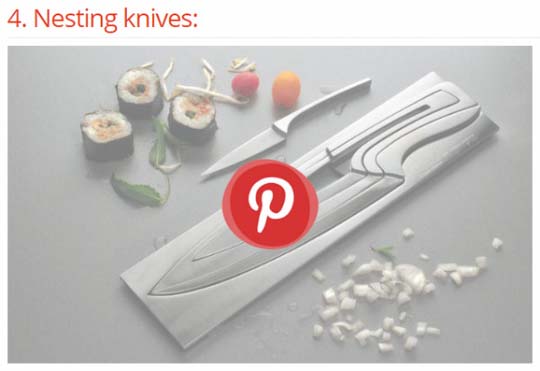 If your aim is to increase the versatility and functionality of your images, jQuery Pin It Button for Images is one of the best WordPress plugins to install.
Website authors will find that they are able to easily and effectively add Pin it buttons over images that allow site visitors to view the file in a new pop-up windows. Additionally, the plugin integrates seamlessly with Pinterest for those who are interested. The plugin is shown in action in this image, with a custom Pinterest icon overlay created with Canva.

What WordPress, Web 2.0 article would be complete without discussing at least one plugin that relates to animated GIFs? This plugin will find every GIF animation within your pages and posts and update them with a preview image of the first frame in the sequence.
What this means is that by using the GIF Animation Preview plugin, you will be able to pregenerate jpeg files that act as play buttons to increase the efficiency and overall responsiveness of your website or blog.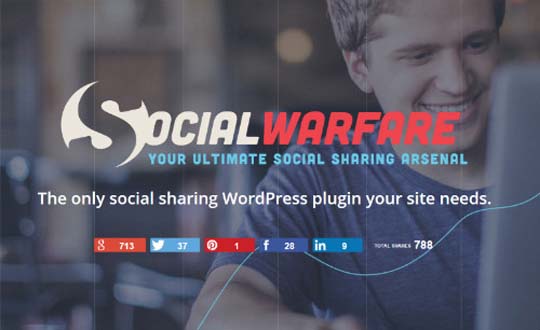 Social Warfare is a premium social sharing plugin that provides WordPress website owners with the fastest page load times possible. You won't find a better result from downloading or installing any other sharing plugin currently on the market.
Posts can be sorted by popularity to give you real insight into the effectiveness of your website's content, social shares and shareability, and virtually transforms the way that you will do business online.
Despite representing the best of the best in terms of image optimization and the ways these plugins can supercharge any WordPress website or blog, this list is far from complete. In any case, this list should give you a few ideas about how to improve and optimize your site and find a greater competitive edge.