Starting a web site all begins with the selection of one or more excellent domain names which can be purchased through Wix.com. Each domain needs to be catchy so it can be a brand name, a dot-com domain (ending .com) is best, and one that is easy to spell too.
Getting The Name Right
Try a brain-storming session to come up with some good ideas for a catchy name. It is better to do this than to buy a domain off the cuff, regret it later, and then need to buy a second one. This creates a problem of changing identity later on and can confuse people who were already familiar with the first domain and online business identity. They may think the business changed ownership or key priorities altered when that wasn't the case at all.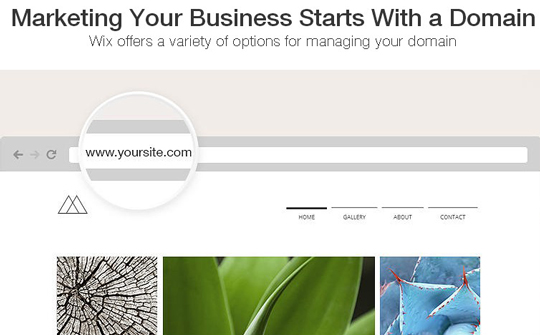 Branding
It used to be the case that any old domain would do, but these days it is important to stand out from the crowd as much as possible. Building a brand is key to longevity online and this all starts with a name prospective customers or clients may feel some immediate connection to.
Dashboard – All Services From Wix.com At A Glance
The Dashboard will show the domains owned and the web sites. This is all at a glance information which wastes no time with people who already lead busy lives and don't wish to spend their work or off-hours figuring out how domains, hosting and email all work. Wix does all that for their customers.
Domain Registration Through Wix.com
A wide range of domains can be registered through Wix.com. This includes familiar "top-level domains" like .com, .net, .org, .biz and .info, plus well known country domains such as .co.uk for the UK, .mx for Mexico and .com.br for Brazil.
Newer generic domains are also available for registration through the Wix.com domain registration services. These are an expanding list of new domains which grow monthly with approved additions. The generic domains are intended to provide more options when coming up with a suitable domain name that is still available for registration with a generic type that matches the business. Currently the approved generic domains include .guru, .london, .technology, .club and .solutions.
Selecting a "One Year Unlimited Plan" ensures that a one year domain registration of a top-level domain is offered free of charge as a "thank you" for signing up with Wix.com. There are a number of Premium Plans to choose between depending on how large a web site is being planned.
A simple domain search on Wix will let the visitor know what domains are available for registration which also helps to clarify their choices for domain registration.
Custom Email Box
Wix.com offers a custom email box with your own email address incorporating your domain name, i.e. info@yourdomain.com or something similar. Wix uses the reliable Google Apps for Business service to provide a portable email solution which includes a 25GB inbox capacity, 5GB of accompanying cloud storage, Calendar & Docs, ad free, and mobile ready.
With a premium plan, it is a simple matter to create a new domain and follow some simple steps to create the custom email box. If already owning a suitable domain name, it is easy to transfer it over to the Wix.com service. Once transferred, a custom email box can be setup for the transferred domain with the Google Apps for Business service.
Call center, Help center and Support forums
The team at Wix.com take ongoing support extremely seriously. The Wix Help Center is the first stop for obtaining assistance.
Call center support is made available to all customers whether they are using Wix.com to host email, to host a large web site or just trying to buy their first domain name and in need a bit of help.
Online support has been expanded out to 10 languages. The Wix Help Center provides a knowledge base with detailed answers to some of the most commonly asked questions that the support team receive. There are also step-by-step tutorials covering the most important steps necessary to setup and customize Wix accounts.
The support forums are another way to seek assistance from both Wix staff and fellow customers who may have seen the same the question before and know how to explain the answer clearly. Forums can be an invaluable way to expand on the more unusual technical issues and obtain solutions.
No Hard Sell
One year domains come up for renewal annually. A good domain registrar will send an email near the time for renewal; the bad ones will chase up the renewal many months before it is actually due because they are pursuing early cash-flow rather than providing any real service with their pre-emptive marketing effort.
Wix will notify each customer by email near the time that they have a domain that needs renewing for another year. This is done in an informative manner rather than giving it the hard sell; the company just doesn't see being too pushy with domain renewals as good customer service.
Auto Renewal Features
There are auto renewal options for domains in order to avoid the fear that an email will be missed or that the customer may be away on vacation when a domain is up for renewal and it will be lost. Wix does provide the option to automatically renew a domain in order to ensure that it will never be lost due to forgetting to renew it.
Centralized Billing
As well as having the Dashboard in one place for all domains, hosting and email activities, keeping all domains with Wix ensures that the web-related billing all comes in from a single bill. This makes things much easier to reconcile every month with fewer regular bills to keep track of.
Wix offers some excellent domain add-on features to provide peace of mind for