Be it small or big, better conversion is what all businesses eye at. Just as hard work pays off in terms of achievement, carefully crafted marketing activities pay off in terms of profitable outcomes. The business world is always on the lookout for new ways to increase conversion.
The biggest irony of the web marketing industry is that there's no rule of thumb. Plenty of ways are there to increase conversion, but none could secure a footing because today's best practices will become outdated tomorrow.
The latest fad among the internet marketers is growing reliance on web designing. Marketers justify this trend by outlining the importance of web designing and how it augments conversion. Being in complete agreement with them, we'd like to speculate the web design trends that we believe will dominate the industry in not-so-distant future.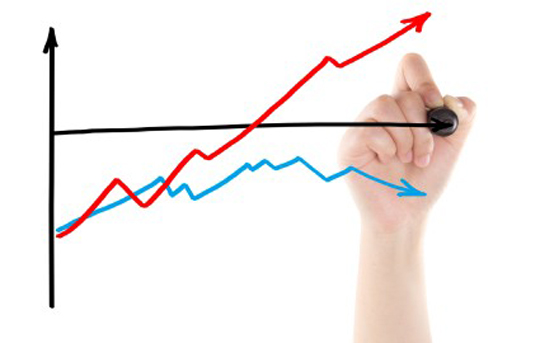 Our list of trends starts with;
Typographic Design
Typography brings close typing and designing. The idea behind typography is composition of texts will look engaging without being obtrusive to recognition. Visually appealing typefaces have traditionally been expensive. That however is changing as type-kits are becoming either less expensive or free. Google Fonts is an example of free typeface.
Typographic design increases conversion in two ways; first it entices the visitors and holds them longer on the page, which increases the chance of them converting to customers from casual visitors. Secondly, free or less expensive typographic design allows designers to work with a trifling budget and that helps small-scale business to deliver quality output.
Clicking Replaced by Scrolling and Tapping
If you think 'Replacement' is a strong word, think again. The internet is no longer restricted to desktop web. Mobile web, of late, is a reality. In fact the number of users, accessing the web from mobile devices is more than that of users accessing the web from desktop devices.
Designers need to understand the insinuation of this trend. Users can now access HTML5 sites that are custom made for handheld devices. Those sites should ideally have less buttons and more scroll-bars and tapping options. Since scrolling and tapping are more congenital than clicking (Clicking requires users grip the mouse and hovering the cursor over the clickable item and then press the left mouse button), widespread use of Smartphones/Tablets may result in better conversion.
Personalization with the Help of Cookies
Although spamming has nearly eclipsed the importance of cookies, they are still relevant for marketing. If used properly, cookies could make browsing experience remarkably personalized for users. The personalization factor could boost up conversion.
Designers will be the main architects behind making browsing experience highly personalized for users. Instead of showing users a bland webpage with unobtrusive design, they could add captivating design elements to the page, so visitors stay on it for longer. Staying on a page for longer duration increases the likelihood of the visitor turning into a customer.
Microinteractions for Email Signup
Email signup is a headache for marketers. A user signing up with his email implies he'll receive product/service updates on an ongoing basis. Many businesses consider email signups as leads and apply email marketing strategies to turn those leads to sales.
A great way to upgrade existing techniques pertaining to email marketing is to place it alongside Microinteraction, which take interaction between users and a site to a microscopic level. The email signup box squirming on an otherwise interactive page is an example of microinteraction.
To make microinteraction a success, an experienced designer is needed. Such a designer could come up with creative ideas related to microinteraction and implement them.
Oversized Background Image
There's a dispute over the effectiveness of large background images. Some believe those images could significantly increase conversion while others believe they could spoil the chances of better conversion.
Truth is, a large background image is fine if the submission form is re-stylized, the color of the form creates a contrast with the background color, the fonts are engaging, etc. In other words, if accompanied by other factors, a giant image on the background could help the site stand out and swell the rate of conversion.
Interactive Storytelling Design
If you use this type of design on your website, you can rest fully assured that your marketing campaign will be a success. ISD is all about sharing the journey of the brand with users. The moment a user comes on your page, he should be introduced to the brand. After that, as he scrolls down the page, he should know more details about your brand.
Interactive storytelling design is a challenge for any designer because it takes a minute or less for a user to scroll down a page from top to bottom. Everything related to the brand should be clear to him within a stipulated frame of time. It's challenging no doubt, but if the designer could pull it off, the payoff for the brand will be terrific.
We are approaching to 2015 and there are more trends to come in the forthcoming months for better conversion. Like the trends discussed in the article, the new trends will largely depend on the skill and expertise of the designers.