2014 saw Germany lifting the FIFA World Cup which was really an adrenalin-packed tournament. All the soccer lovers enjoyed it thoroughly and got ample doses of entertainment, without a doubt. Since soccer is such a rage in the world, the year also saw many WordPress developers coming up with sports themes of WordPress. Sports magazine WordPress themes were released with much fanfare at different platforms and in case you missed out, today, we have brought a cool collection in your service.
No, these themes are not restricted to merely football. They are for all kinds of sports magazines, whether it is about cricket or tennis. The templates are packed with custom features and give prime importance to content which is pretty much a given. All of them are also responsive and thus, fit well into diverse screen sizes.
Starting from WowMag which really makes you say "wow" and ending at MagXP, the most accomplished magazine theme from MyThemeShop, this collection boasts of stellar sporty samples. Altogether 50 in number, they are quite versatile and will give you great details on the subject. So, why are you hesitating to take the plunge? Go ahead and set scrolling. You will enjoy the show thoroughly.
A newly released WordPress theme, WowMag is fully responsive and based on the latest Bootstrap 3 framework. It possesses a simple and elegant style with a heavy focus on content and readability. The template is fit for your sports magazine and you can write/update as much as you like.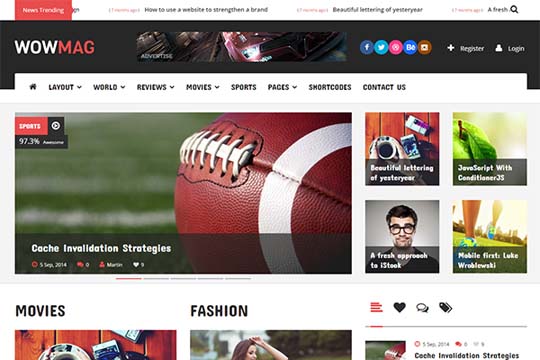 Best is a clean and classy WordPress magazine theme that is fully optimized for SEO and AdSense. It is fast and well-built with awesome features like shortcodes and a review system. So, you can write to your heart's content, earn fine money and also acquire good ranking.

A sports magazine is not just limited to content, packaging also matters a lot. So, here is WP-Visual, a feature-rich theme fit for adventure, action sports or just about any kind of sport. It helps you stand out and gives complete support, in all departments.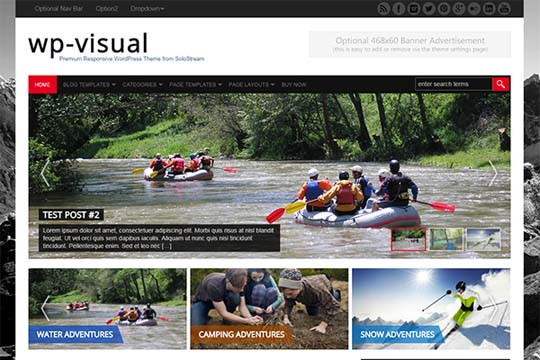 If you have a sports magazine that sees frequent updates then NewsTimes is the right choice. This is a pixel perfect, ultra responsive and fast WordPress theme with SEO optimizations and a built-in review system for writing helpful reviews. It is also customizable and gives you enough space to bring in changes from your side.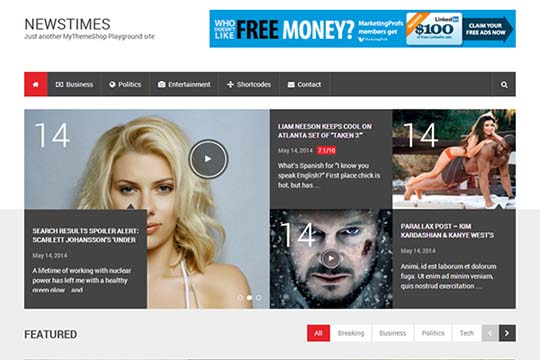 Want to make your magazine stand out from the crowd? Go for the flexible and feature-rich Magad. This magazine theme comes with a unique layout, beautiful design, amazing functions and fully widgetized homepage. You can easily tailor it to suit your style and get to the top.

AquaMag is the ultimate magazine theme with a unique, modern and fully responsive design. Its elegant features like mega-menu categories navigation, featured posts slider, unique content boxes are included to make reading a pleasant exercise and this is certainly going to bring you brilliant benefits.

A good sports magazine emphasizes a good deal on cleanliness and New Maxx brings you super clean design along with crisp features and well structured layout. It is very useful for those who make use of different media. You are free to include images, galleries, audio, video and all other kinds of content.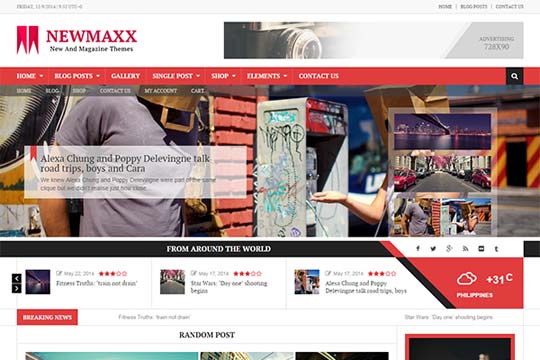 If you want a simple and sweet theme that comes with the ability to produce rich results then EstateMag, undoubtedly, takes the cake. It carries responsive design, rocking typography and SEO optimized coding. This means you can attract readers as well as search engines, in a jiffy.

Possessing content-centric attitude, SportsMag is an advanced Sports Magazine theme. It is also concerned about readers and thus, gives your content neat packaging so that it may hold the interest of the audience for long. Its features are fully up-to-date and do not lack any important characteristic.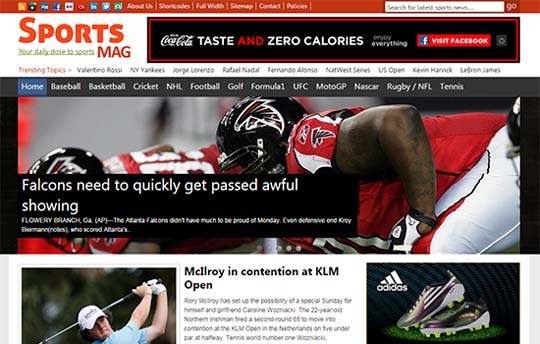 Throne is a multipurpose WordPress blog/magazine theme that can easily qualify as a fit contender for your sports magazine. It loads quickly, follows SEO standards, focuses on readability and easily adjusts to your demands. It is truly a must-have.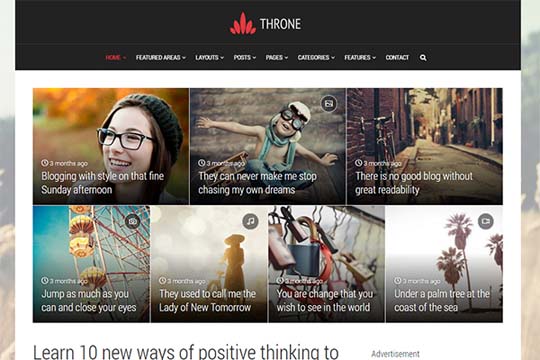 A suitable match for your sports magazine, Novelty is a premium WordPress theme with bold, modern, responsive design and lots of compatible features. It lets you share your sports content far and wide. And the best thing is that all this requires very less investment from your side.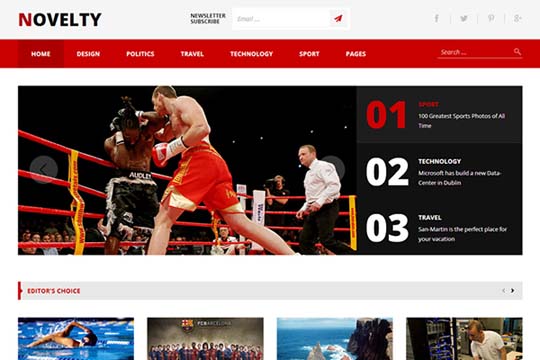 Made by ThemeFuse, SportEdge is a versatile Sports Magazine theme attached with tevery advanced features that is necessary for your niche. It is responsive, retina ready, flexible, SEO ready, translatable and many more things. You just need to get it installed and then you are free to write and update.

Carrying 23 cool widgets, 4 post formats (image, audio, video & gallery), 18 widget area and many more attributes, TrustMe is a theme you can blindly bank upon. Its features are fully supportive for your sports magazine and you can easily impress readers with your stories and articles.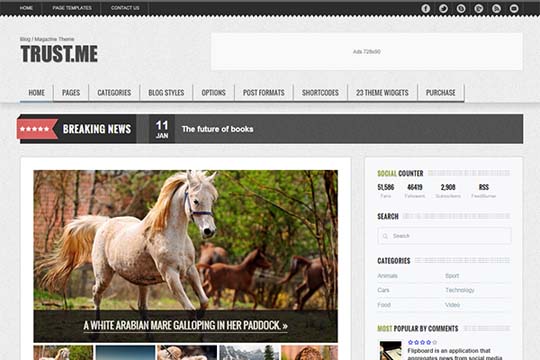 Fresco is a flexible and feature-rich theme carrying a visually rich design and advanced features. The template has been drafted with acute attention to detail and thus, will favor your magazine fully. You will get complete support and can easily come up with the best stories and features.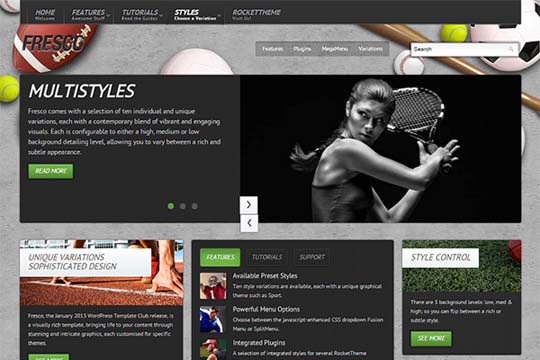 Fit Coach is for fitness and sports sites. It can work well as your sports magazine engine. You can write in detail and the template will package your entire content in a clean and classy style. With Fit Coach to guide you, no goal is unattainable.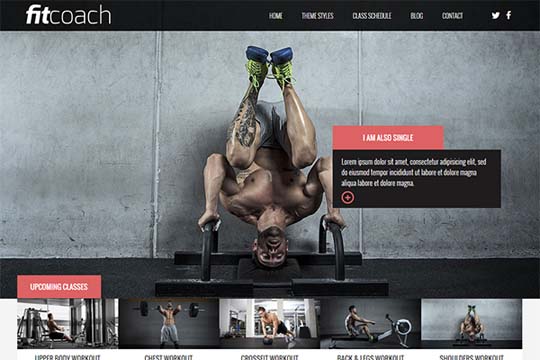 A KopaTheme creation, New Lotus offers to be a great magazine template. It is very gentle with a very focused attitude towards content. The theme contains all the modern features that will make you the favorite of readers and search engines.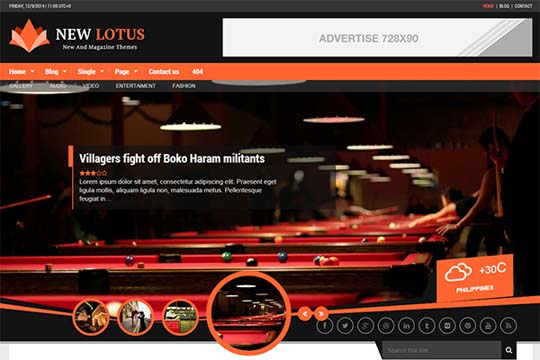 Offering a rich arsenal of features along with a spacious platform, Magazine Explorer is made to make your site popular. It gives adequate room to all the elements on your site and carries unique widgets, custom features, mobile-ready design and many premium-class traits.

Gauge is a fresh review theme that lets you create extensive reviews of any sports genre. Here you get AJAX filtering, BuddyPress support, responsive layout, numerous page elements, front-end posting and much more. Gauge has really gauged your requirements correctly and hence, brings you fitting features.

SportsBlog is for all kinds of sports sites. This completely professional template is very well crafted and caters to all your needs with great skill. It is prompt, powerful and pleasing; everything at once.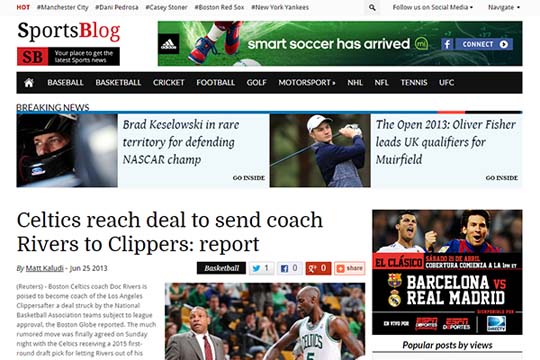 A strong multipurpose and responsive WordPress theme, Immunity would do well as a sports magazine. This MyThemeShop template possesses tons of features and welcomes customization with open arms. What is more, it is optimized for advertising, speed and search engines.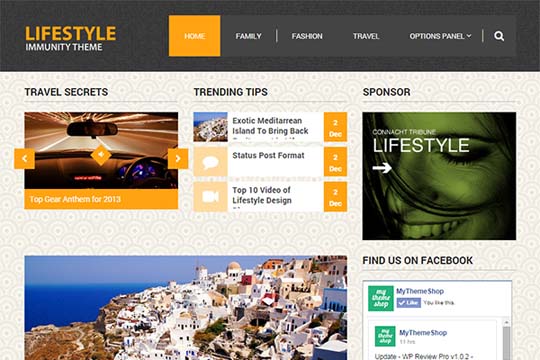 Designed to deliver all kinds of content related with news and magazine sites, News 2 comes forward as a very useful theme. It is very remarkable for its content packaging. It makes sure your words look beautiful as well as meaningful.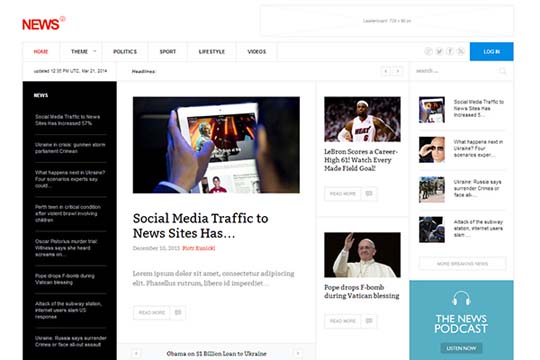 Constructed to catch instant attention, Bold is a brilliant theme perfectly suitable for your magazine site. Its versatile home page focuses a good deal on images and video. The responsive grid, retina optimization and other features further enhance the appeal.

Adventure is a catchy and fully-featured theme fit for adventure sports. It has a full width featured slideshow, a biography section for social media links, Google maps widget, responsive layout and many more fantastic features.

Magma makes a fine impression with its clean looks and advanced features. The theme gives your site a legible and lovely look that instantly grabs attention and keeps readers glued. You can also customize it in simple steps.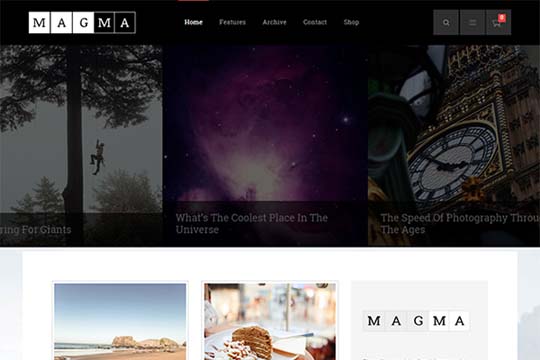 Cerulean is a charming theme with a three-dimensional design that also comes with forward directional right angled graphics. This RocketTheme offering is a fabulous choice to create your sports site and will do a wonderful job at a fair price.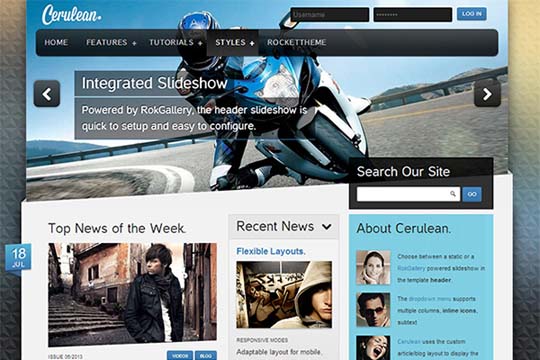 According to MojoThemes, Bellissima is the perfect solution for your blog or magazine. This template offers you 9 post formats, 100% responsive and flexible design, retina optimization, Google fonts and many more traits. You can start your site in minutes and get going to a fantastic start.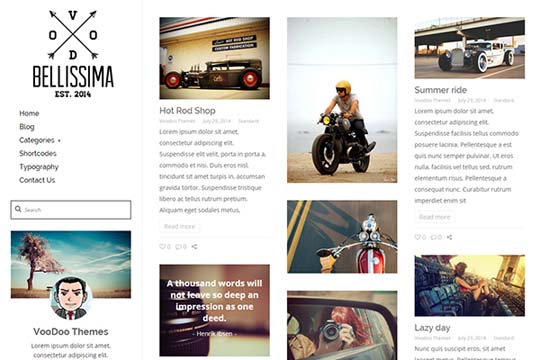 If you believe as much in the depth of words as in their presentation then NewsTube is a must-have. This cool news & magazine WordPress theme goes great with all kinds of content-centric sites including sports magazines. You can garner name, fame and money in fine measure.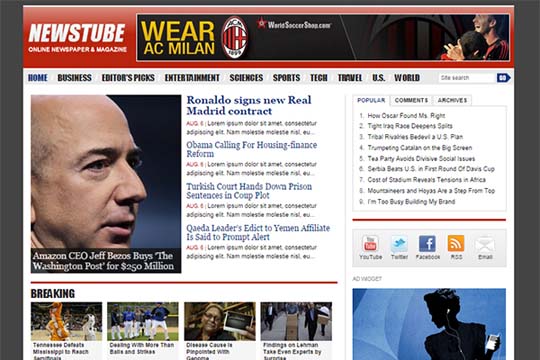 Friendly to the core, UltraFire sets you free to write and create. It is powered by the SMOF Options Panel that gives you infinite options to manage and modify any aspect of the template without doing much. It is a great choice for beginners as well as developers.

Pinstagram is a Pinterest based WordPress theme with the trademark grid layout, multiple post sizes and long list of posts. It is an appropriate theme to base your sports magazine on as you can catch the eyes of the readers and make them stay as well. This MyThemeShop offering has got the most up-to-date attributes and misses nothing of importance.

Neuton is a smart and responsive theme designed to bring you as many readers as possible. It has got a novel Trending Topic algorithm to promote your most discussed topics. Other features of this template are also trendy and do full justice to your demands.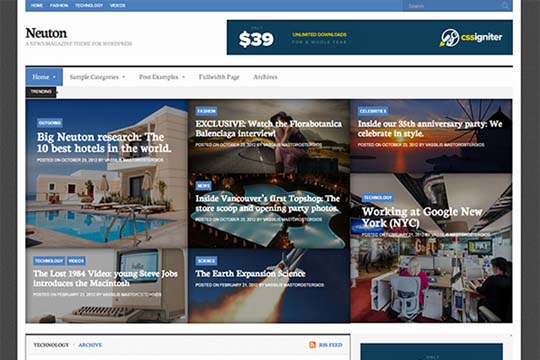 Open Times is a responsive and content-oriented Magazine WordPress theme. It has got it in itself to bring your sports magazine into the limelight and get you the attention that you deserve.

Perosan is a nice personal blogging theme that will fit in perfectly with your sports magazine. It is very rich and gives you some nice built-in extras such as lined paper style text widgets, social media count widgets, Flickr widgets, a homepage slider and much more.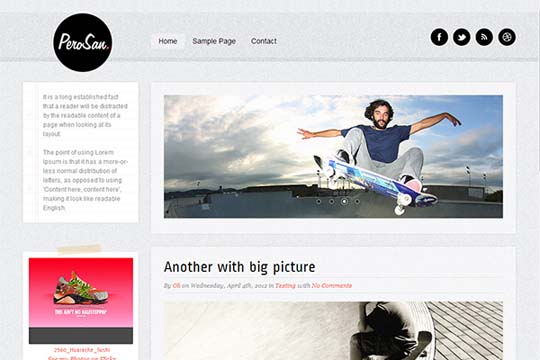 Sportsline is a responsive Sports News/Magazine theme with stunning and professional looks. It is also rich in features and gives you great properties like Bootstrap 3 readiness, 7 custom widgets, SEO friendly layout, Google fonts, HTML5, CSS3, etc. This template is just too good to be ignored.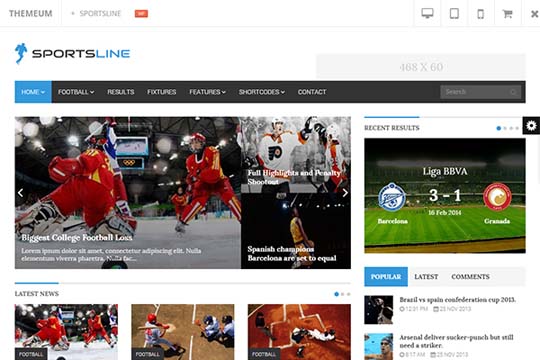 Ionosphere is a versatile WordPress theme packed with rich visual elements and friendly interface. It is supported by a rich arsenal of rocking features and all these work in unison to bring your sports magazine into the limelight.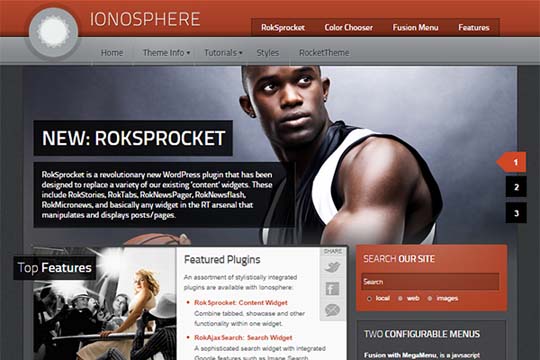 This is an elegant yet powerful magazine theme that will give your sports site a distinct appeal. Its amazing functionality, awesome custom widgets and customizable layout are enough to help you stay afloat amidst the cut-throat competition.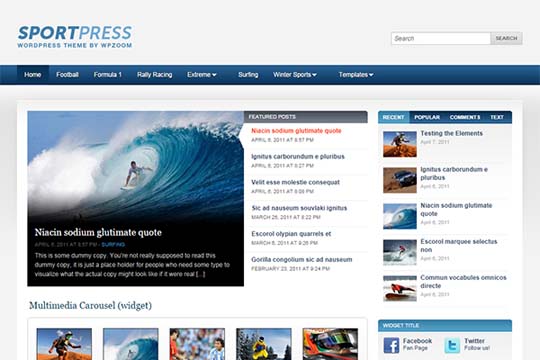 Bursting with fantastic features, Griffin is very simple and sweet theme that you can operate with complete ease. This template is ideal for your sports magazine with 5 nice presets, responsive design, translation readiness, shortcodes, custom widgets and many more qualities.

Sports Nation is an exquisite theme with beautiful aesthetics and smart features. It can meet all your magazine requirements and give it fine packaging at an affordable price. All you need to do is unpack and get it installed.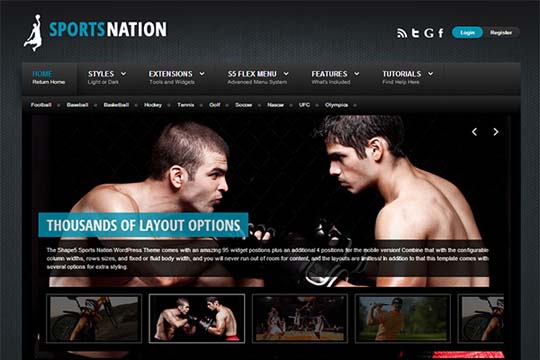 Spike is a lively and colorful WordPress blog theme from MyThemeShop that would also work well as a sports magazine. Packed with a sleek post slider, wonderful widgets superb shortcodes and the best optimizations; the template is really valuable. Do check it.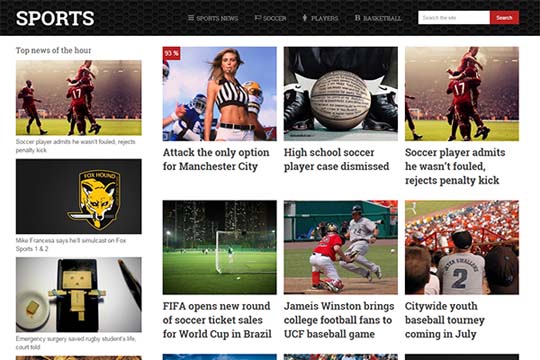 A fit and feature-rich theme, Olympic creates the right impact on your audience and search engines. This premium template is home to responsive design, retina display, custom post types, cross browser compatibility and every other feature that will give you a rock star appeal.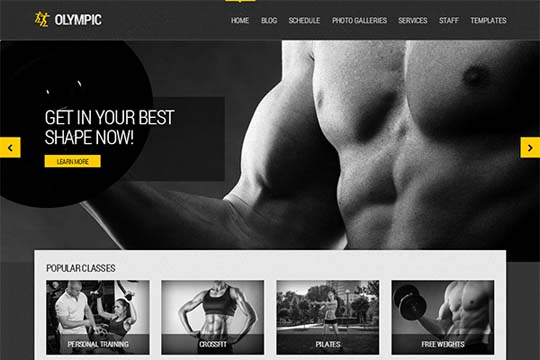 Coached to cater to all kinds of sports News/Magazine sites, Sportica is a wonderful theme. It is responsive, simplistic styled and clean. Your words will get nice display with its help and you can win hearts in record time.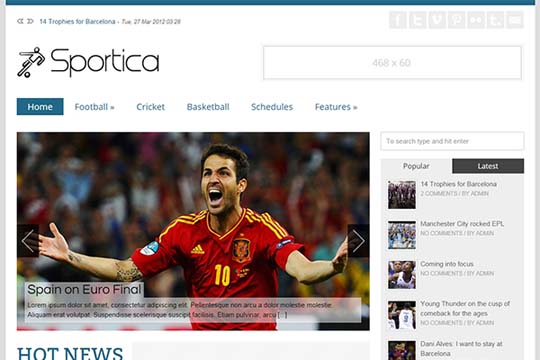 Packed with a rich list of amazing features, Hercules is a sturdy sports theme. It can build your ideal site in very less time and then you are good to go. Readers will flock in great numbers to take stock of your views and stories.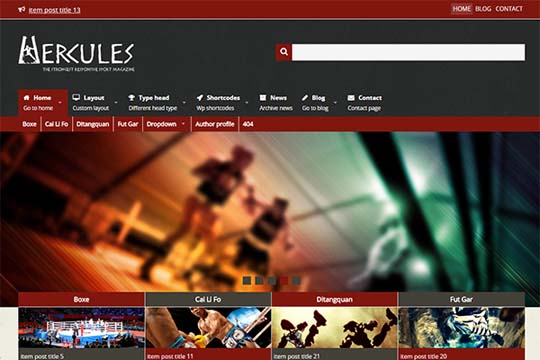 SportsGazette is a professional and powerful Sports Newspaper WordPress theme. It is very content compatible and would do well with magazine as well. All its features are in sync with current standards and thus, bring you appropriate results.

MagicNews can make your site a wonder to watch and read. This super-duper customizable WordPress blog\magazine theme starts performing soon after installation and easily brings you to your deserved position.

Xmax is a classy magazine WordPress theme possessing clean and modern design along with first rate features. News, blogs and online shop sites would be equally fine with it. It can give all the segments good status and that too at a reasonable price.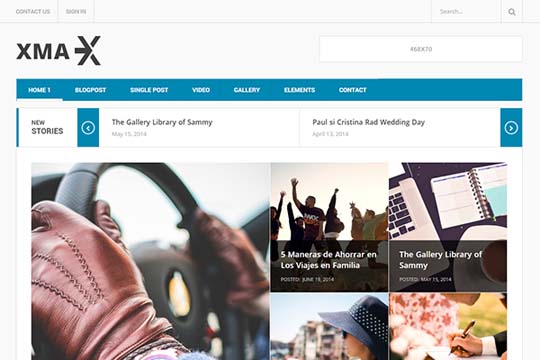 Suitable for a wide variety of sites, Velocity would do well as a magazine or news website. Simple yet strong, the theme carries every requisite feature and is also ready to get altered. You are only supposed to get it activated and then you are ready to take on the world.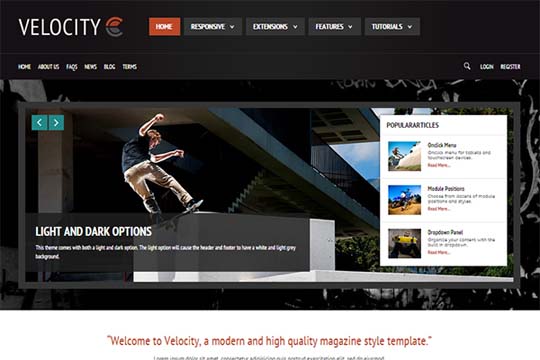 Rexus is a latest magazine theme based on the minimal design. It carries all the attributes that go into the making of a superb sports magazine. You can reach out to all the sports lovers and rest assured they will love your content.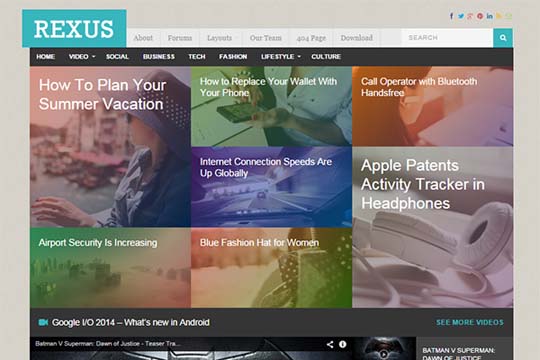 An awesome magazine theme, Osage fits in with all niches. It is super user-friendly and also feature-rich. The optional custom-built scoreboard is worthy of special mention and you will also love it completely.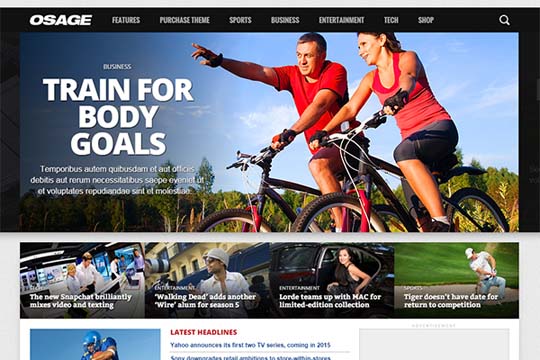 Fraction favors you fully and flatters you with its copious features. It possesses its own Banner system and gives you ample freedom to design things according to your way. Take the demo and you will get the proof.

From football to netball, all kinds of sports find favor with MyClubSite. This clean, classy and customizable magazine theme is a complete cure for your magazine. You can get your stories best packaging and exposure without paying a fortune.

MagXP is the ultimate Magazine WordPress theme, so says MyThemeShop. It holds multiple layouts, fully customizable design and great functions. The template would suit your sports site incredibly well and you can easily acquire the top ranks.