This 2nd volume of very popular deal is something really special. Even better & bigger then 1st one. Highest quality resources and also best sellers with retro/vintage feel in one mega bundle! Whether you're just starting your freelance career or looking to beef up your own resources library, this Jumbo Deal is for you! With almost 93% off, and available for limited time only, you'll need to grab this mega bundle while you can.
Only Best Sellers – Mega Bundle! vol.2 contains hundreds of retro/vintage design elements, templates, effects and custom fonts from 9 talented designers.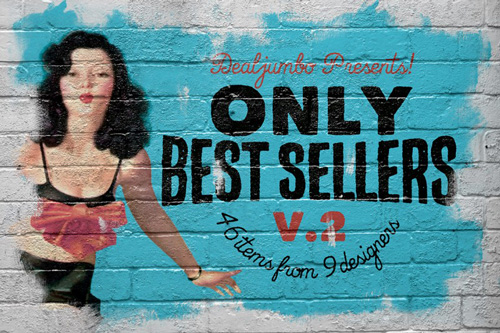 Some FREE samples from this bundle: Download here!
With this deal you get:
– 14 Custom Font Families ( TTF, OTF formats & some also in web font formats )
– 142 Logo/Badge/Insignia Templates (Adobe Illustrator AI,EPS files or some also in Adobe Photoshop PSD )
– 100′s of Vector Ornaments/Elements ( Adobe Illustrator AI,EPS files or also Adobe Photoshop PSD )
– 100′s of Effects, Actions and Textures ( Adobe Photoshop PSD Templates or actions, styles, JPGs )
Here are some examples you will get when you buy this bundle.