All the WordPress users who are focused on content creation look for themes that can make their words the center of attraction. Well, among all the themes, simple WordPress magazine themes provide the best solution in this regard. Do you know why? This is because, being magazine themes, they are focused on content and their simplicity makes them avoid feature bloat. They work on making the content easy to browse and read. This is to say that they are not just effective but also user friendly.
Typography and layout play a big role in such themes. The former emphasizes on readability and the latter is focused on making navigation easy for readers. Together, they create fabulous simple WordPress themes. Having such themes means that you can impress your audience and search engines in very less time.
Now, this is really great news. Who does not want to become popular and credible? Of course, everyone. So, are you game for taking a look at some of the most amazing WordPress magazine themes that emphasize on simplicity? Just scroll down a little and you will find a classic collection of 50 such themes. Have a feast.
MagXP
MagXP is the ultimate Magazine WordPress theme which is super simple to operate. It has got 4 homepage layouts and an options panel that lets you control the design, the way you want. This MyThemeShop template truly deserves a try.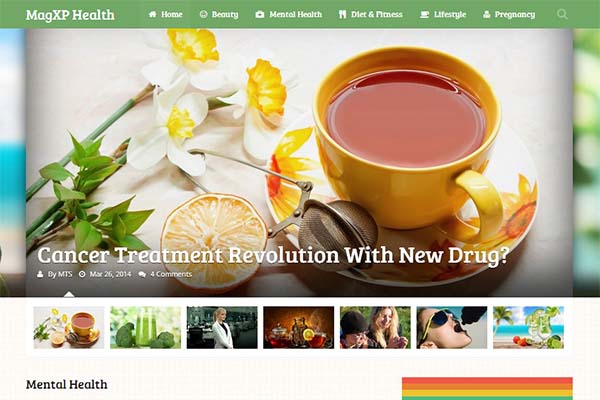 Nillpano
The $55 Nillpano is a multipurpose News and Blog magazine theme with full high definition and retina display. It was created as recently as 29 May, 2014 and thus, the theme has got the best of features and customization. You will really admire its simplicity and style.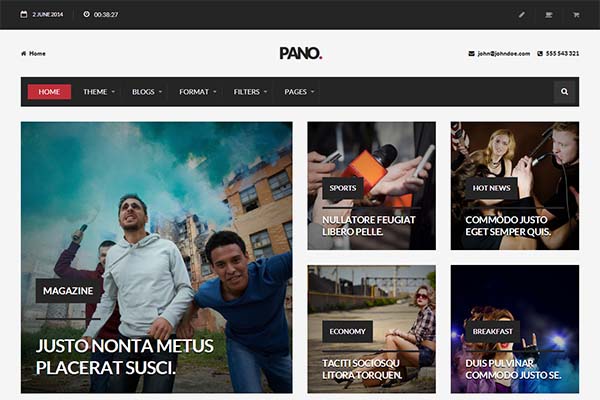 Frozr
This ThemeForest offering is a very simple and stylish. Frozr is very rich in features and the ultimate in SEO-ready themes. It is highly extensible and features numerous theme options, giving the user powerful control over the layout and functions of the theme.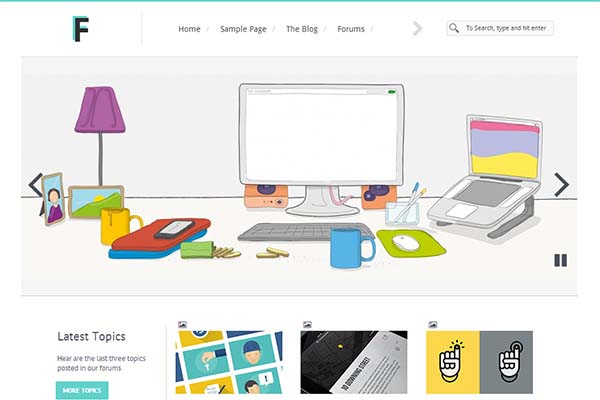 NewsTimes
NewsTimes, from MyThemeShop, is a pixel perfect, attractively designed and very mobile friendly WordPress theme. It features hand-written HTML5 and CSS3, incredible speed, SEO optimization and lots more.
Magazine
Magazine is a 3-column theme that gives you an amazing degree of control over your pages. The theme is very flexible and you can customize it in any way you want. You will definitely like the design and performance of this wonderful template.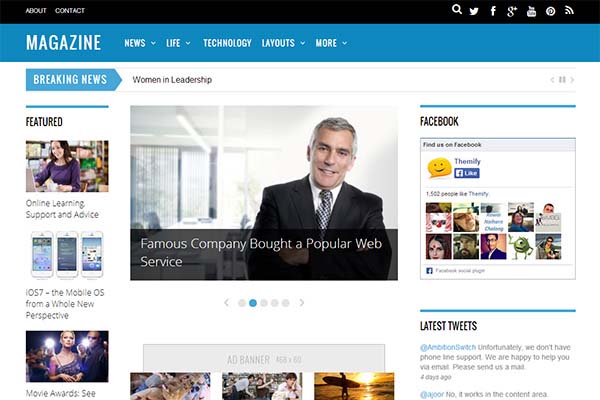 News
Carrying a fancy accordion slider on the homepage, category separated home display, multiple custom menus, header recent news slider, widget areas and even a couple ad spots; News is a must-try. The theme is so pleasing and simple to use that you can never have enough of it.
Safarica
The $40 Safarica is a smart and creative professional WordPress theme. It is a perfect choice for your personal blog, niche blog, corporate/agency/business blog or even magazine. The theme is very content friendly and packs your words and images in a very pleasing manner.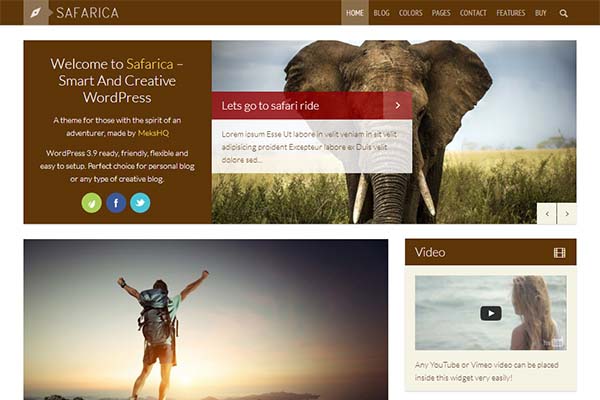 Vanity
With features such as a Carousel Article Slider for Top Stories, Banner Campaign Management, Flickr, Video and Feedburner integration; Vanity is a very fresh and flexible WordPress magazine theme. It gives equal focus on your content as well as packaging.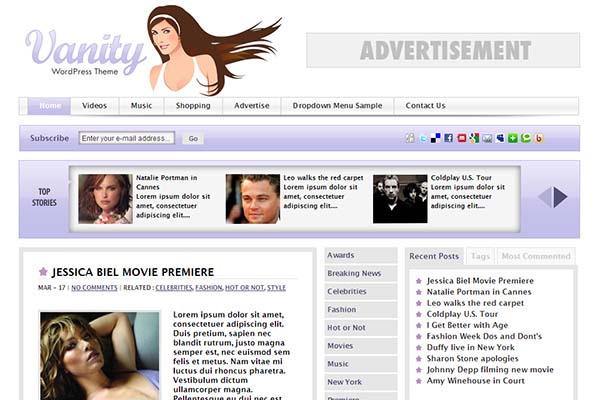 NewsMagazine
With an impressive layout and highly customizable design, NewsMagazine is a theme you must try. The template is suitable for news websites and various blogs. You will really like it and it will give you good results in record time.
Novomag
Novomag, from OrangeThemes, is a very smart and strong WordPress theme. It is extremely simple to use and comes with a rich list of modern features and customization options. The theme is very dynamic and geared to bring you equally dynamic results.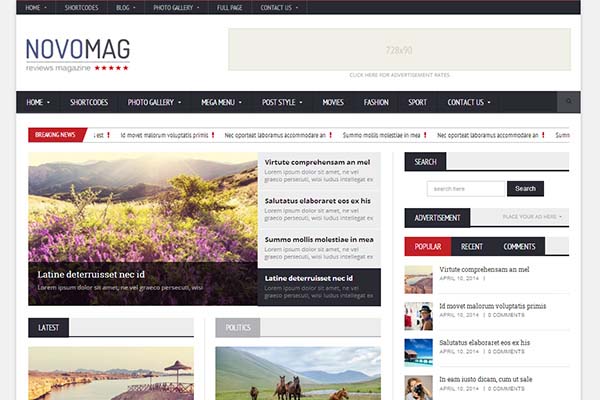 BasicMag
The built-in rating system is the USP of BasicMag. This new and feature-rich responsive theme for magazines offers modular and flexible homepage. It can easily handle heavy-content websites and is suitable for all bloggers.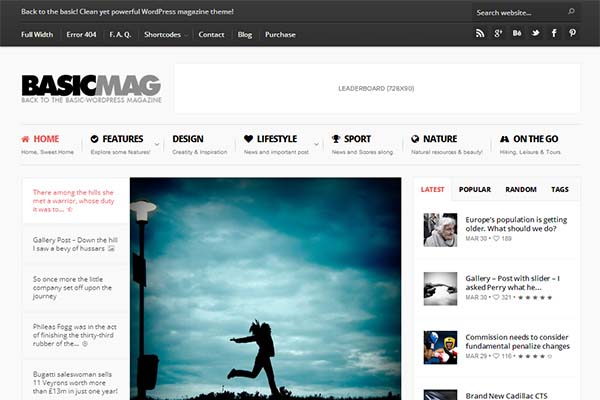 Zoombi
Zoombi is a mobile friendly magazine WordPress theme with a clean, professional and creative design for news and magazine websites. It has multiple post/page layout options, multi shortcodes, buttons and other design elements. The theme is also very simple to use and carries all the features you need to march ahead.
BlogSpring
BlogSpring is a content friendly and social media oriented WordPress theme that can make you popular and credible in record time. The theme offers a super simple user interface and you can mold it as per your own style.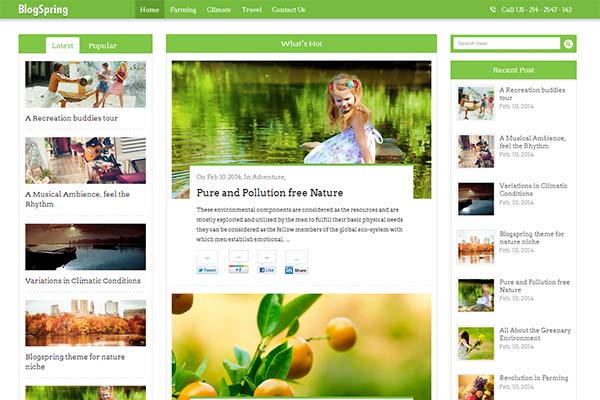 Atlantic
Atlantic News is a responsive, highly customizable and fully widgetized premium WordPress theme. It comes with a bundle of modern features through which you can display your content in a very engaging style. There is no way you cannot like it.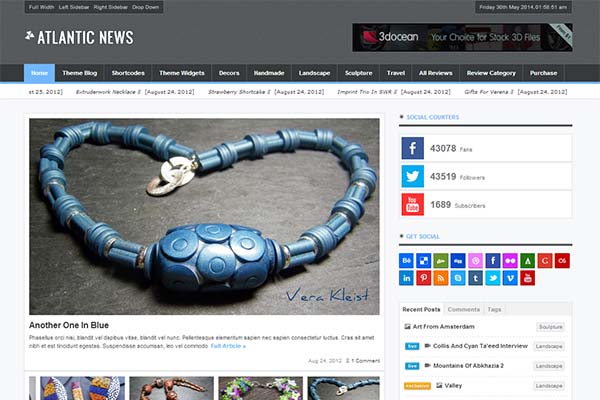 Grider
Grider is an extremely easy-to-use, retina-ready and responsive WordPress theme. It is so simple that anyone can use it, whether you are a beginner or a developer. The theme is very powerful and makes you the master of the web world for just $45.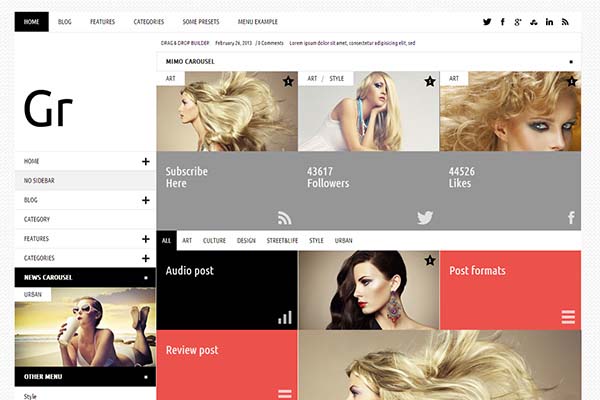 TastyFood
TastyFood is dedicated to food and lifestyle. This simple and feature-rich WordPress theme is very professional and has got all the elements in the right place. It brings ample exposure for your content and makes sure it loads nicely on all viewing platforms.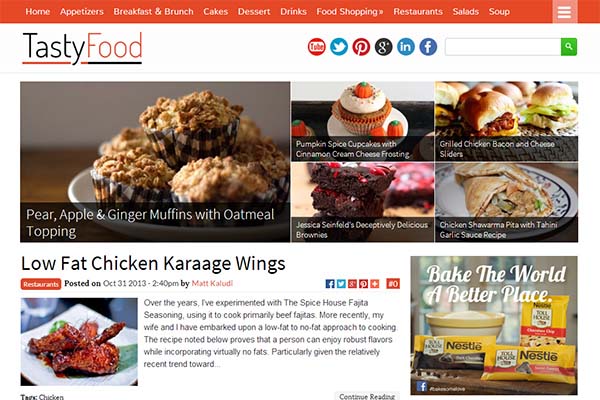 Spike
This MyThemeShop template has been designed to fill colors and shine in your blog. Spike is very bright and colorful. It is packed with the best of features and custom widgets so that you get best functionality on all viewing devices.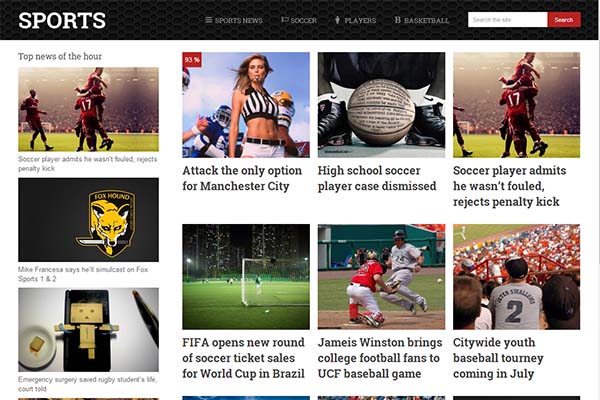 Modernizm
Want a simple and clear look for your magazine site? Look no far. Modernizm is here. This modern-looking premium WordPress theme has got a clean layout which makes reading content easy and comfortable.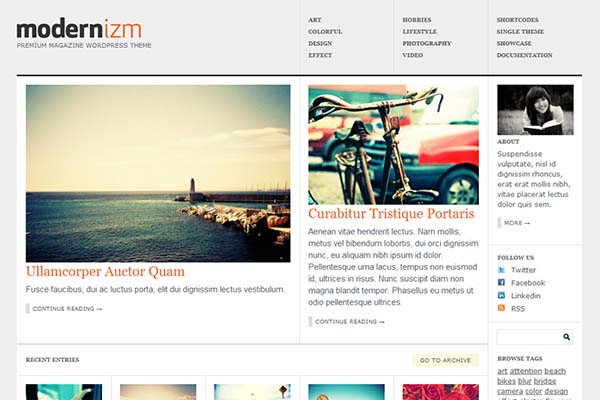 FoodMagz
The $69 FoodMagz is a very neat and stylish theme that keeps everything clean with decent white space so that your photos and content get all the central focus. The theme is super simple to use and all its elements have been designed to give you an awesome user experience.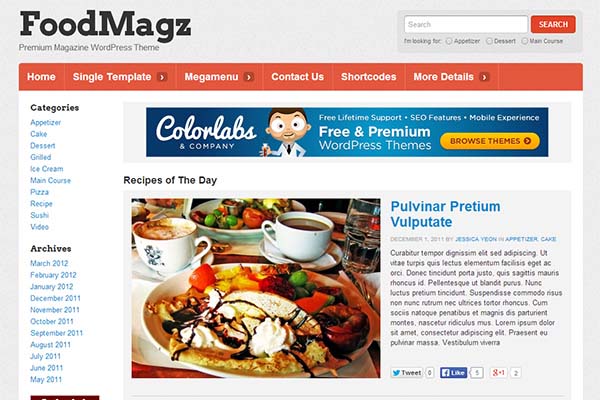 BlogsTrend
BlogsTrend is a premium WordPress theme that can help you create your own blog/website in simple and easy steps. Its design and functioning, both are professional and help you gain a strong foothold in the cyberspace.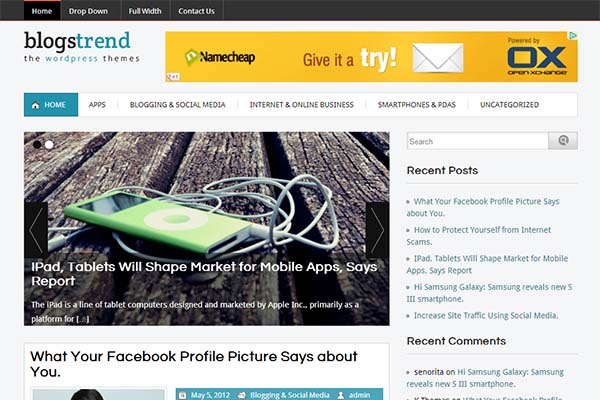 Sharp Magazine
Looking for a theme that lets your content do all the talking? Want to give your readers a fabulous reading experience? If yes, go for Sharp Magazine. This simple and substantive WordPress theme features a clean design with ample use of white space to allow your content and images to shine.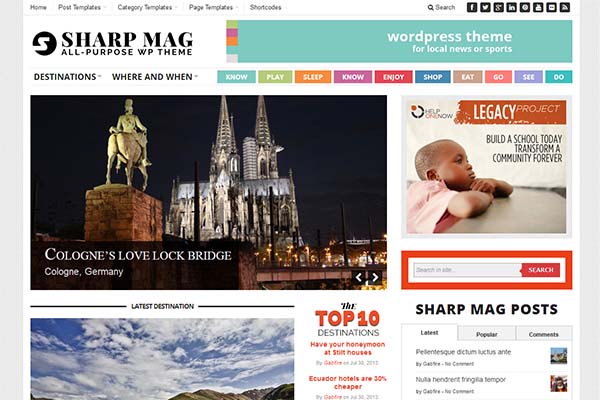 Block
The $69 Block is a simple, stylish and minimal WordPress theme. It has been designed with a unique layout and can be used for a variety of purposes such as magazines, blogs, portfolios or video sites. Anyone who uses it can gain nothing but a super memorable user experience.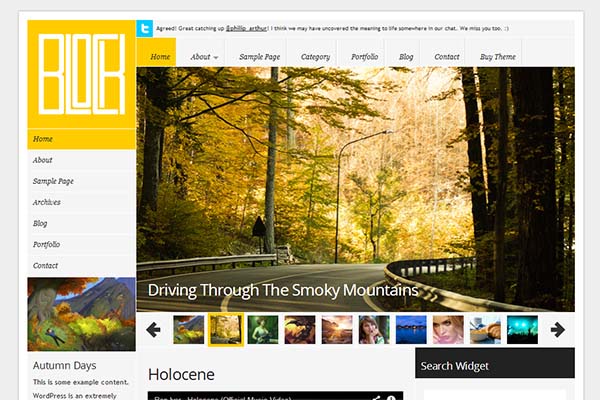 24 Hour
With a host of cool features and customization options, 24 Hour is a very strong and simple WordPress theme. It has a responsive masonry layout which comes with a lot of settings so that you can easily do all the styling.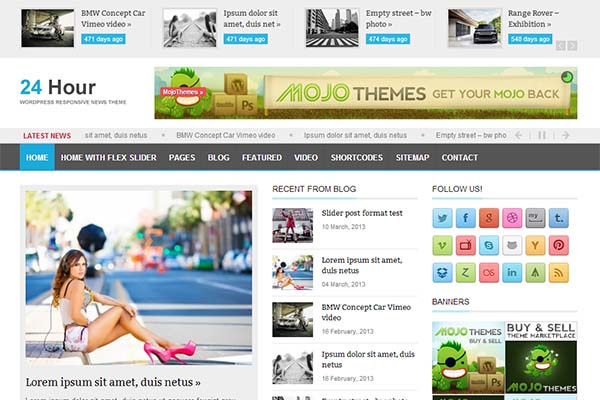 CrossRoad
CrossRoad comes with 18 awesome widgets, 22 widget areas, 4 post formats (image, audio, video & gallery) and tons of theme options. It is a very responsive WordPress theme which is also super easy to operate and gets started in seconds.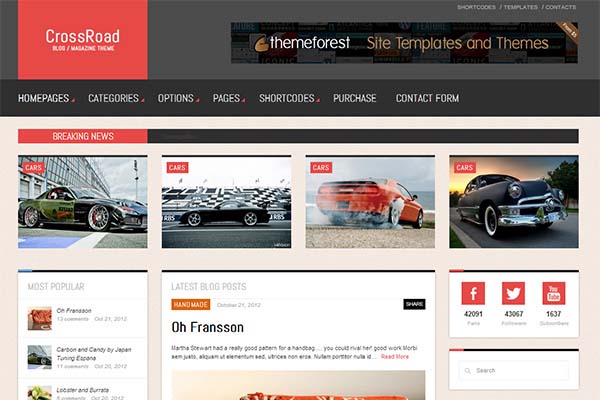 Blocky
Blocky is for photographers, designers, stylists and other creatives. This responsive, left aligned blog and photography theme makes things super easy for you so that there is no hindrance in your path, as you go about creating.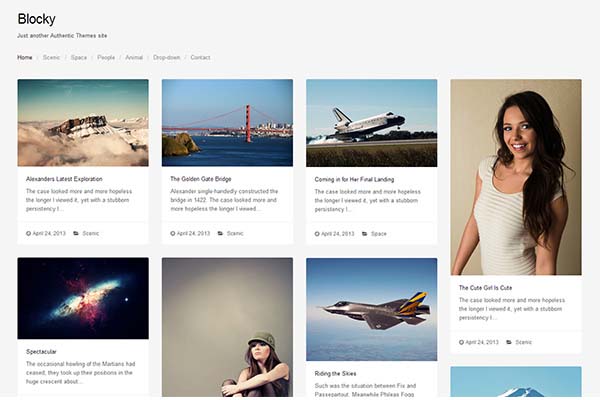 Metro Shows
Metro Shows is a very versatile and responsive WordPress theme which is loaded with great features. It can go with all types of sites and offers you a super clean and simple interface to design things as per your liking.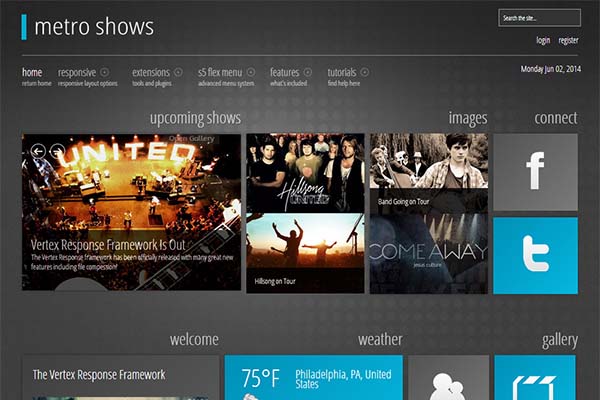 Ultra Mag
Ultra Mag, from KopaTheme, is a Magazine WordPress theme which can serve several purposes with ease. This modern template has been built by using some of the most popular current design trends as HTML5, CSS3, jQuery. What is more, it is extremely simple to use and starts delivering within minutes after getting installed.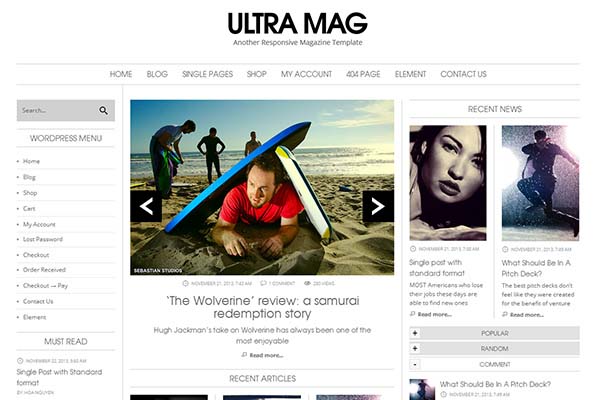 Clock
Clock, from MyThemeShop, is a superb magazine WordPress theme that draws inspiration from traditional journalistic and news sites. It makes everything super simple for you so that you can have all the freedom to concentrate on your writing.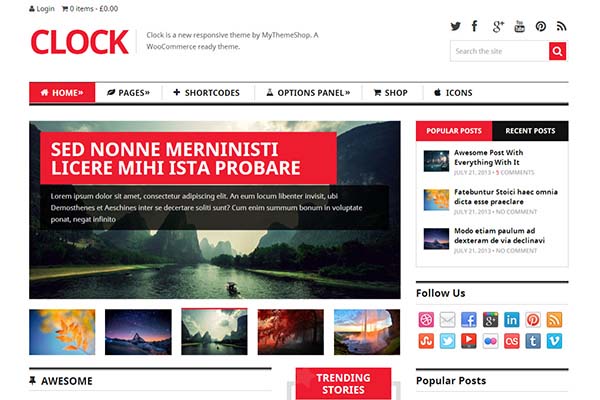 Daphne
The $40 Daphne is a user friendly and content centric WordPress theme with a fully responsive design. It is ideal for blogs, magazine and news website. The theme has all the modern attributes and makes for a complete package.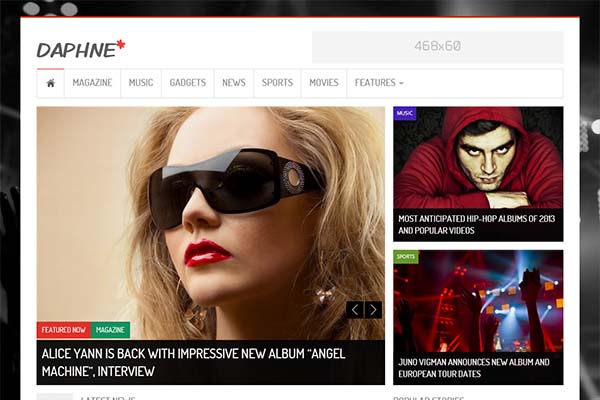 News 2
Want to build a competent and stylish magazine site in less time? Go for News 2. This clean, simple and readable news WordPress theme offers you a massive amount of options to create the way you want. It is fun to use and pride to own.
Papuros
Papuros is a very cool and customizable WordPress theme. It is super easy to navigate and carries lots of options that help you display a lot of content on your page. The theme is really a blessing and you will find it complete from all angles.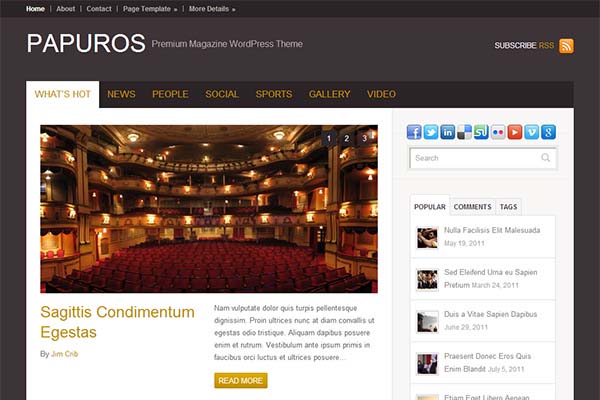 Novelty
Novelty is a premium Magazine WordPress theme with featured image slider, tabbed widgets, featured posts, custom shortcodes, custom posts, social media integration and much more. It is bold, modern, responsive and all those things you need to power your news or content sharing website.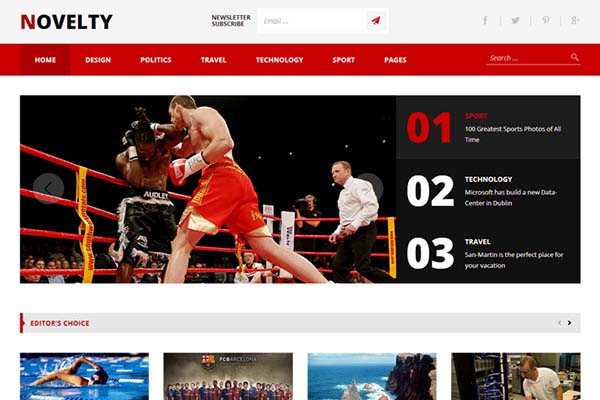 Designer Magazine
Designer Magazine is a minimal and mobile friendly theme that can perform on all types of viewing devices. This theme is very simple and effective. It takes all the work on its shoulders and lets you concentrate on your core work.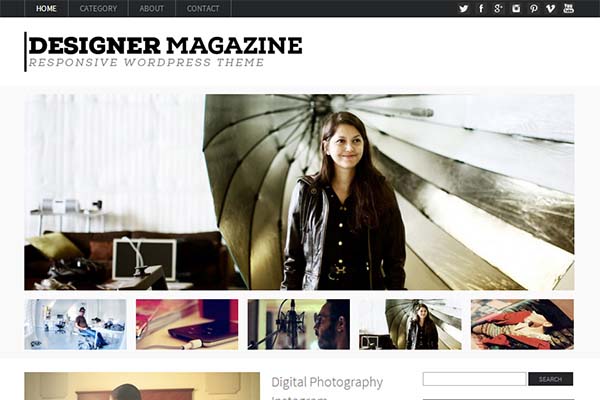 Kirigami
Kirigami comes with a responsive grid system and has been built on the Twitter Bootstrap Framework. The theme is very content friendly and super easy to use. You don't have to wait after installation as it starts performing out of the box.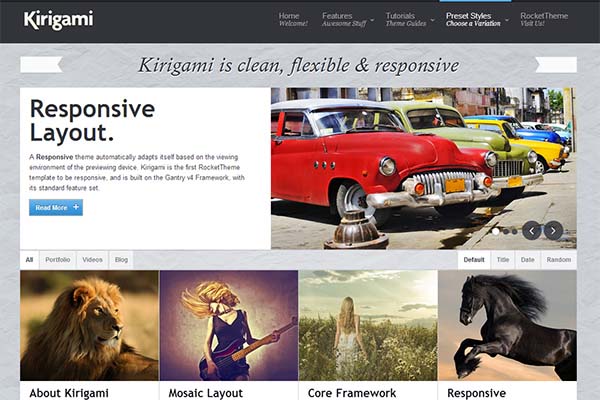 Arkyris
Arkyris is a simple, smooth and fluid WordPress theme with an animated layout. It has been built with HTML5 and CSS3 animations. The single page, multipurpose theme is fit for any type of business and you can easily operate it just the way you deal with your Facebook account.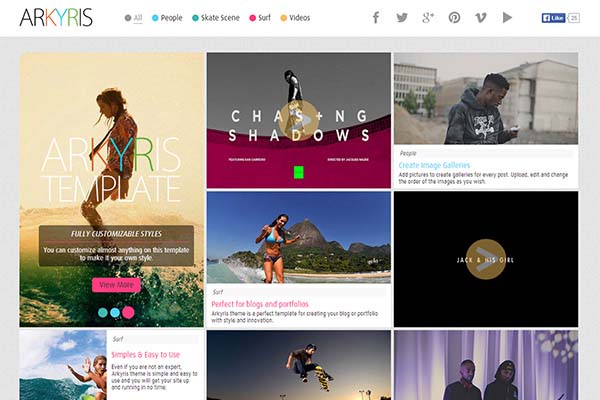 TheHealth
TheHealth is a minimal and stylish blogging theme created specially for health and fitness niche. It is professional to the core and brings you maximum functionality for just $59. The theme is certainly worth a try.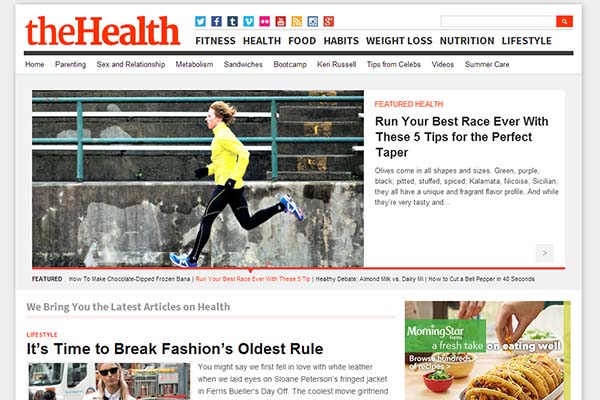 Pinfinity
This is a Tumblr like theme that draws inspiration from Pinterest. It makes sharing super easy and you can use it without much ado. The theme is nicely packed with modern age features and offers you a great platform to host your content.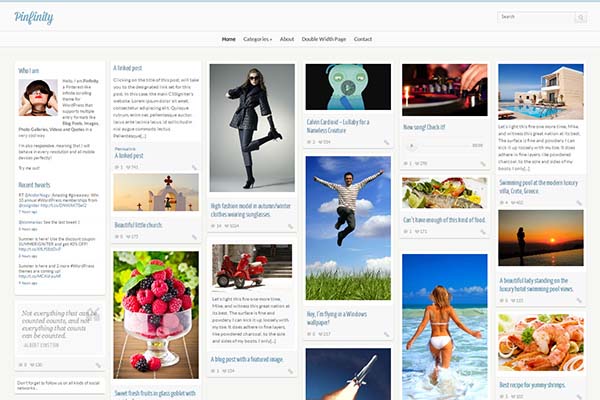 Skyting
Skyting is a crisp and feature-rich magazine WordPress theme. It avoids feature overload and uses the most popular current design trends such as HTML5, CSS 3, jQuery. You will surely admire its simplicity and strength.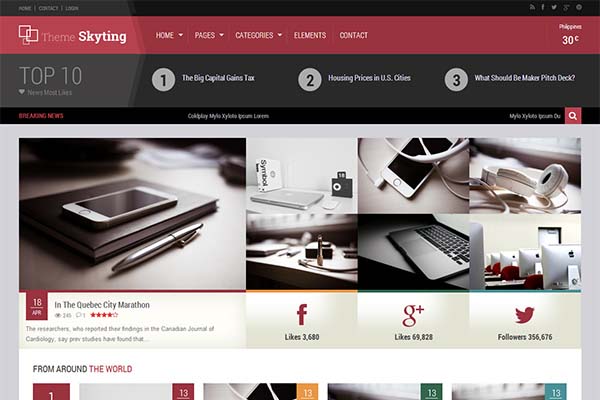 Pinstagram
Pinstagram is a pretty and powerful Pinterest-inspired WordPress theme that features the trademark grid layout with multiple post sizes and long list of posts. At $35, the theme makes for a smart choice as it also brings the best of features along with flexible designing.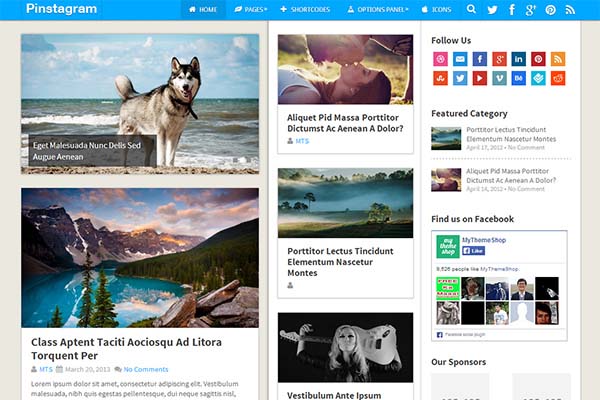 Prologue
Prologue is a very different and dynamic theme. It is a modern and responsive, touch enabled magazine-style WordPress template that can display your content in an elegant and sophisticated way. The best thing is that it is super simple to use and never poses any problem.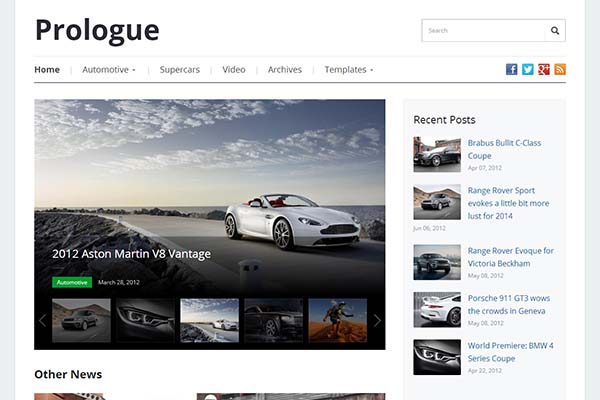 Pravda
Pravda provides you tons of options to manage and modify any aspect of the theme. It is very easy to operate and can be configured to focus on your work, your blogging, or both. Anyone who likes simplicity would go for it.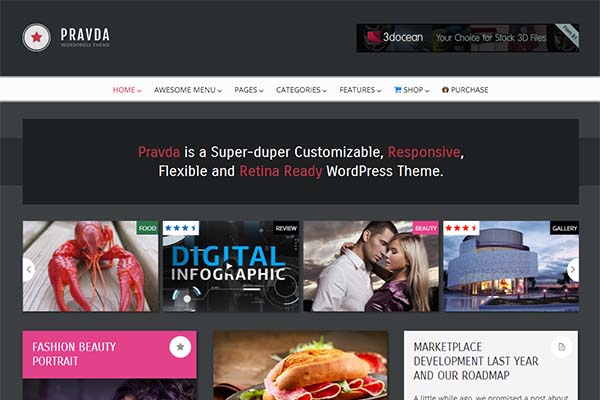 Allegro
Allegro is a strong and effective WordPress theme packed with all the great features and customization alternatives. It is easy to use and carries its own Banner system, in which you can add images, text, videos or any other type of HTML code.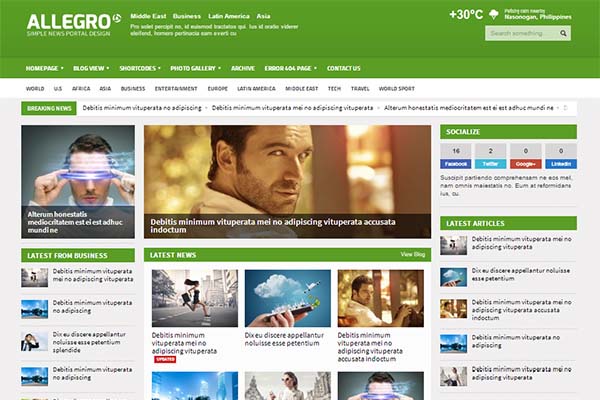 Baby Care
Baby Care is a special theme with a very colorful design that carries a user- friendly interface. It is quite suitable for professional pregnancy websites, baby care, parenting or blogs. You will have fun with it and love it a lot.
Mazaya
The $40 Mazaya is a powerful, responsive and multipurpose WordPress theme which is ideal for news or magazine, blog/website and many more niches. It is super flexible, clean and packed with all the modern features.
MasterGrid
MasterGrid is a super modern theme with a very performance centric approach. This simple theme is very responsive and adaptive. It combines a solid down-to-earth design with the latest WordPress standards.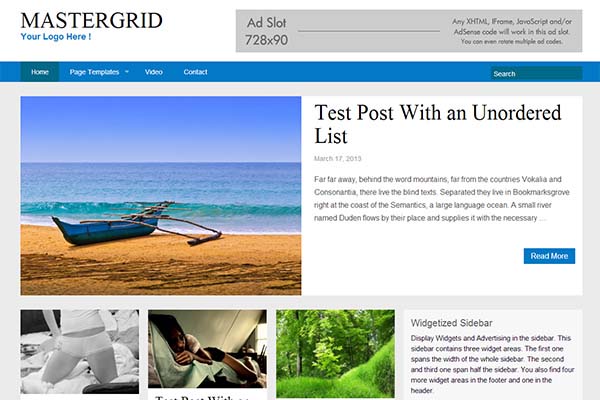 Enpine
Enpine carries built-in mega menus, HTML5/CSS3 integration, responsive design, content friendly layout and many more amazing features. With minimalist, professional and elegant design; it is a fantastic theme for content writers. The homepage displays recent posts as grids with a distinctive minimalist style.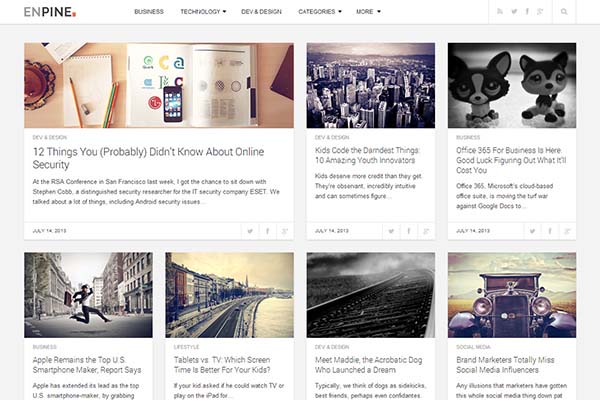 a target="_blank" href="http://wpdance.com/wordpress-themes/fanmusicmagazine.html">
Fan Music
Fan Music is a magnetic Magazine WordPress theme that showcases your work in a very efficient way. It has specialized layout for news page with highly functioned integration to maximize ability to show news in a logical way. You will have a great time with it.
Jono
The $45 Jono is a responsive WordPress magazine theme with a clean and elegant design and fully responsive layout. It is ideal for magazine, news and blog websites and can be very easily configured to use for any other purpose.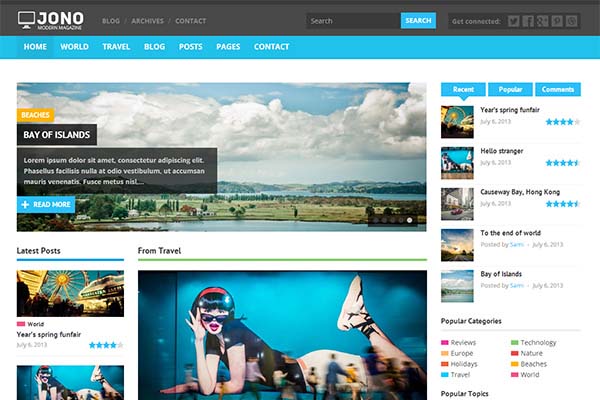 Techblog
Techblog is a nicely designed, clean and stylish WordPress magazine theme that caters to technology related blogs. It carries a stylish look with weird shapes that create a unique look for your site.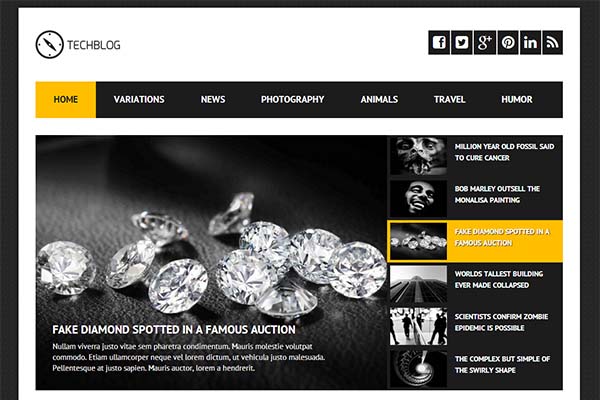 FrontPage
FrontPage has got the capacity to make you the front-runner in the cyberspace. This fully responsive and content friendly WordPress theme can function as a cool magazine website. It will give you the best of features and design for just $35.