If you run a publication of any kind chances are you need some high quality images to be used in it. Broadly speaking there are two ways to get those.
One is to hire a professional photographer and ask him to take some pictures for you. This method is both time consuming and expensive. You will get unique photographs if you go down this route but considering the costs involved, not everyone can afford it.
The second method is to subscribe to a stock photo agency. Stock photo agencies contain thousands of photographs in their library and you can go there and select the ones which you like. Photos in stock agencies are usually quite cheap, costing just a few dollars.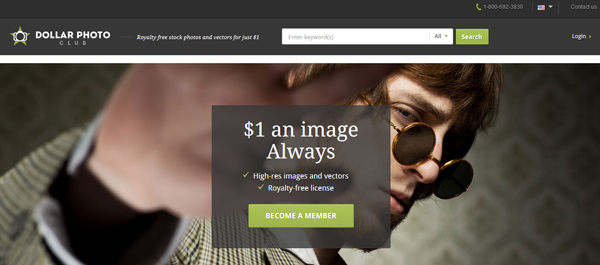 Dollar Photo Club
One agency that we like and recommend is the Dollar Photo Club where you can get a high resolution photograph for just a single dollar.
No matter which image you choose from the site you will just have to pay $1 to download and use it. There are no hidden charges or any exceptions.
Membership is limited and requires a formal application process that their Dollar Photo Club Review Committee will carry out. In order to be considered, you can submit your application on their application page.
Two subscription offers
The website offers two memberships to choose from:
One is the annual VIP membership for $99 per year. This membership bypasses the review process and grants you instant access to the library of images with 99 downloads a year.
The other one is the standard monthly membership which will cost you $10 per month. This membership, provided you are approved, is billed monthly and provides a minimum of ten images per month.
Both these memberships offer access to their library of 26 million premium high-resolution images for just $1 each, plus bonuses from creative partners, and more.
If you need more than 99 images a year or more than ten images a month you may also purchase as many additional images as you want for just $1.
Royalty free
All the images contained on the website are royalty-free. This means once you download an image you are free to use it wherever you want and for as much time as you want without worrying about any monthly or annual fees.
Additionally, the images that you would have downloaded during your membership period will remain yours even if you cancel your subscription.
Easy navigation
You can find an image through their search bar by typing in the appropriate keywords or you can browse through their categories page.
Dollar Photo Club has categorized images based upon popularity. You can find categories on Landscapes, Architecture, People, Fauna and Flora, etc.
I clicked on the Architecture category and was taken to the page shown below. Now I can further narrow my search results. I can choose the Recent option which will display the most recently uploaded pictures on the site, choose the Relevant option to get the most relevant results, click on Popular to see which images in the Architecture category are the most popular, and so on and so forth.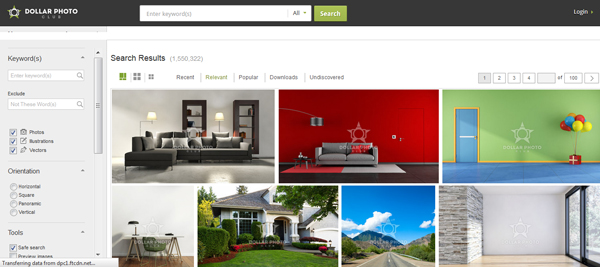 The site is definitely worth checking out. Go and take a look at it and let me know what you think in the comments below.