If they had their druthers, web designers would rather focus on how a website looks, rather than how it functions.
In the end, they know that a website must not only look great, but also be user-friendly, cross-browser compatible, fast loading, and semantic.
So, unless you're willing to tackle writing the code yourself, it'd be a good idea to let an expert convert your Photoshop mockup from PSD to HTML. Here is a list of 15 of our favorite solutions for 2014:
Fantastech Solutions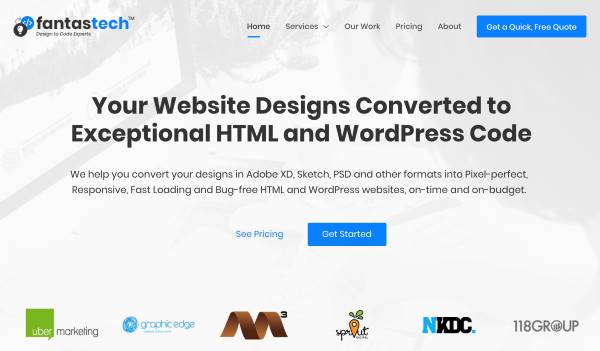 Fantastech has emerged to become one of the top providers in PSD to HTML and WordPress conversion landscape. They started way back in 2012 and have worked with over 600 clients on over 1400 projects from across the globe. They call themselves "Design to Code Experts" and that surely shows in their past work and raving testimonials from their clients.
Being focused on a single service has helped them build rock solid processes to deliver sites extremely fast and at a very low cost but without loosing the quality of code they delver. If you have designs in PSD, or pretty much in any other formats like Adobe XD, Sketch, Figma and so on, you can send those to them to get them converted to exceptional HTML (or WordPress) code.
CSS Chopper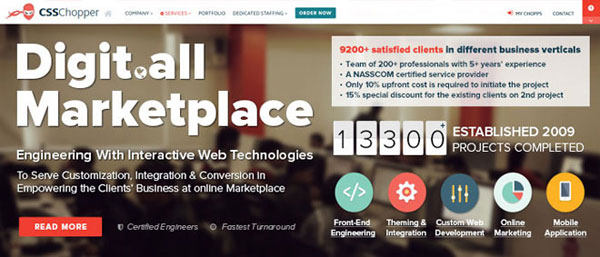 Rave reviews earned CSS Chopper the no. 1 spot. CSS Chopper is a NASSCOM-certified service that operates in over 90 countries. It uses state-of-the-art infrastructure and guarantees 100% satisfaction. CSS Chopper outperforms all others by bringing together all aspects of web development under one roof. According to their portfolio, a team of 200 professionals serviced 9200 customers from various business disciplines in a five year period. The number of projects completed overall is an impressive 13,300.
This type of job performance, coupled with a miserly 10% upfront startup cost, flexible engagement models, and 24/7 personal customer service and technical support for all time zones, has translated into some glowing reviews from customers. Indeed, CSS Chopper has earned the admiration of clients from around the globe. This is also due in part to their flexible, project-based fee system. In addition, they maintain an open communication line with their customers through a variety of mediums, so there's always an open channel for you to communicate your preferences.
PSDgator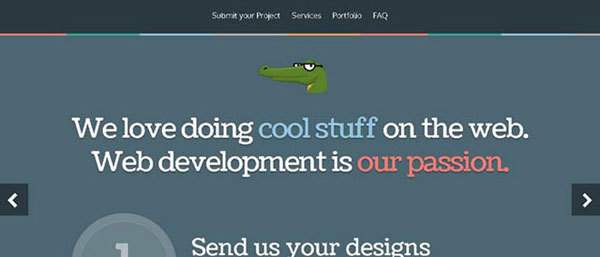 PSD Gator holds down the second spot on our list of web developer tools. Their professional web developers will convert your designs to W3C-valid HTML5/CSS3 markup code. This ensures that your website is compatible with the latest browsers like Google Chrome, Mozilla Firefox, Opera, Safari, and Internet Explorer. Moreover, your webpage is also tested on both PC and MAC.
For their services, they charge a paltry $99 with a two day turnaround. In addition to setting up new websites for you, PSD Gator will re-code your old websites. They also offer a money-back guarantee and if you encounter any problems you can get in touch with them via Skype, email, or phone, 24/7. Incidentally, the more webpages you need re-coded, the bigger the savings (As much as 25%). In addition, all regular clients get another 10% off any future projects.
Direct Basing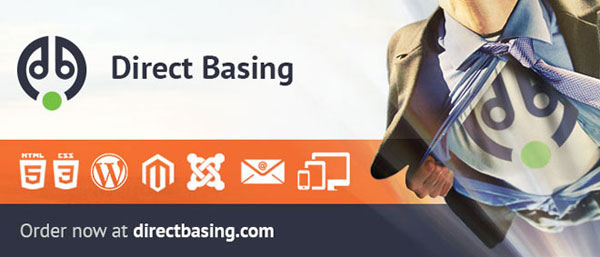 The third spot belongs to Direct Basing. They are a group of highly-motivated professionals who are dedicated to providing expert web development solutions for their customers by creating SEO-friendly and cross-browser compatible XHTML/CSS code. Their highly-skilled team of professionals is driven to bring you awesome SEO websites.
When you upload a design, they allow you to choose such options as customized fonts and JavaScript features. Word Press, Joomla, and Magento ecommerce implementation are also available. Direct Basing is one of the fastest services out there, with just a 12 hour turnaround time.
Direct Basing's customer support is unmatched, and their fees are unbeatable. Direct Basing benefits from having dealt with several Fortune 500 companies including Volvo, KLM, Media Market, and Rabo Bank International, to name a few.
XHTMLWeaver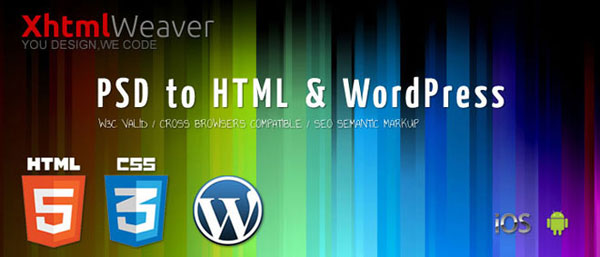 Based in Sidney Australia, XHTML Weaver is a top-rated web-development company. Their specialty is delivering top-quality HTML5/CSS3-based markup code. They are also experts at delivering polished J-Query-based JavaScript code, and sharp Word Press CMS solutions. In addition, XHTML Weaver expert team of professionals is adept at providing responsive design, Parallax, and Woo Commerce.
Amazingly, the company has never missed delivering on a project with a short turnaround. This incredible record can be attributed to their diligence and their desire to meet the client's needs every time. In addition to their commitment to their customers, the team every project to thorough quality assurance tests, and tests them on all major browsers and operating systems.
Webby Monks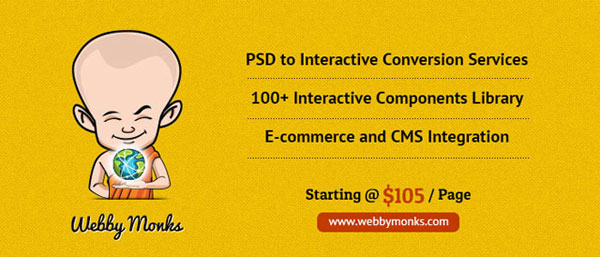 The professionals at Webby Monks take pride in being able to reshape PSD to the HTML landscape and making it so interactive. Indeed, Webby Monks is the first company to provide a gallery with over 150 interactive elements. These new elements let clients choose from a wide range of interesting components whenever they submit a request for a PSD to HTML job.
The company has set the starting price for a PSD to HTML at an affordable $105 per page. The Webby Monks team is also experts in frameworks like Bootstrap. In addition, this service offers integration with CMS and ecommerce platforms like Word Press, Magento, Joomla, Drupal, Virtumart, and many more.
40 Dollar Markup
The 40-Dollar Markup team is expert at W3C-valid, cross-browser compatible, pixel-perfect coding. All manual PSD to HTML designs are performed by professionals with over seven years of experience. Their prices are very affordable and they offer a money-back guarantee.
The reason the company is called 40-Dollar Markup is because $40 is all you'll pay for a hand-coded home page. In addition, as most companies charge additional fees for using frameworks like Bootstrap, 40-Dollar Markup will convert your designs to HTML, and base your website on Twitter Bootstrap by default.
XHTMLized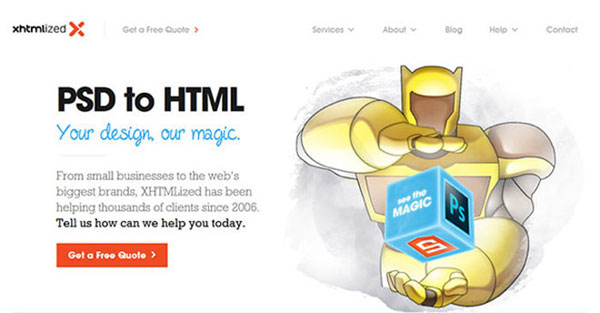 XHTMLized gives you a lot of reasons why you should turn your next coding job over to them. Firstly, they've maintained a longstanding working relationship with Twitter. Secondly, the team insists on being upfront with their clients, so you'll be able to maintain an open dialogue with all team members involved in the project. Thirdly, your security and confidentiality are protected. Fourthly, you have the option of paying a fixed or hourly rate. Fixed-priced estimates are given upfront and are based on a specific billing model. The whole process is completely transparent, so there are no surprises at the end.
HTML Blender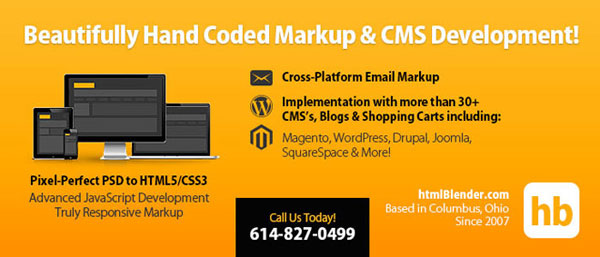 HTML Blender has been providing its customers with top-quality coding since 2007. They have built a reputation around affordable prices and customer service. The W3Blender network is made up of professional project managers, SEO technicians, and business analysts, all working side-by-side with developers on every step of every project. So, if you'd prefer to have a full-fledged team of professionals working on your project, instead of some ordinary programmer, then contact, HTML Blender, either by phone, chat, or email.
HTML Panda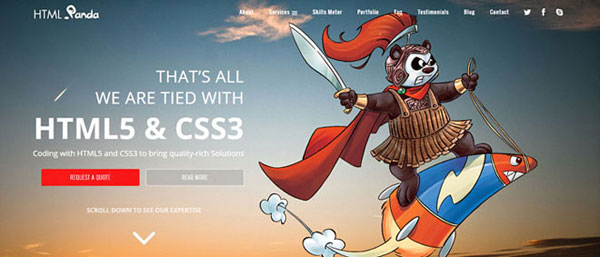 The company HTML Panda is renown among web developers. To date, they have attracted over 1000 clients and completed nearly 2000 projects. One of the things that set them apart from ordinary PSD to HTML services is their cutting-edge infrastructure. But, most of all, it is the collaborative and interactive workflow system they've employed to effectively fulfill your every need that has set them apart from the rest of the field. On top of that, they offer a 100% money-back guarantee.
XHTMLJunction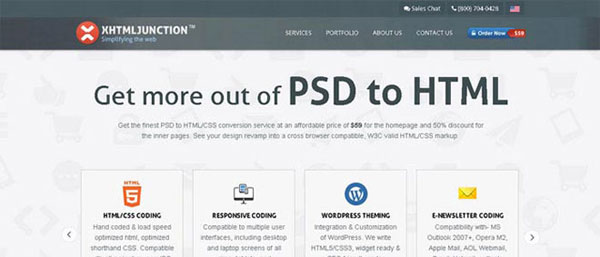 HTML Junction's prices are what attract many of their customers. You pay only $49 for coding a home page and 50% less for inner pages. However, the offers that have generated the most interests are the responsive codes for tablets and smart phones ($99 for home pages and $48 for all inner pages). In addition to the tantalizing prices, HTML Junction also employs a team of highly-skilled professionals check, and re-check, code to make sure it is pixel-perfect, loads quickly, and is compatible with all browsers.
PSD 2 HTML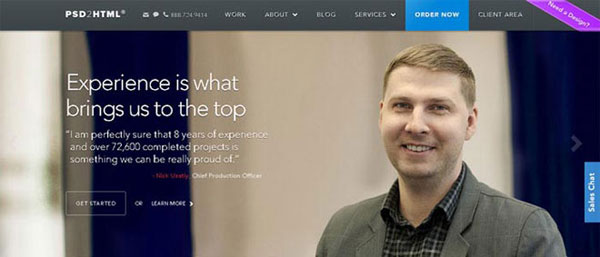 PSD 2 HTML's heavily funded research lab and their willingness to experiment with new technologies is what drew our attention to them and earned them a spot on this list. They also sponsor intensive training programs and set high standards for themselves, with years of experience to fall back on. And, PSD 2 HTML generates SEO-friendly code optimizes loading speed, so your pages load faster than ever; and, they so confident that you will be satisfied, they're offering an immediate refund on all claims.
SlicenPress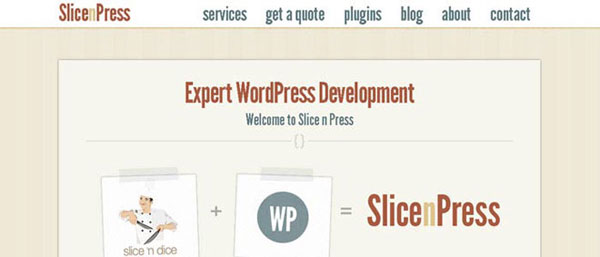 SlicenPress is another company that caught our eye. We could not help but notice that they employed a team of professionals dedicated to pursuing long-term partnerships. They test every layout on the latest browser versions like IE, Safari, Firefox, Google Chrome; the top-selling tablets like iPad and Android; and the top-selling smart phones, as well as both PC Mac operating systems. Prices are based on turnaround: $499, 2 days; $349, 3 days; and $299, for 6 days.
Bloody Hell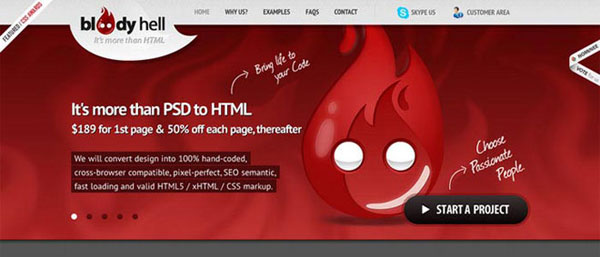 Hailing from Poland, the Bloody Hell team made a statement by offering free support for projects already in development within the first 30 days after completion and 50 percent discount on all inner pages ($189 for home pages). If the project falls short of your expectations, you'll benefit from a non-disclosure agreement that guarantees you 100% of your money back.
PSDCenter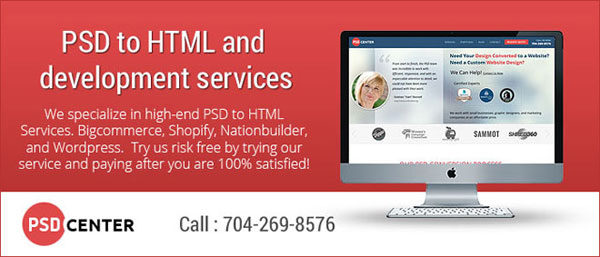 The team at PSD Center specializes in responsive codes code conversions for webpages with static designs. They are also recognized by Big Commerce Partner, Shopify Expert, and Nation-builder Architect. They pride themselves on their lightning-fast turnarounds, customer support, and free quotes. There are no upfront fees for new customers and they can begin a new project, risk free, for up to $250. All their work is above-board and you only pay if you're 100 per cent satisfied.
Netlingshq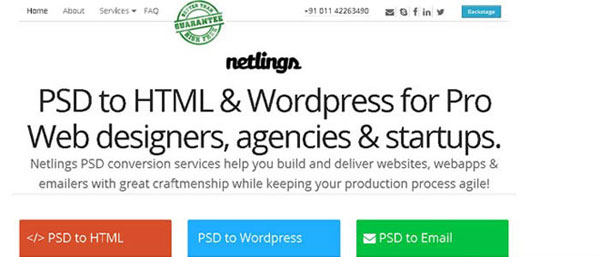 Netlingshq welcomes all web designers, freelancers, and web entrepreneurs. For a standard, they charge $80 and $40 for inner pages, with a lightning-fast turnaround speed of 16 hours. However, in the case of responsive code, the cost increases to $105 for home pages and $55 for inner pages. Yet, the turnaround is still within the 24 hour window. However, most of their customers say they Netlingshq well before the deadline.