WordPress started out as a blogging tool and slowly gained popularity as a cool content management system. Nowadays, a lot of websites use WP to create their web platforms and among them online shops are quite great in number. You can easily find shops of all shapes and sizes in the cyberspace and a lot of them use WordPress themes to run their stores. Reason being, they are easy to use on the backend as well as frontend. So, whether you are the seller or the buyer, you are bound to admire WordPress themes for eCommerce sites.
Now as a seller, your topmost priority is to set up such a store where shopping is as easy as it can get. After all, customers shop in the cyberspace because they want to save on time and efforts. Therefore, while choosing the theme, assess it as a buyer and if you think that it helps you sail smooth, go ahead with it.
The theme should be customizable, responsive and fast. These are three qualities that you must take into account. Below we have listed out 40 eCommerce themes that cater to different business niches. Take a look as it will give you a better insight.
Whether you are a freelancer looking forward to showcase your portfolio or a small business like online boutique selling apparel/clothing stuff, you will like Kancing. This ThemeForest offering which was created on 12 April, 2014 is specifically designed for fashion stores.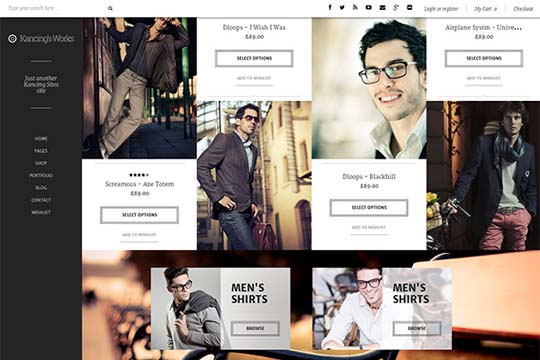 Martha is a premium, responsive WordPress theme priced at $55 which has been developed by ThemeForest. Possessing a neat and clean design, it was created on 17 March, 2014 and has all the features that are needed to set up a web shop.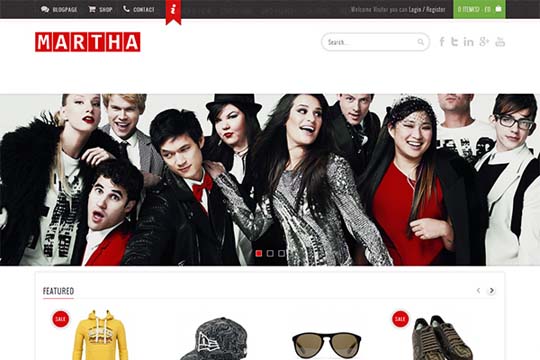 The $55 Online Sale is a clean, fresh, responsive and easy to customize WordPress theme through which you can sell your stuff easily and attract lots of customers as well.
Targeted at your niche audience, Koyorest has been designed for cafes and restaurants. Its minimalist design and pixel-perfect retina display is bound to turn visitors into customers and enhance your brand value.
As is evident from the name, Auto Dealer is a WooCommerce ready theme with absolutely unique powerful tools for selling autos and other motor vehicles. Its premium code quality and exclusive attributes make it a rare gem.
Designed for pet stores, veterinary clinics, dog training classes and the like, Pets & Vets is a one of a kind theme. It is compatible with Bootstrap 3, high definition devices and WooCommerce.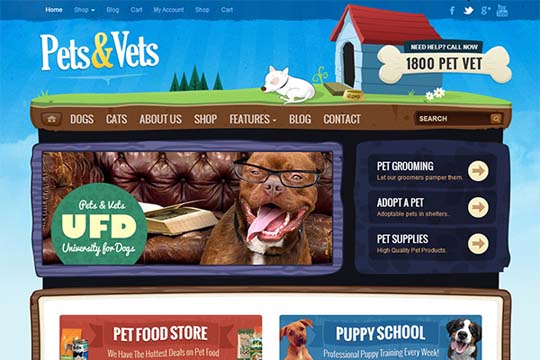 Communicate with your property buyers and clients on the web through the unique Unreal Estate. This responsive real estate theme allows you to make the most of your potential and is sure to push up your pageviews and revenue.
This is an online booking WordPress theme with a responsive design. It is ideal for booking portals, travel agencies, hotels, bed and breakfasts, guest houses, villas, etc.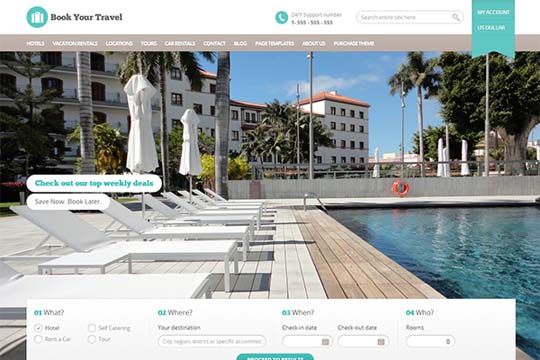 Essential is a $55 theme which lets you create your shop in minutes and you can start selling your products and services without any hassles. The theme is packed with all the necessary features that create a sexy store.
With 123Medicine, setting up your shop and getting ahead with it is just like counting 1,2,3. This theme is built on Bootstrap grid system. It is fully translation ready, compatible with WPML Multilingual CMS, WooCommerce Professor Cloud, etc.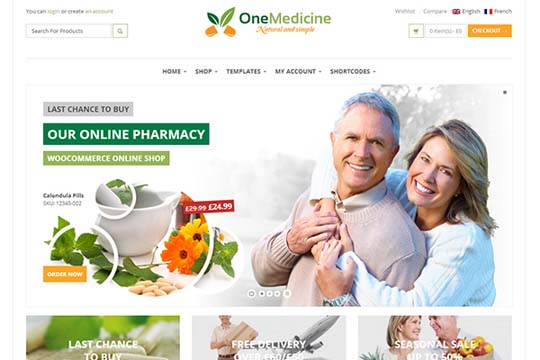 Kids Zone, as the name indicates, is a beautiful WordPress theme designed for kinder gardens, day care, preschool and similar niches. It has all the features that one needs to attract the fussy kids and their parents.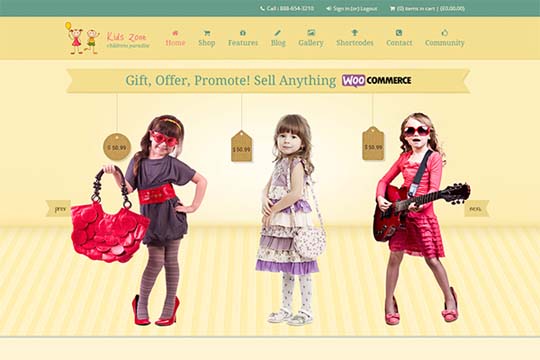 Adamas is one of the most advanced and premium eCommerce themes. It possesses a clean and fresh design with innovative AJAX loading of products, posts and portfolio items.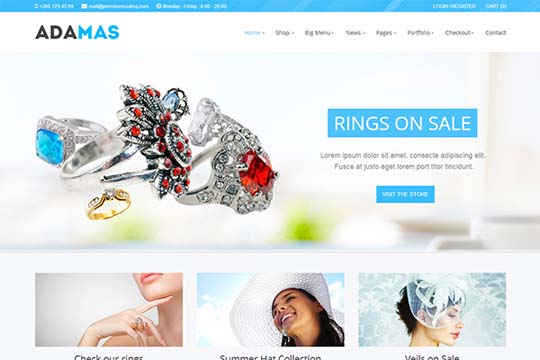 Ideal for music, band, club, party and radio station; Keronchong is a multipurpose WordPress theme with all the compatible features that a musical site needs to do business.
With an array of layout options and a lot of unbelievable features, Bazar is a fresh and creative theme that utilizes the powerful WooCommerce plugin. Priced at $60, it enjoys huge credibility among WordPress theme buyers.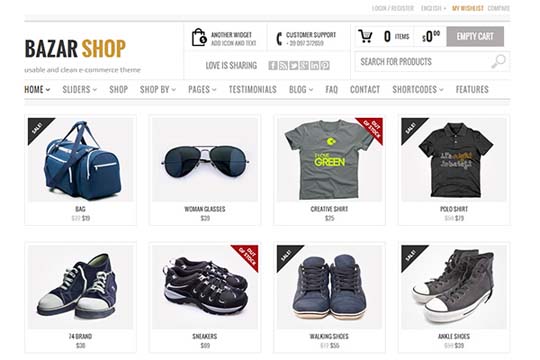 The $45 Humbleshop is a nice eCommerce theme with all the coveted features that online businesses look forward to while buying an eCommerce theme. It is a Bootstrap based framework theme and comes with real-time theme customizer.
An ocean of classic features and powerful functionality awaits you in Neighborhood. It is a super responsive, retina ready WordPress theme with superbly slick design and the most powerful Swift Framework which offers limitless possibilities.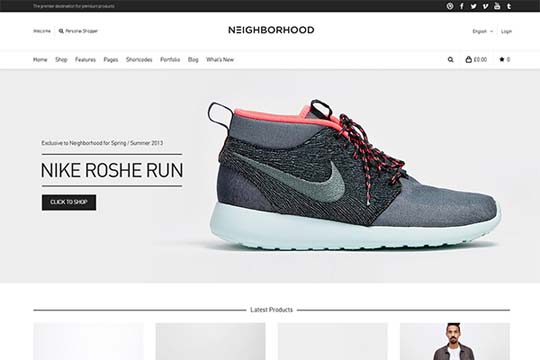 Here is another theme for music, club, party, radio station, bands and the like. Created on 4 March, 2014; Music Club comes with great features for musical stores such as floating music player at the bottom of the page, the traditional boxed player, etc.
Impress your customers and tempt them into buying your products and services for Lorem&Ipsum is designed to bring numerous footfalls at your store. What is the best thing about the theme is that it is a universal WooCommerce theme which can gel with any kind of business.
TechGoStore is a terrific theme for those who want to sell games/digital devices/electronics and the like. It is a dynamic theme constructed with all the attributes that attract hi-tech people.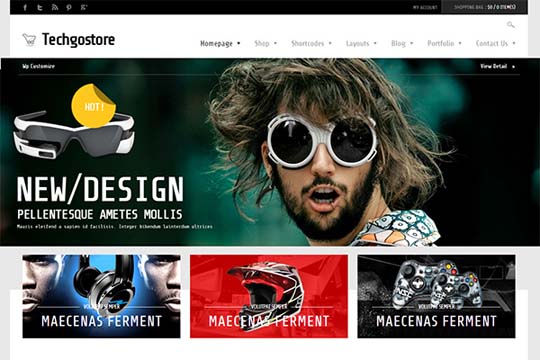 Here is an exclusive theme designed for online shops selling thrifty, organic, spa & beauty related products. Priced at $55, it will get your shop up and running in minutes.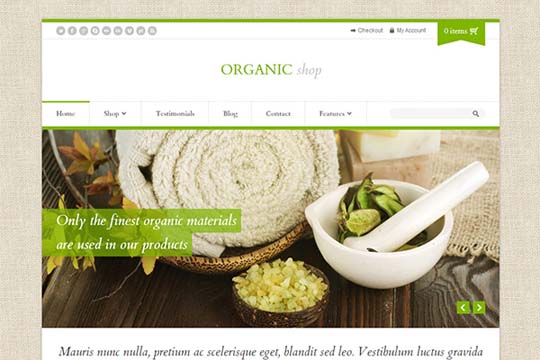 Save your money and take your store to the next level with UberStore which is a stunning responsive theme inspired by modern eCommerce designs in mind. It has a wide range of incredible features and includes $169 worth of goodies.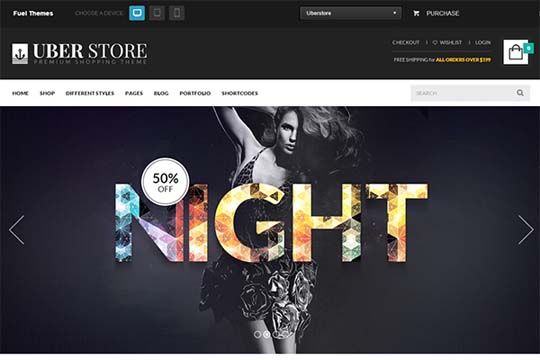 Created on 7 April, 2014, GoodStore is a unique WooCommerce responsive theme with powerful detailed styling options. It lets you create and customize things easily and efficiently.
From real estate to vacation rentals, Open Estate is suitable for all of them. It is loaded with all the features that give you the flexibility and the formulas to set up a sexy online shop.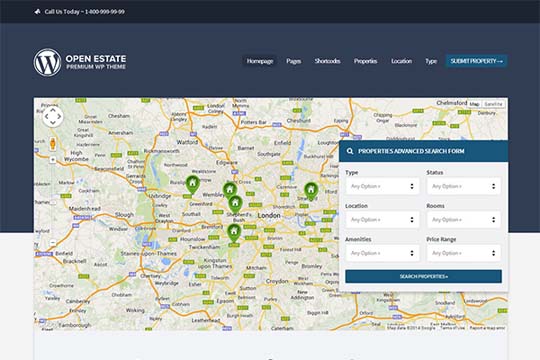 Callisto is priced at $55 but its features give you value worth $90. It is a fully responsive theme that allows you to sell anything to anyone using your WordPress site.
With Shandora, you can create a simple as well as a complex site in minutes. Designed for the real estate niche, the theme is completely clean and flexible.
XMarket is a clean and easy to customize WordPress template which lets you create any kind of online shop. It has many novel features such as powerful admin module, slideshow, new products display on homepage, extra links and blocks and so on.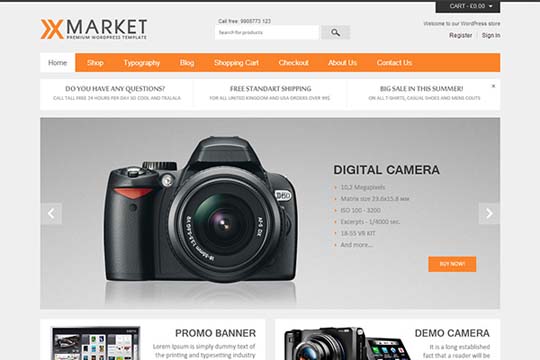 Mr Tailor is a fresh eCommerce theme with retina-ready display and responsive layout. It has lots of special features and is tailor made to catch the eyes and hearts of customers.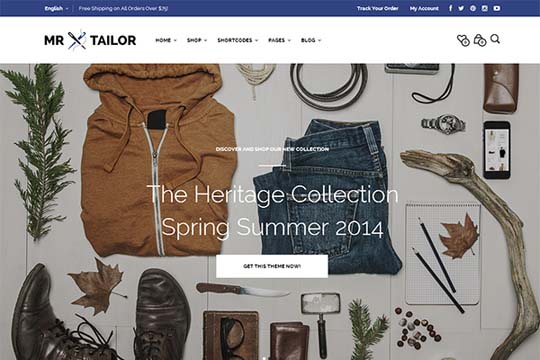 The $55 OpenDoor is a much-sold theme that contains many new features that are sure to catch your attention. It has seen many buyers and thus, you can bank on it without any second thoughts.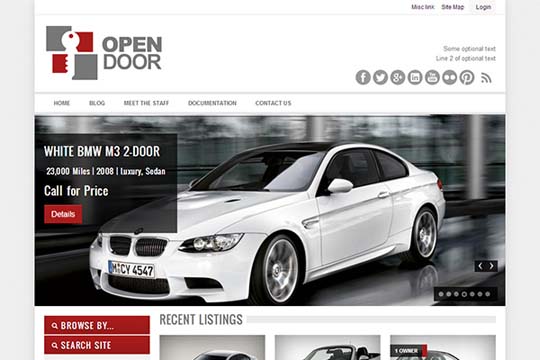 This latest theme was created on 11 April, 2014 and carries a simple one page layout with great typography. It gives your site a trendy look and has the potential to attract customers in hordes.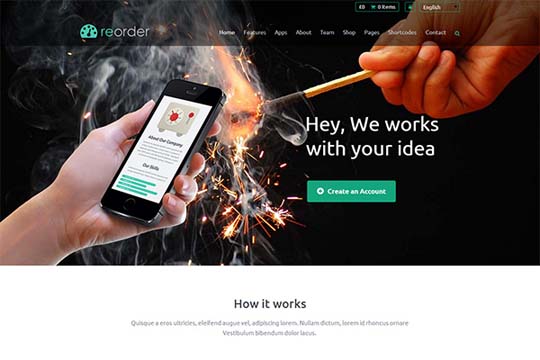 SmartShop, like its name, allows shoppers to shop smart as it is a clean and responsive WordPress theme that creates easily navigable and fast loading sites.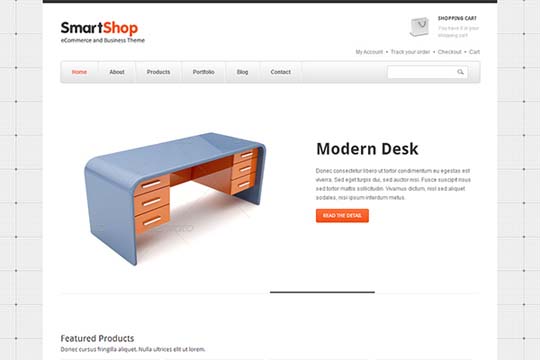 Circolare is a fully responsive multipurpose eCommerce theme which lets you create the shop of your dreams in simple easy steps.
Designed for big stores with a massive merchandize, CleanSale is clean and cool WordPress eCommerce theme which allows merchants to list their products and start selling without any barriers in layout or design.
EPROM is an innovative and interesting WordPress theme which is suitable for the music industry. Whether you are a DJ, music producer, events producer or you just a music lover, EPROM is exactly what you need.
Loaded with infinite customization options, Forte is a fabulous WordPress theme which supports WooCommerce, WP Super Cache, WPMU (WordPress Multi-User or WordPress Network), WPML, etc.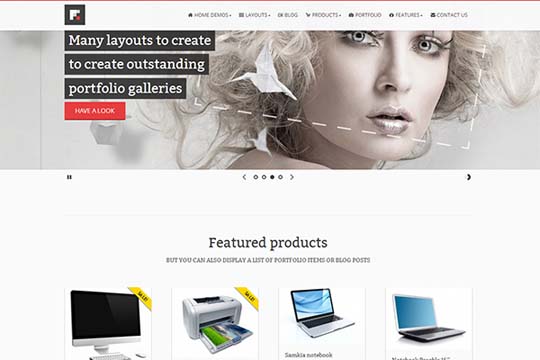 If you want to give yourself as well as your customers an enjoyable experience then ShopBox is the theme for you. It is unique, fully responsive and fresh. You can use it without any help and expect rocking results as well.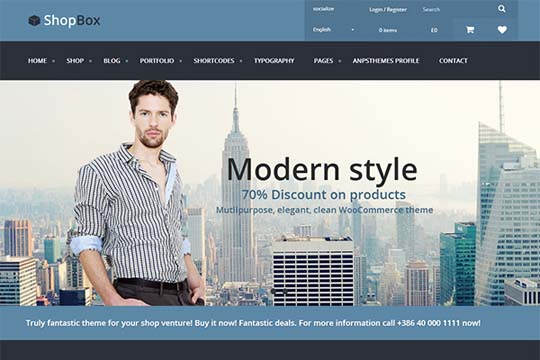 Suitable for book stores, libraries, book shops, digital products, ebooks, software apps, BookStore is a theme that can be also used to create affiliate sites linking to stores like Amazon and B&N.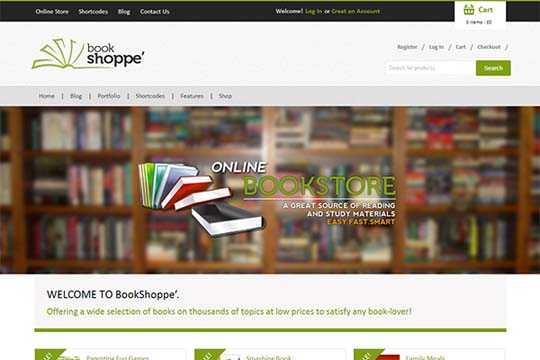 Cooker is a great template for restaurants, bars, pubs or bistros. It possesses clear code and a responsive layout which means a smooth navigation experience for your customers.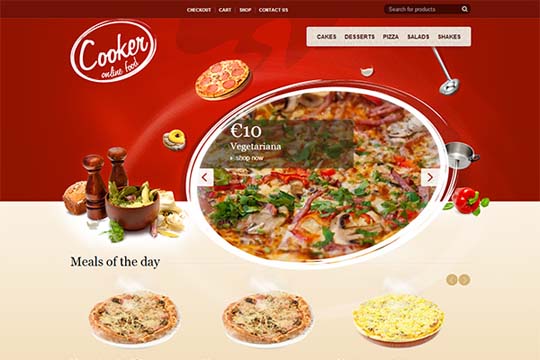 Built on Bootstrap grid system for eCommerce, 456Industry is a theme with lots of promising features. It is translation ready, compatible with WPML Multilingual CMS, WooCommerce Professor Cloud, Catalog Visibility Options and WooCommerce Compare Products PRO plugins.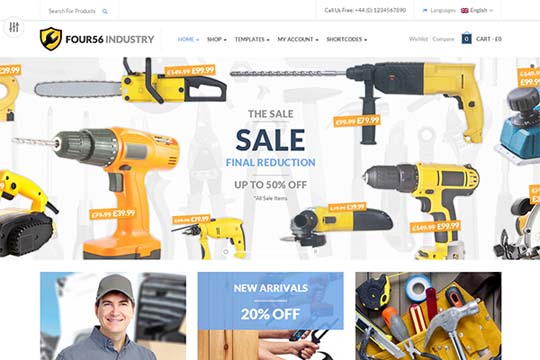 Real estate themes are very much in demand as a lot of deals take place in the cyberspace. So, here is WP Pro Real Estate, another powerful real estate WordPress theme built to showcase your listings and other stuff in style.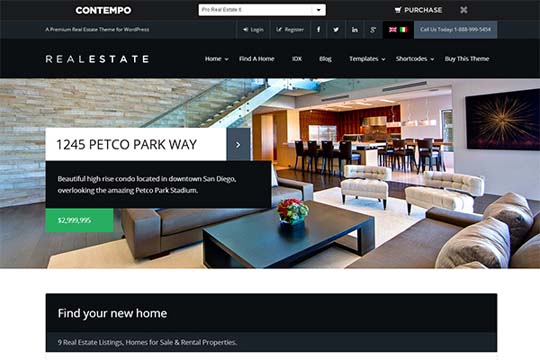 Get the best platform for your fashion store, particularly, clothing, accessories, shoes, and jewelry. RoeDok has a modern design which is super clean as well so that your customers find it a cakewalk to shop.