Don't know what responsive design means? Let me help.
A responsive website design is one which works well on all kinds of different devices and resolutions, be it a smartphone, tablet, laptop or desktop – your site will "respond" and work fine on all of these devices.
Many theme marketplaces exist out there which sell themes and templates but what is unique about Gridgum is the fact they solely offer responsive website themes and templates. They also offer their theme sellers a fixed commission rate and sellers are able to offer an installation service to potential buyers.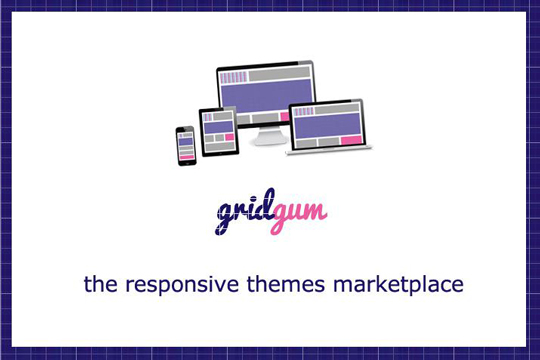 Gridgum is basically a theme marketplace whose job is to connect sellers and buyers of premium responsive website themes.
Gridgum aims to provide a marketplace with only the best premium responsive themes from all over the web. They only accept and sell the highest quality responsive web themes and templates offering a high quality cross-browser, multi device web experience.
Presently they are accepting themes from developers as they are set to launch their website on 1st May, 2014. All themes submitted and approved before 30th April, 2014 will automatically qualify to participate in a giveaway whose total worth is $2,000.
It's easy to enter the contest. You just have to register and sign up for an account. Then upload the template you have designed. Then wait patiently. Gridgum will then let you know if your template has been approved.
In order to qualify please read their instructions carefully and ensure your template fulfills them. Some of the requirements of theme submission are as follows:
– Your theme needs to be responsive.
– Your theme cannot resemble similar themes available and you cannot create it by merely copying an existing theme.
– Your theme cannot resemble similar free/example themes from the framework you are using.
– Your theme must look visually appealing.
– Themes should use attractive, high quality images. Please note you must add any copyright details attached to any use of images within your theme description
– If you are using any big images in the theme, you must compress them to ensure load times are optimised. But do not compress them so much that distortion or high pixilation is shown.
– Your theme must display consistent use of spacing, padding, line-height for typography and element placing.
Your theme colors should compliment each other.
– Elements and page designs should be created in a consistent manner.
There are two options to choose from when selling your themes on Gridgum.

With the exclusive option you can only sell your theme on Gridgum and you will get a fixed 70% commission on all sales.
With the non-exclusive option you can sell your theme on Gridgum as well as other places like your own blog and website. In this case you will get a 45% commission for your theme.
The site is worth checking out. Go and take a look and then let me know what you think in the comments below.