The role of a WordPress theme cannot be overemphasized in the success of a website/blog. This is why if you are a WordPress user and looking forward to launch or revamp a site/blog with this widely used content management system, we would advise you to be careful and critical. This is because only then you can make the most of the advantages these themes have to offer. If we talk of WordPress news magazine WordPress themes, it can be easily said that it is one of the most popular genres.
There are hundreds of magazine and news sites powered by WordPress. The prime feature of such sites is that they emphasize on readability but it is not that they do not look for visuals and impressive layout. They do but there are not many themes that carry compatible visuals and layouts in their package. Also, these days, sites are all about being responsive because a lot of people view them on their smart phones.
This is why we decided to do an extensive research regarding news magazine WordPress themes and came up with a collection which is waiting below for you to have a look. So, kindly oblige us. We will be more than happy to have you with us.
Immunity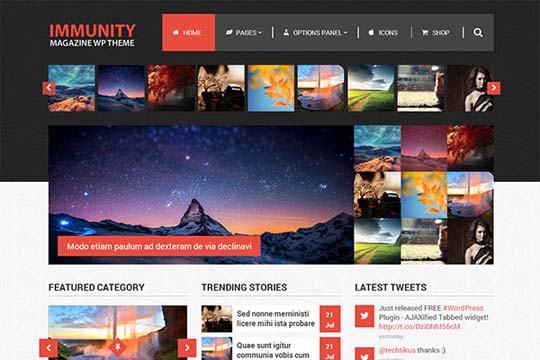 This theme from MyThemeShop, priced at $35, is a must-check. It is multipurpose, responsive and includes magazine & blog layouts, post formats, WooCommerce integration, custom widgets, shortcodes and tons of other inviting features.
Alexander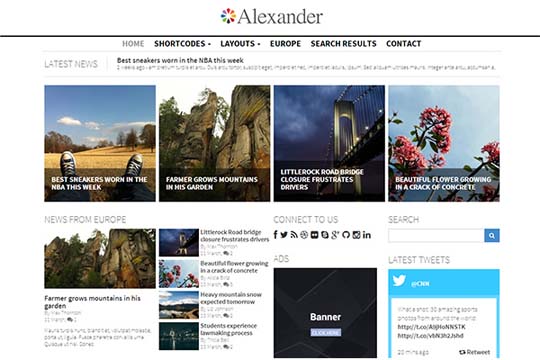 A production of MojoThemes, the $49 Alexander is a fresh and modern theme developed mainly for the magazines, news and blog websites. Its modular design allows you to create feature-rich, fast and powerful websites in minutes.
Urge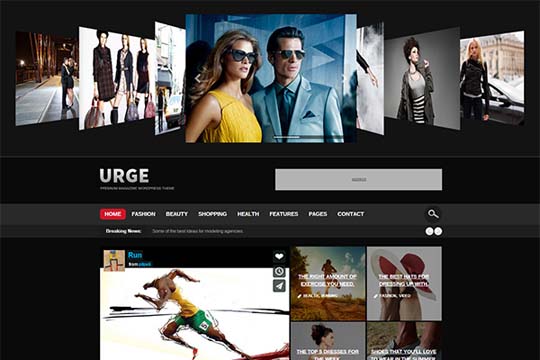 Developed by ThemeForest, Urge is a $45 theme with responsive layout, featured slider video, multiple listing styles, clean options panel, bright & dark skins, drag and drop page builder and much more. It gives a beautiful and brilliant voice to your magazine and news content.
Frontpage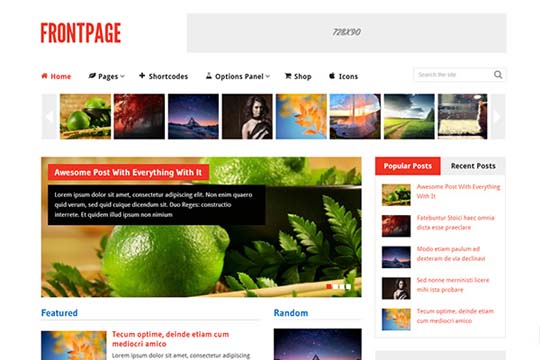 Here is another cool entry from MyThemeShop priced at $35. Frontpage is a WooCommerce-ready, fully responsive WordPress theme which can be a perfect companion for your magazine, blog or static website. It is highly flexible and comes with 6 different homepage layouts and 3 different single post layouts which really make it a darling.
Magma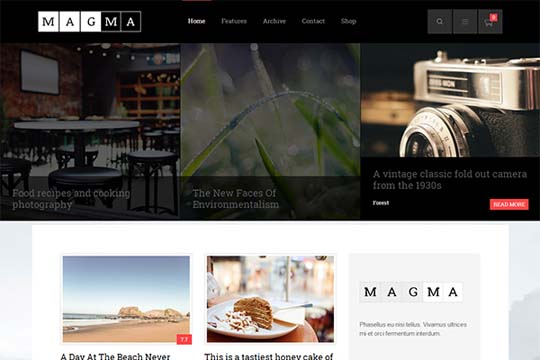 This $55 theme from ThemesKingdom was released on March 17, 2014. Undoubtedly, a fresh entry, its unlimited styling options provide you with a versatile and rich platform that you can use to create substantial and sexy news/magazine websites
Game News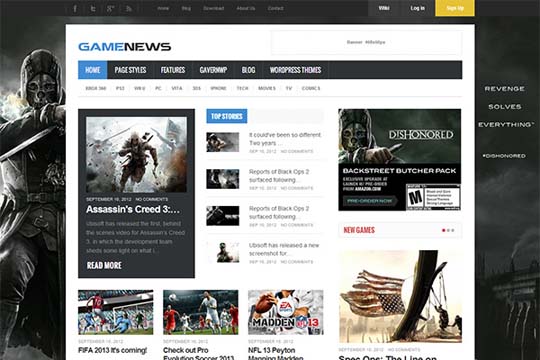 This superior premium WordPress theme offers the highly sought-after 'oomph' factor gaming websites are so particular about. It has a modern and tech-savvy look with lots of cool features that can make you site stand out amidst the crowd.
Stylebook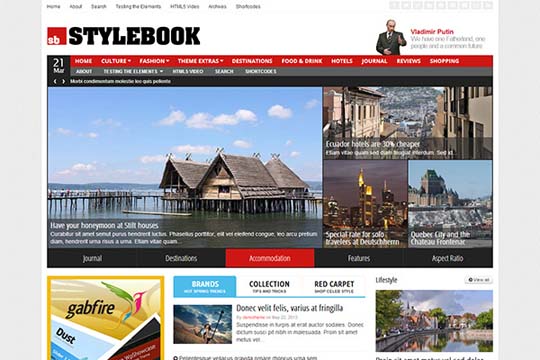 Armed with Twitter bootstrap, responsive layout, featured collage slider, news ticker, post templates, fully controllable sliders, ad module, etc. Stylebook is a theme that you just cannot ignore.
Informer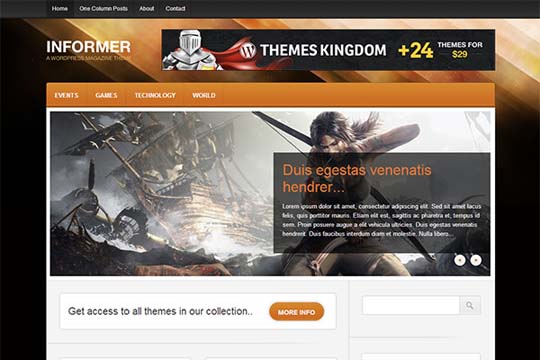 This $30 theme from ThemesKingdom is a powerful and professional platform that you can utilize to try all kinds of writing genre such as urban culture, action sports, movies, video games, music, fashion, etc.
Walle
MojoThemes comes here with another of its classic blog themes. Priced at $49, Walle is a responsive WordPress theme that has unlimited colors, 8 custom widgets, 5 page templates, 3 post formats, SEO optimization and lots of other features that are all about being modern and utilitarian.
Metropolis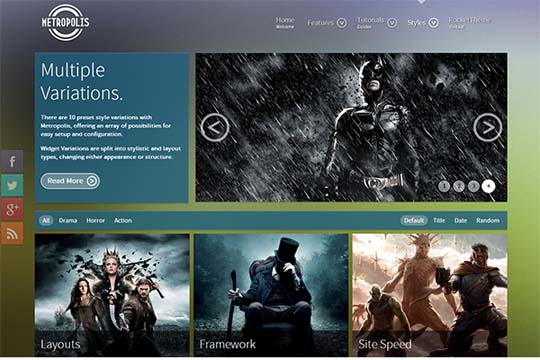 You can use the simple color schemes and shades of Metropolis to create and complement many content setups. What is more, its responsive layout and custom widgets make sure that your content reaches far and wide.
Neuton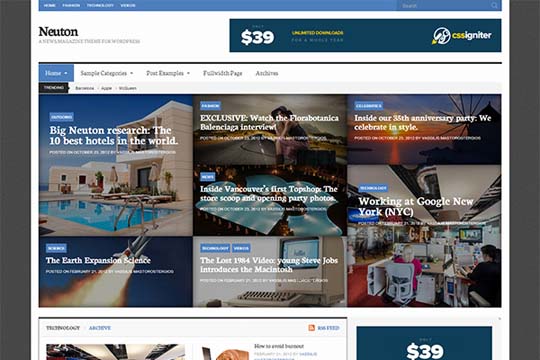 Neuton from CssIgniter is a WordPress news/magazine theme designed with powerful features which focuses on your content and audience. It is fully customizable and built with HTML5/CSS3 which means you can tackle all the aesthetical and technical challenges with superb ease.
Megnet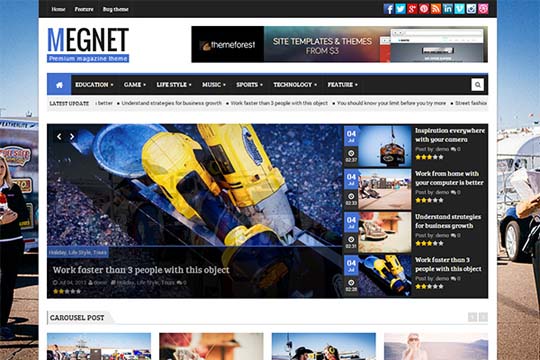 The popular themes developer, ThemeForest comes here with a $45 clean and fully responsive WordPress theme fit for magazines and news sites. It is compatible with video tutorials, review system, Google fonts, custom sidebars, custom backgrounds and many other cool elements.
Repose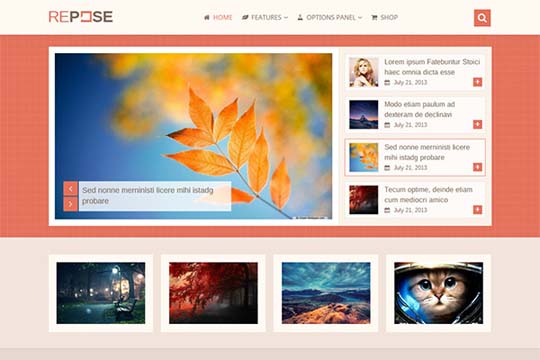 Want to build a quick and cool site? The $35 Repose, from MyThemeShop, is a fabulous choice as it has a fully customizable color scheme coupled with WooCommerce integration which makes the theme suitable for businesses and shops as well.
Piccione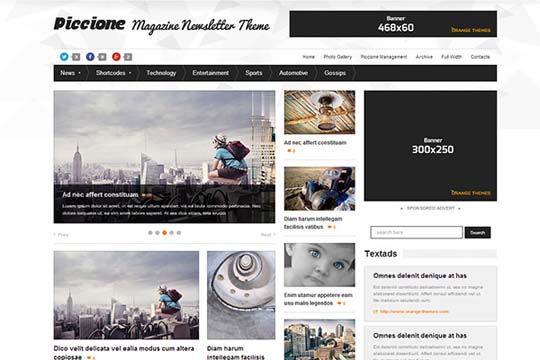 Having 3 columns, unlimited news sections and a lot of banner spaces, Piccione is a blog magazine theme that also goes great with a serious news portal.
Prologue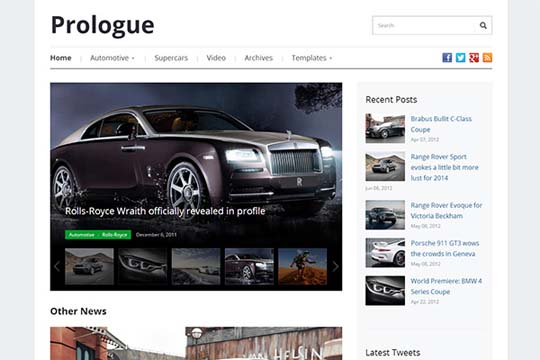 Present your content in an elegant and sophisticated way with Prologue. It is a modern, responsive and touch enabled magazine-style WordPress theme that is very modern and magnetic.
The Writer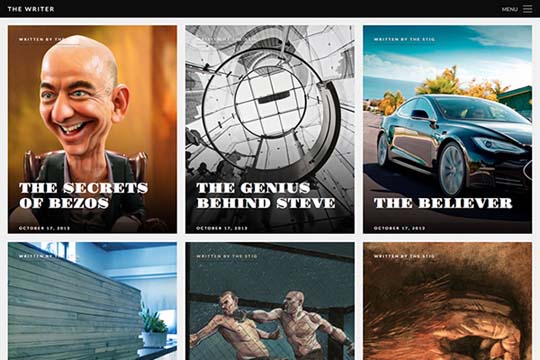 An exact reflection of its name, The Writer is a responsive theme exclusively designed for those who harbor a deep love for writing. It is minimal and easy-to-read with lots of customization options.
Pinable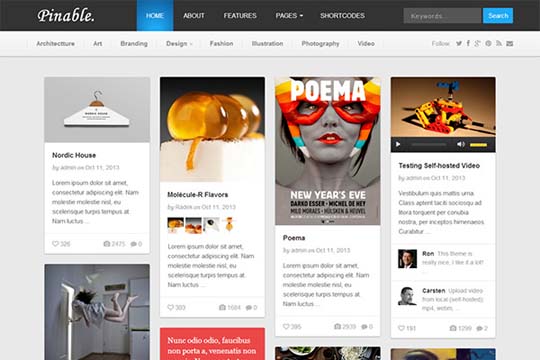 Pinable is a Pinterest inspired theme which supports various theme post types (Audio, Video, Gallery, Quote, Link, etc.). A merchandize of ThemeJunkie, it is fit for creatives, bloggers, and users who want to setup personal blogs, online portfolio, video, gallery or magazine websites.
Reganto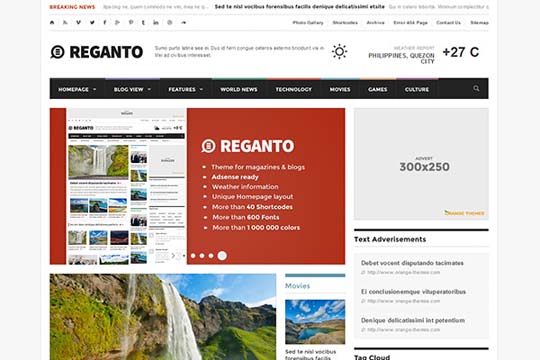 Reganto is a classic magazine/news theme that also focuses on animation and stunning visuals. It has its own Bannery system, in which you can add images, text, videos or any other type of HTML code.
TheStylist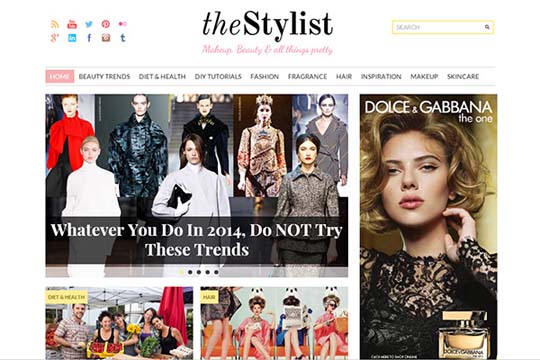 Do you have a makeup blog, hair blog, fashion website or any general feminine blog? Well, if your answer is a "yes" then TheStylist is a theme that is meant for you. It is professional and provides maximum exposure to your content.
Pinstagram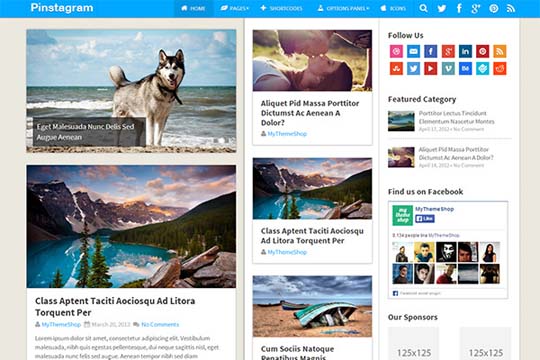 The style of Pinterest and Instagram find a great combination in Pinstagram. This product of MyThemeShop, priced at $35, features the trademark grid layout with multiple post sizes and long list of posts. It is made to enhance your pageviews and in turn popularity and revenue.
Insider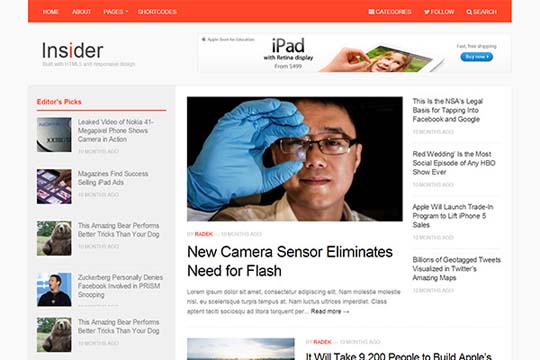 Engage with this modern, fresh and creative theme produced by ThemeJunkie which is best suited for magazines, news, and blog websites. It is fully responsive and works great on any resolution on desktop and mobile devices such as iPad, iPhone, Android, and Blackberry.
Patterns
A long list of features awaits you here at Patterns. The theme is a result of hard work and meticulous efforts that the team of GabFireThemes put in for 2 months. So, you can easily expect the best results.
Channel66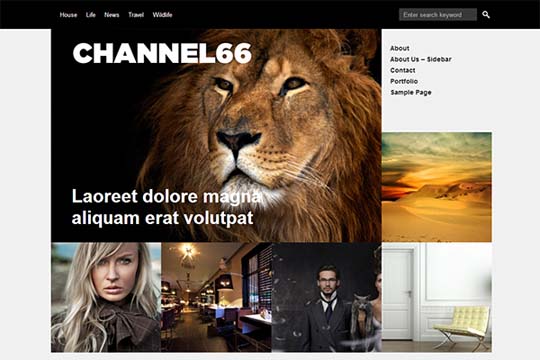 Equipped with useful and nice features, the $35 Channel66, is a theme that lets you inform and educate people in an engaging way.
TastyFood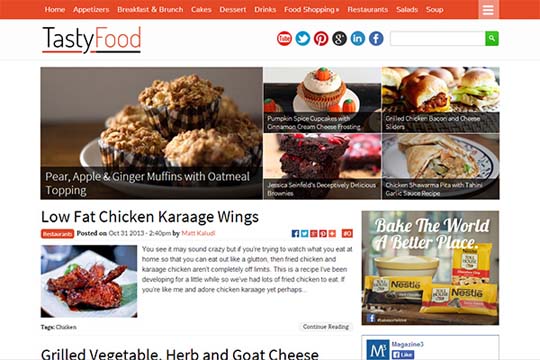 TastyFood is a theme that is designed for food blogging & lifestyle sites. It has a completely responsive layout coupled with responsive layout, review & rating feature, gallery and lots more.
Oculus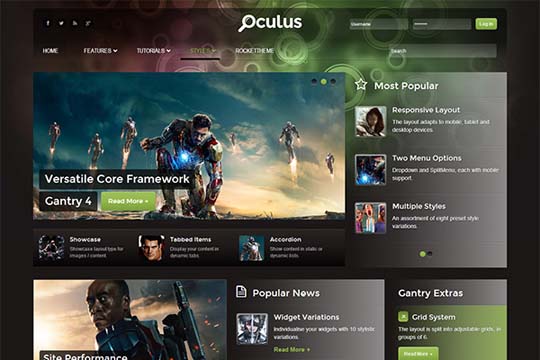 Valued at $49, Oculus is a stunning theme with semi-transparent focused design, allowing rich and subtle full page backgrounds to filter through. It is fully responsive and comes with many other features that can make your blog/site worth million looks.
Multinews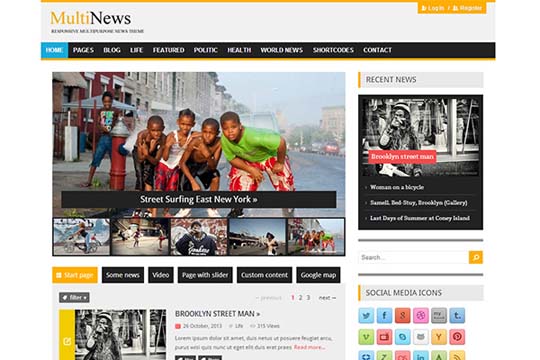 Multinews is a product of MojoThemes selling at $49. This responsive multipurpose news/magazine WordPress theme has numerous customization settings through which you can create any kind of site that you want.
Bromley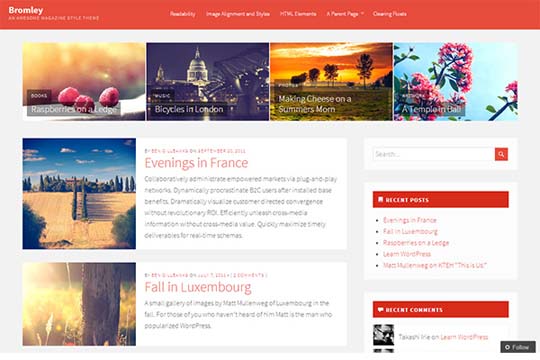 $79 is what you will have to shell out for the flexible magazine theme, Bromley. It is simple yet engaging. Loaded with a world of friendly and useful features, it is the stuff classics are made of.
RockWall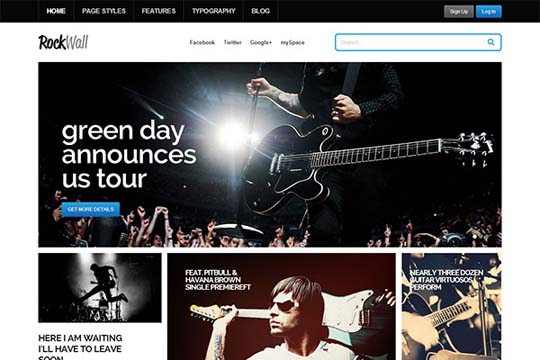 Crafted for musicians, bands, artists and the entertainment industry; RocketWall is a theme that gives a melodious presentation to your content. Tune into its wonderful features and get ready to rock.
Corvus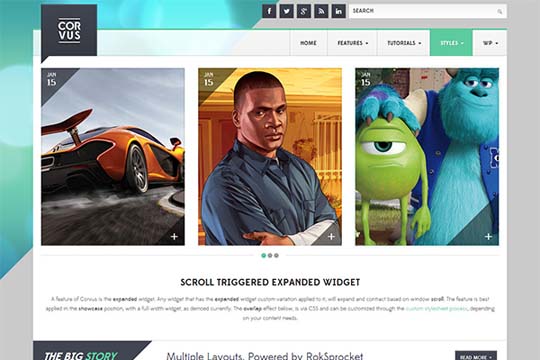 Corvus is a flexible and responsive creation of RocketTheme. Its rich and dynamic features transform your site's content in such a way that users can derive maximum value out of it.
Monospace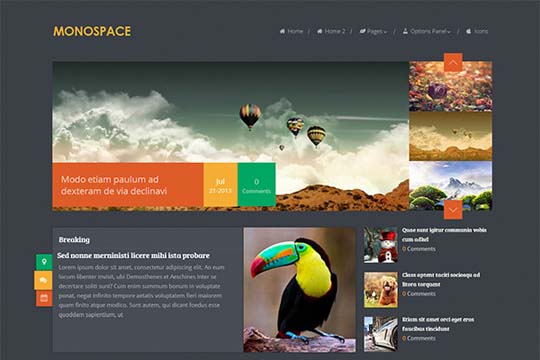 Made by MyThemeShop, the $35 Monospace is a uniquely designed, multipurpose and multifunctional WordPress theme with complete customization. It is one of the best themes of the shop and has already garnered good reviews from the WordPress community.
Novelty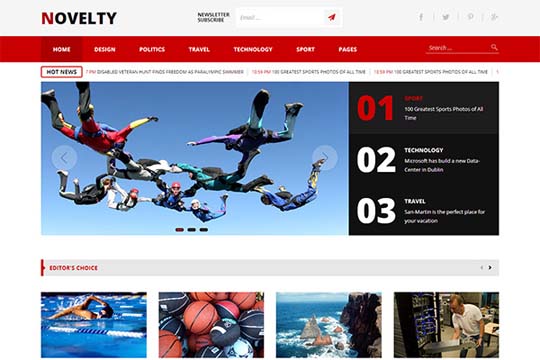 The $35 Novelty is a bold, modern and responsive magazine WordPress theme armed with powerful features to present your content in an incredible style.
Hola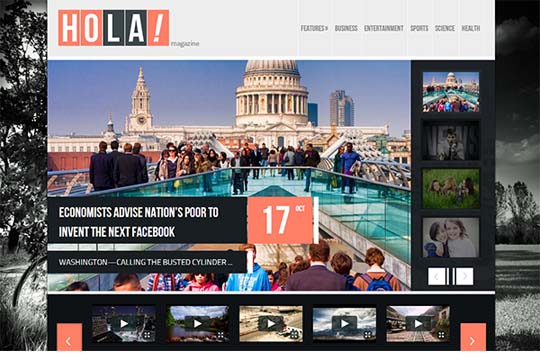 Hola is a $49 news theme from MojoThemes. Its clean layout design coupled with responsive layout and hundreds of other premium features easily guarantee the best user experience.
ExtraNews
ExtraNews is a feature-rich & professional magazine theme offering an elegant design and smooth animation. With it, you can easily create layouts and make modifications.
Gazeti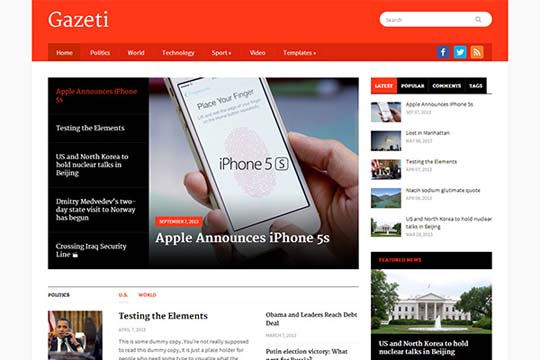 You will get to experience many fabulous features like sliders, carousels, featured categories, and many others in Gazeti. It is a responsive theme that makes sure your site makes a stunning and substantive statement on all viewing devices.
MH Magazine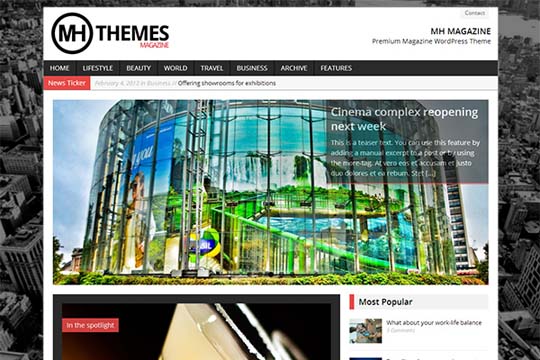 MH Magazine is $59 WordPress theme which is perfect for online magazines, classic news sites, and web platforms having editorial content. Its widgetized homepage template, multiple layout options, responsive sliders and other features are tailor made to give an excellent drive to your site.
GamingZone
Get maximum exposure and professional look for your site with the $59 GamingZone, a WordPress magazine theme especially designed for gaming portals, gaming news websites & general news sites.
News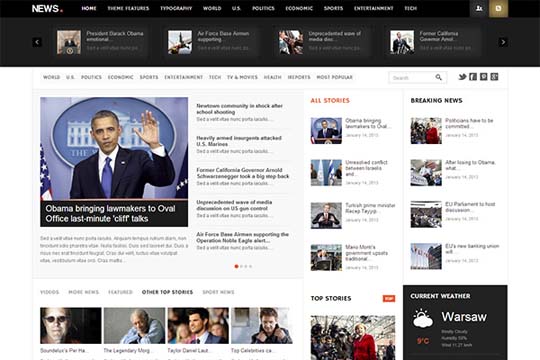 This amazing offering from GvickPro is spectacular and substantive. Just check out the features and you will know why we are saying what we are saying.
Sharp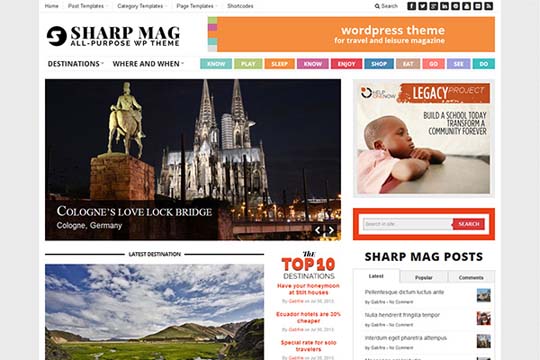 Want to make your content the prime focus? Get your hands on Sharp, a magazine WordPress theme featuring a clean design with ample use of white space which in turn is tailor made to concentrate on content.
Alpha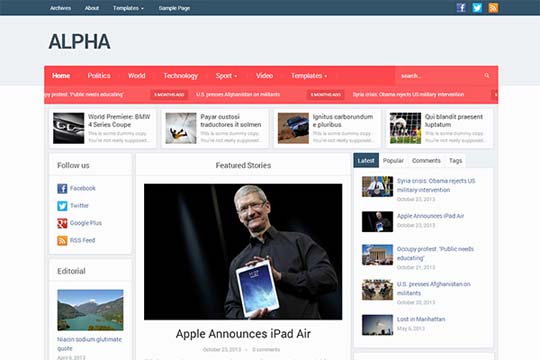 Possessing two skins: Magazine and Newspaper, Alpha is a theme that will take your site to successful heights on all viewing devices. It is easy to install and operate. In addition, you get to enjoy unlimited customization options.
Delivery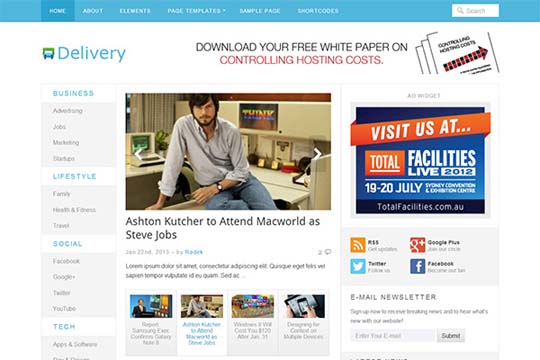 In search of a modern, fresh and creative news/magazine theme? Delivery is the theme that will deliver to the core. It lets you make modifications of your desire and comes with many other premium features that guarantee success.
Nadia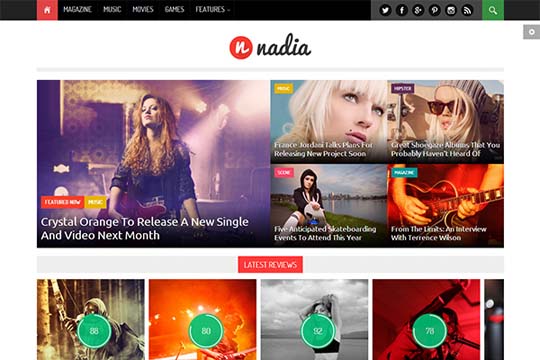 ThemeForest is the brain behind Nadia- a fully responsive magazine/news WordPress theme. Built on Bootstrap3, the theme has wide and boxed layouts, post formats, review system and lots more that will give a groovy goahead to your site.
Kirigami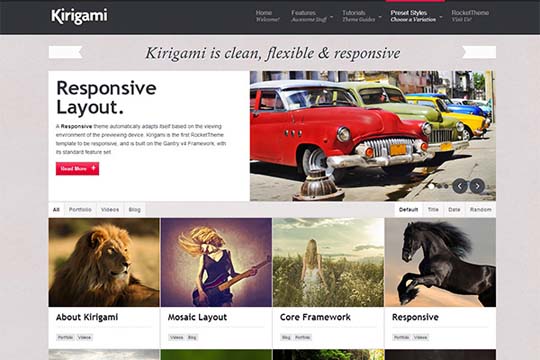 Designed by RocketTheme, kirigami is a rocking WordPress theme. Designed with Twitter bootstrap, responsive layout, sophisticated content filters, robust layout modes, multiple content providers, and a friendly no-nonsense interface; you will surely get value for money if you decide to go with it.
Kernel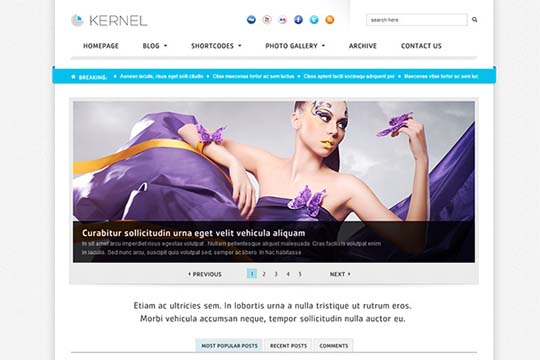 Kernel is a cool choice for news and magazine sites. Its easy-to-use settings, impressive functionality and beautiful aesthetics ensure fun and success at the same time.
Rumors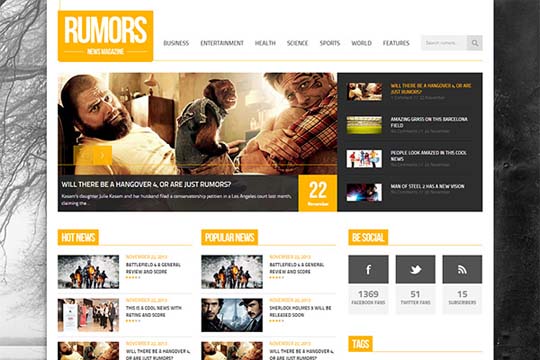 A product of MojoThemes, Rumors is a $49 WordPress theme with unlimited colors, drag and drop layout builder and lots of other attractive features that will simply blow you away.
Opinions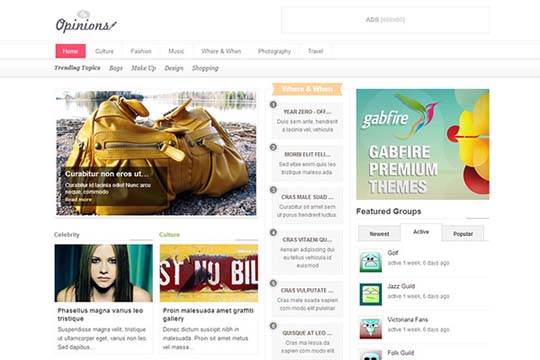 If you want to set up a community platform based on a magazine theme, Opinions is a nice choice. It possesses BuddyPress compatibility, multiple category page layouts, ad module, post layouts, responsive design, shortcodes and lots more.
Massive Press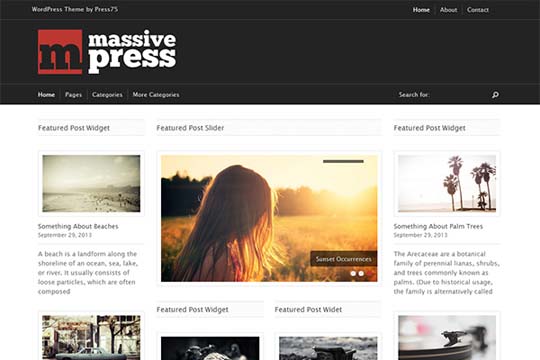 Built with responsive design, customization options, grid-based layout, infinite scroll, post templates and lots of other alluring features, Massive Press is a clean and cool magazine/news theme priced at $75.
HotNews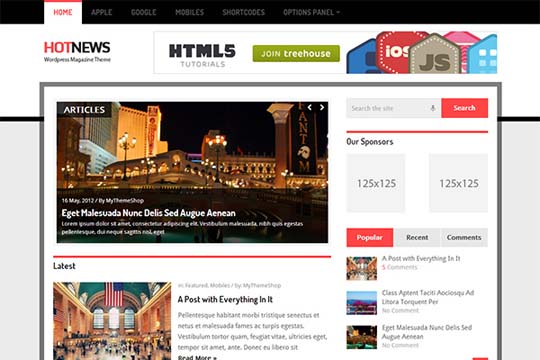 Here is a hot and crisp theme from MyThemeShop pegged at $35. HotNews is a trendy, news magazine and breaking news style WordPress blog theme. It has plenty of contrast and a terrific touch of color that gives a great reading experience to the audience.
Game
Combine good looks and functionality at the same gaming platform with Game. It arms you with next-generation techniques and visuals so that you are always in the driver's seat.
Invisi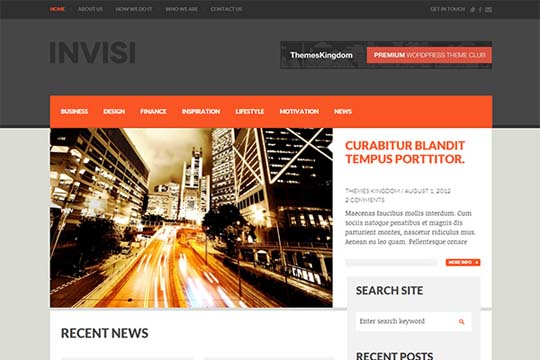 Tailored by ThemesKingdom, Invisi is a theme that has been created with the goal to promote your content in an organized and visually enjoyable manner. It has many features that are contemporary as well as classic.
Broadsheet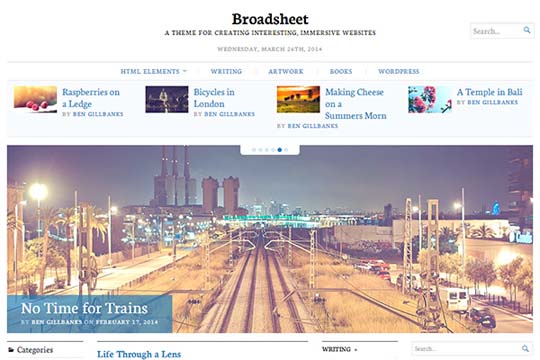 Broadsheet is a $79 WordPress theme with 3 optional widget areas and a huge homepage slider. It offers lots of options for creating interesting, immersive websites.
Sabang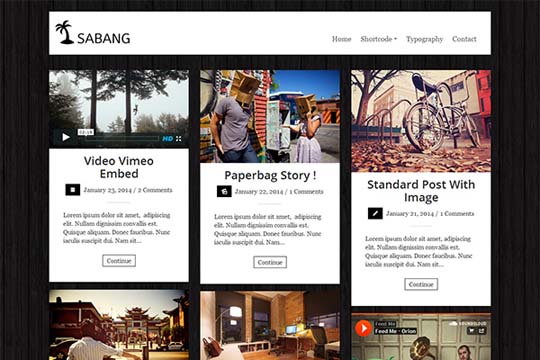 Yet another cool news/magazine theme from MojoThemes that is responsive and retina-ready as well. Loaded with extensive theme options, Sabang has it in itself to give your site a strong kickstart.
Pratico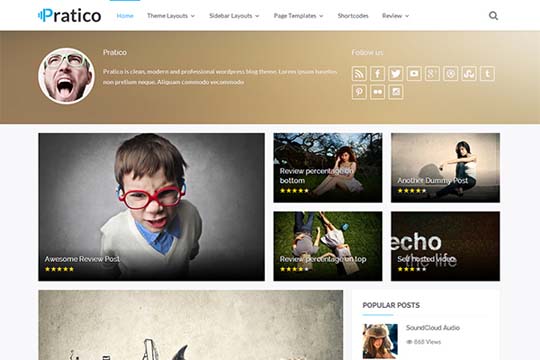 Built in review system, responsive layout, 600+ Google web fonts, full screen background, translation support are just some of the features of Pratico. This modern and professional WordPress blog theme from ThemeForest is very flexible and fully customizable.
Novelti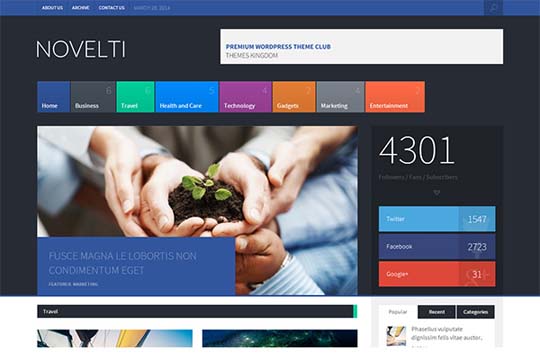 Novelti is a bold news magazine WordPress theme having modern look and awesome usability. It is totally responsive and loaded with elegant page templates that are sure to find favor with you.
BlogSpring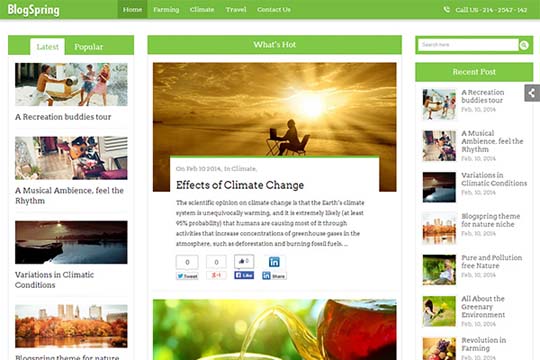 An innovation of InkThemes, BlogSpring has got all the features that can give your news/magazine site a neat and natty look.
Clock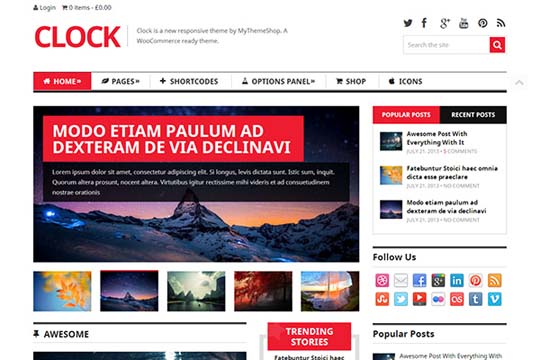 Clock the present and future of the web world with Clock- a product of MyThemeShop that draws inspiration from traditional journalistic and news sites. Crafted with crisp typography and great contrast, it makes your content easy to read and engages your readers with interactive features that are sure to make a mark.