Web designers either disregard or adore website builders. Which camp do you belong to? If you find website builders too primitive and limiting, I bet you haven't heard about Webydo. Though it's a one-stop web building and publishing platform, it doesn't fall under the definition of a conventional website builder. Firstly, because it's intended for designers. Secondly, because it's created by designers. Thirdly, because it has spawned a whole new era in web design, a code-free era, to be precise.
Freedom of Web Design
Webydo was developed by a leading web design agency that found it unfair that the lion share of the company's budget got spent on expensive coders. They believed that the need to convert designs into code was a relic of the past. Thanks to their efforts, passion and hard work it IS a relic of the past now, for all who use Webydo to create websites for themselves and their clients.
Design Management System
This is something you won't find in similar offerings. Content management system is a common thing, but DMS is something really unique. It lets web designers focus on design, but not rows and lines of CSS code. Webydo's DMS provides users with professional tools that are familiar to those who use Adobe's InDesign or Photoshop. Media library, smart guides, hundreds of open-source fonts, grid generators and layers windows let designers make pixel-accurate changes until they reach the desired look and feel. No coding at all.
Content Management System
As you sculpt your masterpiece in the DMS, an intuitive Content Management System is automatically generated for your client. With the help of the CMS clients can modify, delete or update any piece of content. Besides, they can make design-level edits if designers leave any elements editable for CMS users (there's a special checkbox for that in the DMS).
Dashboard
Webydo's Dashboard is something worth being described with a separate article, but I'll try to fit my description within this paragraph. With the help of the professional Dashboard you can:
– Start building a new website (you can create and publish unlimited websites even using their free package).
– Manage many projects at the same time (update plans, add new CMS users and even send payment requests.
– Custom-brand Webydo as your own: you're allowed to upload a Dashboard and Login logos. These logotypes will appear instead of the default ones and help you maximize your brand identity.
– Share your designs: each project can be shared with multiple collaborators (Content Managers and Designers).
– Bill Your Clients: You can send branded invoices to clients for projects that you've worked on without ever having to leave the platform.

Each Webydo-based website is mobile-ready from the start. To make your touch-friendly website even friendlier, you can enter the Mobile View Editor. There you can not only rearrange design objects but also add mobile-specific features, such as Click-to-Call, Address, Email and Online Scheduling shortcuts. This means your website will be displayed perfectly both on a small 5-inch screen and huge 17-inch laptop. All site elements and menus will remain easy to discover. Nothing to upload and code – with Webydo you'll get a responsive website hands down.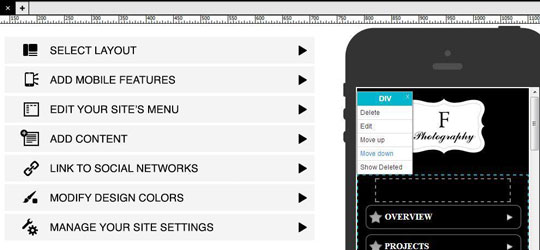 Hosting
Webydo is a hosted web design studio, so you'll never have any hosting-related issues. Their Team will handle all website maintenance technicalities, leaving you more time for what really matters in your business – design, creative ideas and fast production. Webydo's advanced cloud hosting infrastructure is secured and highly effective:
They make automatic backups. Your sensitive information will always be secure.
Webydo maintains enterprise-level security measures across the entire network.
Webydo partners with leading companies in the market to make your websites load fast all over the world. Thanks to the partnership with Akamai your website will be delivered through a Content Delivery Network (CDN) which is a large system of reliable servers placed all over the globe.
You can start enjoying all the benefits free of charge right now by creating a free account with Webydo. When your website is ready, connect a custom domain at $9.90/mo and share your work with the world immediately, with a single click of the Publish button. Be ready to unleash your creative freedom on the world.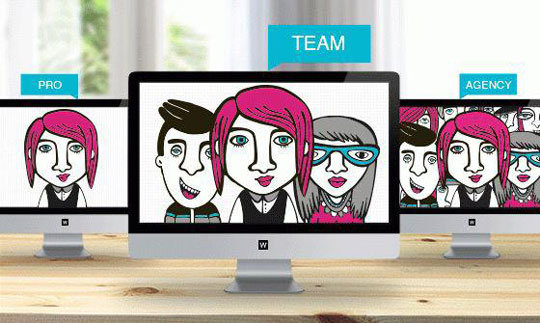 This article is proudly presented by Webydo's professional community of designers.