When evaluating WordPress Hosting, I tend to think like most bloggers. The most important features I'm looking for are:
1. Dependability of service
2. How easily I can get my blog up and running
3. Support capabilities
These are all important features, but there's one feature that is actually just as important, and in most cases more important than the rest; hosting speed. If you're not concerned about the speed of your site, you're doing a disservice to your audience and limiting the potential of your website. The stats are telling! A mere 1-second delay in your site's page load speed can cause a :
A 7% decrease in your conversion rate
16% decrease in visitor satisfaction
11% fewer page views
Choosing a fast hosting provider is the most effective way to speed up your site. Luckily I've recently discovered A2 Hosting, their blazing fast SwiftServer platform and SSDs. They've gone as far as comparing their amazing page load speeds to competing hosts. Here you'll see that sites hosted on the SwiftServer SSDs load up to 300% faster than competing hosts: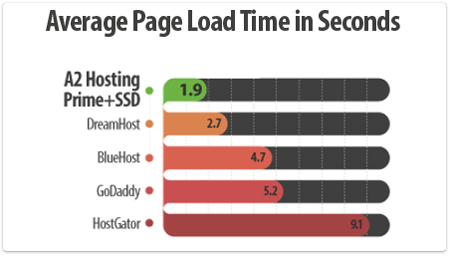 Knowing that A2 Hosting has optimized servers to run a site, the only other concerns were my original 3 benefits I look for. With their 99.9% Uptime Guarantee, no-click WordPress setup and 24/7/365 Guru Crew Support, sure enough A2 Hosting covers all of my needs.
In case you need advanced WordPress Hosting, A2 Hosting has got you covered as well. They feature Reseller Hosting, Cloud Hosting, VPS Hosting, Managed VPS Hosting and Dedicated Hosting. With these scalable services, you know your service level can grow as your blog grows.
Give them a shot risk-free, thanks to their 30-day no-hassle money back guarantee. Please make sure to let us know what you think of them!