X is a completely different kind of premium theme for WordPress. Theme.co, the people behind the theme, pulled in some of the best industry experts to consult on what their most desired features for a WP theme were and then set about designing the X theme to match these ideals. Learn more about the last WordPress theme you'll ever have to buy.

Design Evolution
The theme itself has a design element that is different from other themes for WordPress. Each design is broken down into Stacks. These are singular unique designs that lay, almost like a skin, over the top of the basic theme to give it a defined look. With the initial launch of X, the theme arrives with three Stacks – Integrity, Renew & Icon – with further Stacks planned for the future.
Integrity takes a classic design and improves upon it with modern twists. Renew uses the popular flat design and expands upon this idea with clever use of color. Icon is the most high-tech looking design which will suit technology-based businesses and advanced business thinkers who wish to stand out from the crowd.
With a Stack, there is a basic look and feel to the theme. This can then be changed to modify the appearance of that Stack. The demos actually show how this has been successfully achieved with 10 variations for each Stack, providing 30 different designs to view.
WordPress Customizer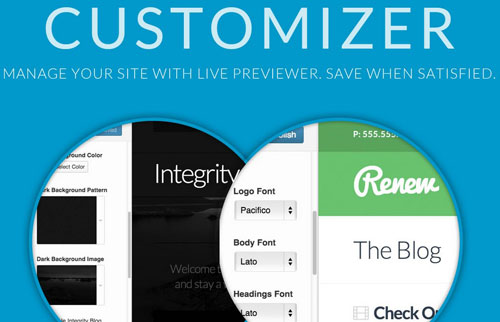 With X theme comes the Customizer. This is a core WordPress feature which unfortunately few themes have included as yet. The Customizer is more than just a basic theme options panel. Instead, it uses the WordPress code-base itself which saves on code bloat, and extends this to offer full control over the features of X theme in real-time.
Better than this though, the changes are set within a virtual sandbox and can be previewed before accepting them and updating the live site. No longer do you have to make a series of changes, update the theme, go to see what they look like, and then possibly have to go back to reverse the changes made. What a life saver!
Responsive Design
The X theme has been designed to be responsive so that the theme appearance changes depending on the size of the web viewer. Whilst retaining key elements of its appearance, each one of the Stacks looks different when viewed on a different device.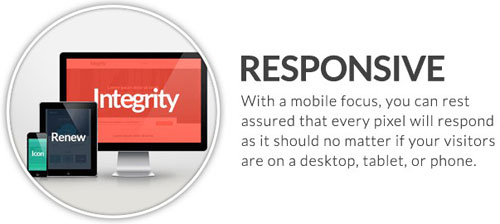 The latest iPhone 5S will display a smaller version of a site that is easy to read on a 4-inch screen, whilst the Samsung range of over-sized "phablets" smartphones will show a more expansive version of the same web site customized for a large mobile device. Viewing on a large flat panel LCD screen will look entirely different again as the theme morphs to take advantage of the additional screen real estate available.
New Shortcodes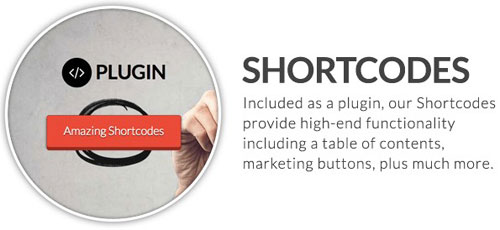 Shortcodes have been developed especially for the X theme to provide the ultimate in flexible page design. Add a Table of Contents to help with navigation or a 3D Marketing Button to direct the eye to buying options. The Shortcodes even allow for responsive visibility, which means that depending on the viewing device, it's possible to disable some features to reduce loading times for mobile devices that may be using slower internet connections.
Layout & Navigation
Each Stack has the option to switch between layouts. These include a contact and sidebar on the left or right side, a boxed layout with no sidebar or a wide layout again with no sidebar. It's also possible to adjust the site width globally.
Navigation can be placed on the left or the right, or at the top of the page. When placed at the top of the page, this can be made static or set as a sticky element. By using the WordPress Customizer that comes with the X theme, it's also possible to exactly position the navigation element and adjust the size. Therefore, if you want a sticky navigation at the top that has a smaller height than normal, that's completely possible.
WooCommerce Integration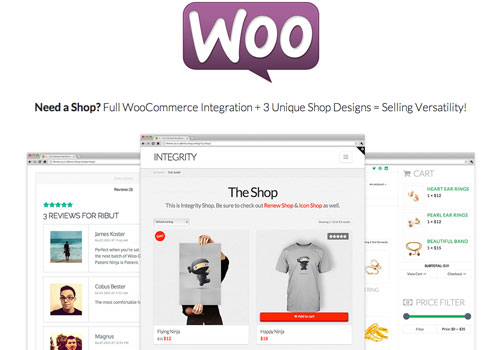 WooCommerce is fully integrated with three shopping layouts that make it easy to highlight your best products. The layouts include features such as enlarged product thumbnails, easy sorting, filters, starred reviews, shopping cart sub-totals, and easy checkout functionality.
Superb Typography & Retina Ready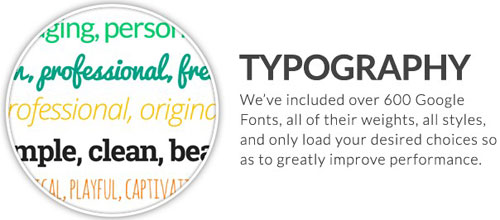 Explore over 600 Google Web Fonts which can be selected and adjusted for size, weight, style and color. Also use the extensive collection of almost 400 Retina Ready icons for inclusion wherever you like, on any page. These vector-based images are fast loading and retain their HD image quality regardless of how they scale up or down in size.
Revolution Slider

The premium Revolution Slider ($15 value) is included with X. This slider plugin comes with many slide options, lovely transitions between slides, and flying captions to truly make an impressive entrance. Add dynamic elements to your site for visitors to enjoy, highlight upcoming sales or promote special offers.
Multi-Lingual Support

The WPML plugin is fully supported, so it's possible to add additional language translations to a completed site. Make it easy for non-English speaking visitors to view the site in their own language. All you need is to hire a good translator.
Portfolios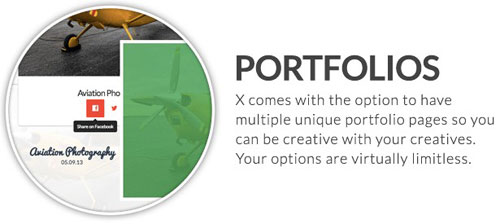 Create you own separate portfolios with unique layouts to present different portfolio categories in a distinct manner. There are three different portfolio styles – one for each Stack.
Get Social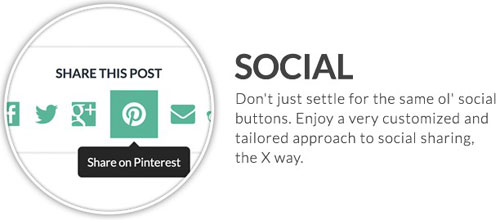 Use the attractive social media icons, which have pop-up captions when hovering over them, to quickly link out to social media accounts.
Check out a full breakdown of the features of the X theme to discover more.
Added Extras
All the Photoshop PSD files come supplied with the X theme. There is a collection of instructive HD videos that provide a basic introduction to some key topics including affiliate marketing, acquiring web sites, using WordPress, and more. Excellent customer support is also provided for users of the X theme. Run, don't walk and get your copy of the X WordPress theme, and join up today!