With the economic and job situation not improving much, more people are turning to freelancing as a way to supplement their reduced income. How viable is it to try to work strictly part-time as a freelancer, manage clients, perform marketing, keep the books, and do everything else that a small business requires?
While a full-time job may be considered 30-40 hours per work, with part-time work it can be anything from a handful of hours a week up to perhaps 20-25 hours. In this article we explore how practical it is to manage a part-time freelance career with only a small amount of hours each week, we point out some of the obstacles and provide a few suggested guidelines to follow.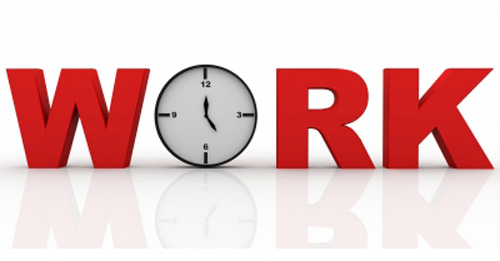 Reasons For Being A Part-time Freelancer
The reasons why someone would choose to only pursue a freelancing role on a part-time basis are varied. Here are a few of the most common reasons:
Young kids at home. A good chunk of time will be spent getting the kids up in the morning and taking the little ones to school. Then a few snatched hours are available until returning to school to pick the kids up again.
Freelancing trial run. Before quitting a lucrative full-time job for the ideal life of a freelancer who can work when they wish and take time off when they want, it's best to test the theory vs. practice first. It's also a good idea to build up a solid client list before you make that leap.
Retain medical & other benefits. Americans especially worry about losing their medical coverage that is supplied to employees and sometimes to their partner's and children too. Depending on their ages, paying out of pocket for medical insurance can be expensive if not planned properly.
Temporary income boost. With employees who have goals like buying the latest iPad Air tablet or making a substantial down-payment for their first home, a second source of income can help to speed up the savings rate towards achieving one's goals.
Trying out a new career. Many employees fall into careers that they do not feel suits them. Maybe they took one degree course, but now wish that they'd chosen a different major and their career would have gone in a very different direction. A "side hustle" setup to offer services in a different business industry is a good way to try it out and see if it's possible to make the switch without the risk.
Full-time positions hard to find. Finding full-time employment remains a challenge with employers not taking on as many new hires compared to years' past. This leaves many people with scant income and lower self-esteem. Going part-time by effectively doing the hiring and then offering services out to old business contacts could well get someone back to being productive again.
Flexible working hours. Due to different life situations, it may not be possible for a person to commit to an office job at a fixed location for 35+ hours a week.
Flexible location. There is also the option to go location independent by being based elsewhere in the country or abroad. Work half the day, see the sights with the other half day. Or work 3-4 days a week and take the other days off. Change countries every few months. Finance the journey through part-time freelancing.
Obstacles for a Part-time Freelancer
What sort of issues is someone going part-time as a freelancer likely to face? What's the reality on the ground (or in the home office) for people who decide to go this route?
Time management on steroids. Office workers are used to standing talking at the water cooler, taking toilet breaks, smoking breaks and much more. Indeed some surveys indicate that actual work performed is under 5 hours for the typical office worker. For freelancers, they only get paid for what they produce. Managing time, tasks and client projects efficiently becomes essential. Not everyone can handle it!
Life/Work Balance. For freelancers, this is as much a theory as it is a reality. Going part-time can make the life part of the equation easier, but with that said, the work part becomes more difficult because essential tasks have to all be fitted into a smaller amount of work time.
Dilemma over rates. There is always rate pressure from clients. Fundamentally almost all clients want work completed for as little as they can get away with paying. For the freelancer, it can be easy to accept their seductive arguments and low their prices. However, this makes it even harder to earn enough part-time income to pay the bills, either as a second income stream or as the sole income.
Many hats. Unless a freelancer makes enough to outsourcing many core tasks, they will be doing some of their own bookkeeping, making their own web site, and performing marketing in key channels including a social media that never stops. All this while providing their service or producing the products that they sell. Many hats balancing one on top of each other, hoping none will fall.
Creating & Maintaining systems. To manage projects and clients effectively, every freelancer who is part-time or full-time relies on systems in order to keep all their ducks in a row and not forget anything. Many times multiple clients will need completed assignments on the same day, whilst your partner calls to remind that there is pre-arranged date tonight… Effective systems can save a freelancer from their disorganized self. And their clients will silently thank them.
Negative Events. When things do inevitably go wrong, they go wrong badly. A hard drive fails, a laptop is stolen, the internet connection dies for two days. With only part-time hours, how do you catch-up when you fall behind on client work without burning the midnight oil? Also, some tasks fall in quality when working too many hours, such as freelance writing, so they defy being caught up by adding extra hours.
Difficult Clients. There are lovely clients and difficult ones. The difficult ones are usually either the largest and expect special treatment, or one of the smallest and yet take up an inordinate amount of time to satisfy their requests. Hand-holding can be very necessary, especially for web design studios, architects and other creative pursuits where results are more subjective and open to discussion. Learning to manage client expectations and to nip problems in the bud when they first appear is crucial when working fewer hours.
Helpful Guidelines for Part-time Freelancers
Given the issues involved with choosing to freelance only on a part-time basis, here are some reasonable guidelines to follow.
Don't over-schedule. It is difficult to correctly judge how long a task will take, especially if you are new to freelancing or new to that particular type of task. Therefore, add sufficient padding to ensure that you can hit the deadline comfortably without needing to work extra hours to do so.
Hold firm on rates. It's all too easy to cave when it comes to how much you charge. Your rates need to be reasonable for the quality of work offered. Do not accept the line that there is another person who is offering to work for less. In a global economy, there will always be many other people who will work for less money. That's not the point. What quality, experience and service level do they bring to the table compared to yourself? Price is not the only consideration despite suggestions to the contrary.
Consider outsourcing or delegation. You may find that you cannot handle all of the business tasks. If the income level is sufficient and there are enough clients to fill up more of your productive time, it may be financially prudent (and less distracting) to outsource some key tasks to others. Pushing out tasks that you are less suited to may be beneficial so as to focus on what you do best, but it will take a leap of faith the first time.
Don't give up too soon. It can take at least 6 months to a year (or even longer) to make progress as a freelancer. Establishing strong industry contacts, a high quality of work, and a flow of decent clients doesn't happen overnight. Income rises with ability and experience, not just ability alone. Remember, most success is shown that it would have come shortly after most people quit. Keep going unless it is obvious that you should stop.
Track relevant metrics. Track your time. Track your sales. Track your expenditure. If you work more on hourly assignments, track hours worked and daily income against goals in order to ensure that you're hitting your targets. What gets tracked gets done.
Set things up how you want them. There are far fewer rules when it comes to freelancing. You can work only in the evenings or just in the early mornings. You can work in the morning, lie on a beach in Cambodia in the afternoon and chill out with friends in the evening. As long as you can meet your clients' expectations, it's entirely possible that you can achieve that from virtually anywhere in the world. Throw off the strict 9-5 routine, think outside the box and dream up a freelancing life that suits you. It doesn't matter if other people wouldn't like it. It's not their life you're living; it's yours!