No matter what your industry, no matter what you're trying to sell, it all comes down to one thing: information. Everybody wants to share it and everyone's competing with one another to make their information get through to customers. With the advent of the colorful infographic, suddenly information is no longer just provided in an easily digestible format, but it's become pretty darn fun too. Which is why infographics are a fantastic way to boost traffic to your site, especially when they go viral on social media sites like Facebook.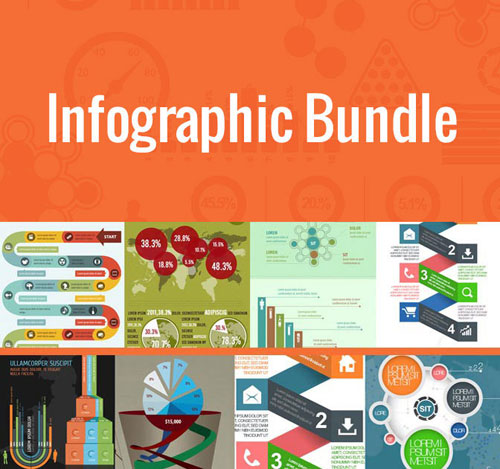 Yes, creating your own infographics is a fantastic way to beef up your branding and site traffic. And with this awesome Mighty Deal, you'll have plenty of opportunities to share whatever information you'd like! Get 105 different infographic templates, from Infographics.li, in an easily customizable format. That means you can add your info, change up graphics and even scale the entire project up or down in size. And the best piece of information to take away from all of this? For a limited time only, you can snag this powerful bundle for more than 50% off the regular price!
Infographic Templates Bundle Highlights:
105 Unique Infographic Templates
Infographics are all the rage these days. If you're looking for a great way to go viral through social media, you can't do much better than an entertaining infographic. And with this deal you'll get 35 unique infographic templates, each available in 3 distinct color options. That's a total of 105 spectacular infographic templates!
100's of Infographic Elements
Every infographic's a bit different than the previous one. They come in different sizes, shapes and styles. And with these templates, you'll get hundreds of unique infographic elements like arrows, circles, silhouettes, activities, pie charts, bar graphs, animals, food and tons more usable illustrations.
Your purchase of this Mighty Deal gets you the templates in 3 different formats: .PSD, .EPS, and .AI file formats.That means all images and templates are easy to customize with your favorite graphics editor software. Each source file is properly layered to make customization a snap!
These beautiful infographic templates and all their elements are all vector graphics. Because of that, you can easily scale them up or down in size without losing any quality at all. You can even use them for print projects and they'll be as sharp as they are online!
These 35 different infographic templates were designed with variety in mind. They're all generic enough to be usable for just about any industry imaginable!
Every template included in this Mighty Deal comes with a royalty free license. That means you're free to use them on any personal or commercial project you'd like, without the need for any attribution at all.
Click Below to Preview the Full Collection:


Pricing:
Normally this collection of 105 infographic templates sells for $59, but for a limited time only, you can get the entire bundle for only $27! That's more than 50% off the regular price!
Click the BUY NOW button and start spreading the news!