Creating a digital magazine or catalog can be a challenge for people who are not very creative. Even with a professionally designed logo and well written content in a PDF or a dazzling PowerPoint presentation, turning that into something visually interesting for the online medium can be a real challenge.
This is where the Flippingbook application comes in. Their downloadable app lets individuals and major corporations create smart media products like magazines with page flips and pages which even curl up in the bottom right corner to show that there is another page after the current one.
This media can then be made ready for offline distribution or online presentation through cloud hosting (200MB initial storage capacity) with the Publ.com site. The Flipping book app is available in 11 languages (include French, Italian, Spanish, Russian and Chinese) in order to make it a globally accessible solution.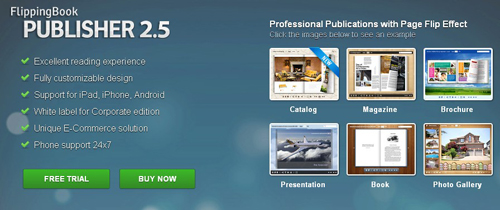 For busy people looking to do some new marketing campaigns, be they Fortune 500 corporations (Deloitte and Virgin are both clients) or mom 'n' pop stores, it's possible to throw PowerPoint files, Word documents, PDFs, spreadsheets, diagrams and plain images into the mix and out pops something instantly more visually appealing and interactive. Up to 2400 pages of content can be uploaded into a single digital product.
Branding is important for businesses today, even small ones. With this digital solution, it's a simple matter to add in branding to the finished product, customize the skin behind the content to include the business logo, change the colors to match the corporate colors, edit the title, add copyright information, and so forth.
The FlippingBook technology
The FlippingBook technology is such that it does not draw attention away from your brand; it's subtly presented so the brand and content does the talking. There are also white label options in order to completely remove the FlippingBook brand from a final presentation too.
For businesses that want to cut their printing costs by making their annual report available online to a global investor base, then Flipping book can be used to offer improved PDF functionality with online viewing with cloud hosting, and other visual improvements.
Creating a magazine for distribution can be produced with the Publisher app. There are different pricing structures for FlippingBook Publisher depending on what your specific needs are, but everyone can produce a lovely magazine to publish online for their readers. Once the Publishing software has been purchased, any number of magazine editions (royalty free) can be created that will be readable on any device popular device today like PC, Mac, iPad, iPhone, Android or Windows device.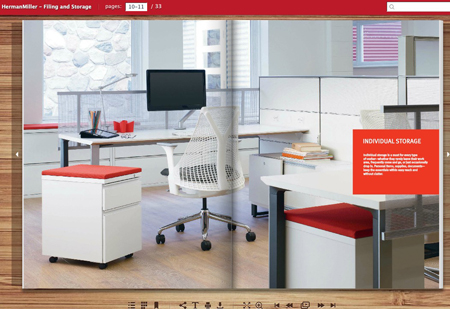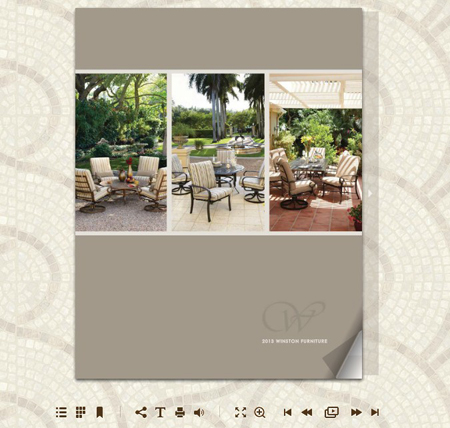 Shopping catalogs are very expensive to produce and not cheap to mail out to consumers either. Why not make a digital version instead using marketing approved photography from the product brand, add your own retail prices, include the e-commerce functionality for each product to enable online purchases and then host on Publ.com?
Digital catalogs can be put together for a fraction of the cost of a heavy glossy print catalog and are gorgeous to view on a HD tablet while lazing on the sofa. The benefit of being able to incorporate e-commerce shopping functionality right into a publication skips right past the need for small businesses to setup their own web site just to make catalog distribution a possibility or to take payments online.
E-commerce Functionality
There is full e-commerce functionality within Flipping Book. Individual products can be displayed within a magazine, brochure or catalog with e-commerce links to enable follow-up purchase using an internet connection. This makes it simple for small businesses without a web site to sell products online and take payments easily.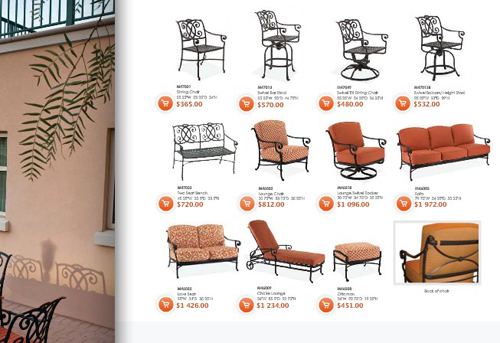 With teachers who have students eager to use the digital medium to speed up information distribution and reduce the weight of the books they have to lug around, then FlippingBook Publisher is a great way for educators to bring in coursework and examples from various mediums, produce a flipping book from them, and distribute on a web site, share on social media or send out by email. Students can then read the FlippingBook from their mobile device like an iPad or smart-phone when and where it's convenient for them.
For any product beyond a few pages, a table of contents can be created up to three levels deep, to make it much easier for readers to navigate around a magazine, catalog, annual report, etc.
To ensure that your creation will look great on a smart-phone or tablet, there is a special viewer within the app to see what the final publication will look like when viewed on a iPad, Android tablet, iPhone or other smart-phone. It's also possible to see how it will look in different web browsers and other online viewers.
Security and Tracking
Offline distribution is easily accomplished with files compatible with the PC and Mac systems. This can then be distributed using various mediums including flash drive, CD, or DVD.
Security is an important consideration. There are multiple layers of security that can be embedded into a final product. These include adding passwords and encryption, as well as making publications only accessible from a specific web sites to keep their distribution limited.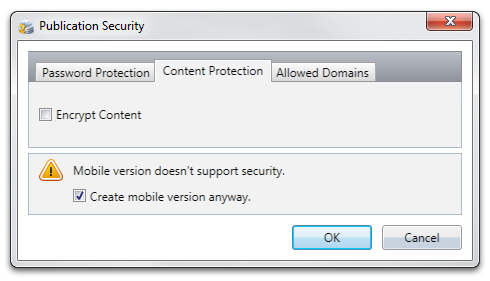 For viewer tracking, an online version of the final product can be hosted and visitor usage tracked through the Google Analytics tracking software. This can provide revealing statistics like which searches were performed that brought visitors to your publication.
Whatever your digital publishing needs are, it's likely that the developers behind Flipping Book have thought of them already and have the solution just waiting for you. Take a look at what they can offer at their website.