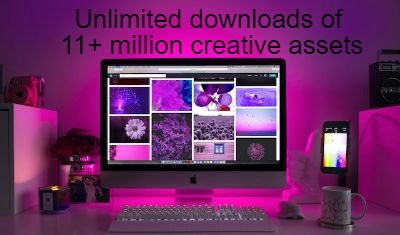 Fotolia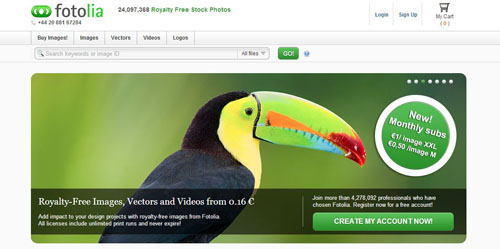 Standing ovations to Fotolia. It would be my first choice of stock image provider, and I am just another voice among their 4 million loyal fans. Ever since 2004, Fotolia is dedicated to keeping their clients happy. 24 million files slowly found their way into what may have come to be the most substantial collection on the web. Before you decide to sign up, feel free to browse through everything they've gathered here. You'll be taken with their crisp-looking vectors and images. Moreover, Fotolia sometimes puts up free downloads and comps for planning projects to try in a design, so it's definitely worth it to pay them a visit once in a while.
You don't have to pay to create an account. However, there are two options available for when you actually want to make a purchase, namely subscriptions and credits. Going the route of credits would enable the user to gain access to exquisite files from the Infinite Collection, along with granting Extended Royalty-Free Licenses. A single credit is the equivalent of $0.74, so Fotolia is definitely affordable. What is more, members will find that Fotolia is considerate of projects that were assigned a small budget. Thus, the Low Cost Collection yields approximately 12 million images, which are made available for a cost ranging from 1 to 6 credits, depending on the download size of choice.
A subscription may be signed for an Individual or Multiple Membership from the start, and with either a Daily or Monthly character. Daily Subscriptions come with $0.19 for each image, and a download rate which can be fixed at any amount from 25 to 250. Monthly Subscriptions don't have a daily download limit, but they do require that the user specify a monthly total of 5 to 5000. And the best part is that any unclaimed downloads rollover to next month's cumulus. In fact, Fotolia's BOGO offer says that on opting for a subscription plan of 5 images and $25 per month, the second month is free. Click on 'Fotolia' and it'll take you there in a jiffy.
iStock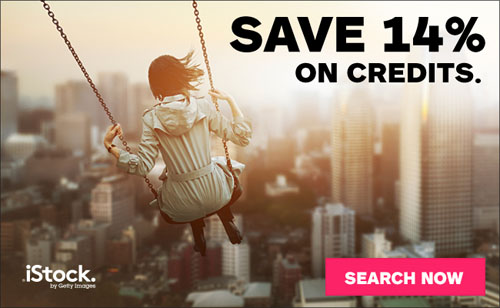 iStock is a legendary and widely appreciated marketplace for stock photos. It's one of the topmost stock agencies in my book, having first started out in 2000 to compile a rich stack of 6 million exclusive photos, vector illustrations, and Flash media, audio and video files. They are the first microstock agency in remembrance.
If you're searching for the perfect fit, iStock's search box is incredibly thorough, and it will give you exactly what you're looking for. Right now, their vaults are subject to an amazing offer: half of their content at half the initial price. This is big, because everything you see there does not exist anywhere else on the web, and the cost is cut off by 50%. Apart from that delicious offer, I need to mention the Editor's Picks section, where you'll find glorious recommendations from their experts. Moreover, it wouldn't hurt to visit iStock's Lightbox time and time again, because you might like to get one of their free weekly issues.
Getting in league with iStock entails taking up a subscription or employing credits. I want to focus on their credit system. An amount of 15 to 30.000 credits can be acquired in one instance, with discounts that rise as high as 25%. When the user pays with credits, there is another pleasant surprise waiting at checkout. With the aid of code ISTOCK14, the price of a purchase scales down by 14%. Click on 'iStock' and be teleported on the site.
123RF


123RF excels in providing worldwide professionals with top-grade stock images. Their current numbers of files to choose from amounts to a daunting 22 million and with each day another 35.000 files add to the general abundance. 123RF On-The-Go is their mobile alternative to regular submittal proceedings, and contributors can employ it to upload their beautiful photos and vectors. Naturally, nothing short of perfect gets through.
Besides, there is a free section comprised of 30.000 photos, graphics, audio and digital files, which any member can tap into and download at will. Indeed, I believe this to be the largest giveaway collection I've ever seen, as far as microstock agencies go. Apart from that, 123RF's 100% Money-Back Guarantee is sure to make anyone rest at ease knowing that if they should have a change of heart after a certain purchase has been made, the process is entirely reversible. No less than 72 hours are allotted to the happenstance where a user gets her/his money back. Bottom line, you will eventually find the perfect image for your project.
In order to acquire an image from 123RF, one has to take up a subscription, or pay with credits. The Basic and Premium subscription plans depend on how long a period the user wants to settle on. The bigger the commitment, the better: the number of downloads permitted in one day increases, and so do the savings associated to buying an image. In addition, with On Demand credits, you can download as many images as you wish in any given day.
Stockfresh

Next in line on my list of the most poignant stock image agencies is Stockfresh. In my view, out of their over 2 and a half million-strong collection, the vector section is astute. It yields over 300.000 gorgeous-looking files. In addition, Stockfresh has one of the friendliest and easiest to use interface I've ever encountered. Not only do customers find it very comfortable to move around, but seeking out something specific has never been a speedier process. In terms of cost, $4.99 translates into 5 credits, and the amount can go as far as 500 in a session. Alternatively, a subscription assigns $99 to one month of usage.
Bigstock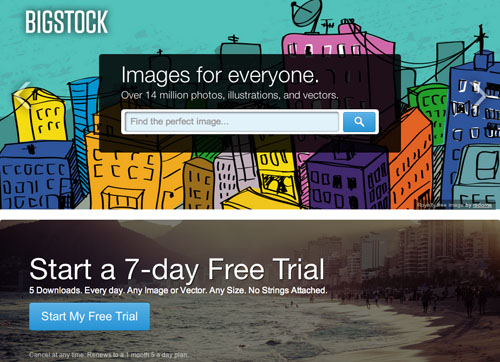 Bigstock is a welcome addition to my list of favorites. They have 14 million photos, vectors, and illustrations in store for creative-minded publishers. The exciting piece of news is their current 7-day Free Trial. By engaging in it, a user has the opportunity to download 5 images or vectors in one day, and also re-download as much as she/he needs. Certainly, the free download spree can be cancelled at any point. Aside from the free week, members can choose from subscriptions and credits in order to buy from Bigstock. A yearlong subscription for 5 downloads per day attaches $0.35 to each file, whilst credit bundles entail discounts of up to 27%.
Dreamstime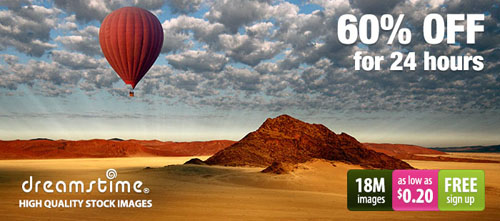 Dreamstime would snap any designer awake once she/he's caught sight of their offer of a 60% discount for 24 hours. Take your pick from their 18 million high-resolution images and vectors. Dreamstime has had plenty of time on their hands to make it to this daunting figure, seeing as the agency first launched 13 years ago. A second heads-up for designers is the free section of Dreamstime, where they can find countless web design graphics, illustrations, and photos, and so download away. At any rate, their services are most convenient. The pricing list for credit-based packages and subscription plans is organized intuitively, and as such translated into any enquirer's local currency.
PhotoSpin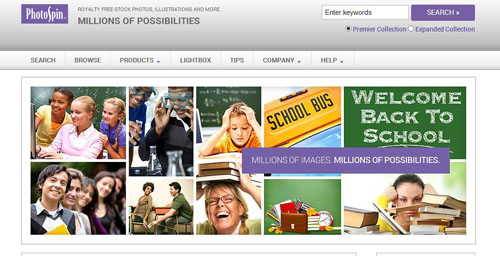 Meet PhotoSpin's intriguing twofold pathway. Their 3 million EPS and JPEG files are concentrated in a Premium and an Expanded Collection. Access to the Premium Collection is gained by establishing a Plus or a Super Plus prerogative. In other words, the user must decide on the size of future image downloads. On the other hand, the Expanded Collection encases the largest chunk of PhotoSpin's potential, 2.4 million photos and illustrations. In this case, the options are manifold: a user must calibrate the terms of monthly commitment according to either of 4 categories, then 4 periods of time (1, 3, 6, or 12 months), and finally 4 subscription plans.
Thinkstock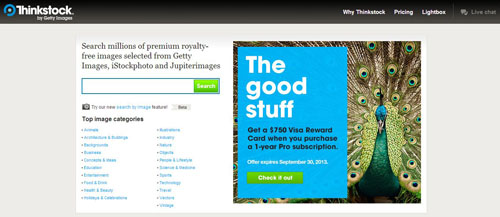 Thinkstock unites the combined forces of over 40 providers. I'd call it the crossroad of stock image agencies. Getty Images' brainchild offers stock photos, vectors and illustrations from iStock and Jupiterimages, just to name a few well-known sources. What I really love about them is that their prices never scale along with the designated file size, so a size L would be just as inexpensive as an S. September is a good month, because Thinkstock enabled a $750 Visa Reward Card for the Pro 1-year subscription. Another aspect that places the annual Pro subscription in a great light is the chance to save 20% via code R4HPC46N. And speaking of codes, GTDPC46N will get you 60% monthly subscriptions.
Depositphotos

Depositphotos altogether harbors circa 17 million creative files, vectors, images and videos. Don't miss out on their section of 4.600 vector illustrations, and beware of the free weekly treats which occur there. Regarding purchase options, Depositphotos keeps to the traditional subscription or Pay-As-You-Go credit systems, and you'll find that getting in league with them ensures an affordable and convenient supply of stock images. The beginning of autumn heralds the validity of an offer which instates the opportunity to buy at 20% discount. I'm talking about the Depositphotos Discount Lightboxes, which encase images according to the season: Harvest Time yields no less than 314 images put on sale.
Cutcaster

Last but definitely not least, Cutcaster is another great source of illustrations, vectors and photos, available on an exclusive basis. You can browse files by their neatly organized topics, but most of all I'd like to insist on the flawlessness of their 920-long Crescendo Collection, along with that of their picture collections. Overall, striking a deal with Cutcaster is buying images with credits at a price that can go down by 49%. This is awesome. If you don't register, you will Pay-As-You-Go with each purchase, and on the flipside, you can choose a credit bundle out of bronze, silver, gold, or customizable with over 100 credits.