,    
In modern web design,grid style wordpress themes are becoming more and more popular nowadays and you can see amazing examples of grid wordpress themes around the net.
Grid theme is a perfect choice for portfolio websites or for photographers.You can easily showcase your design works in a very attractive way and they are really user friendly wordpress themes.But also,today,grid wordpress themes have become popular for article based blogs.
Here is the collection of 50 handpicked and creative grid style wordpress themes worth buying.
You may alo take a look at our past high quality wordpress themes collections;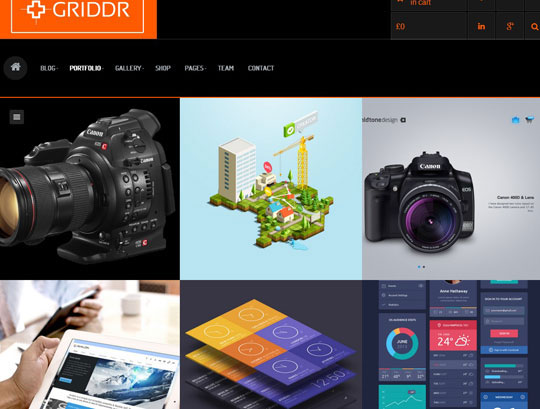 Griddr is a unique and creative WordPress theme well suited for photographers, illustrators, graphic designers, art and creative directors, architects, luxury businesses or bloggers. It's responsive and is designed to display your content on a wide array of devices in a beautifully accessible format.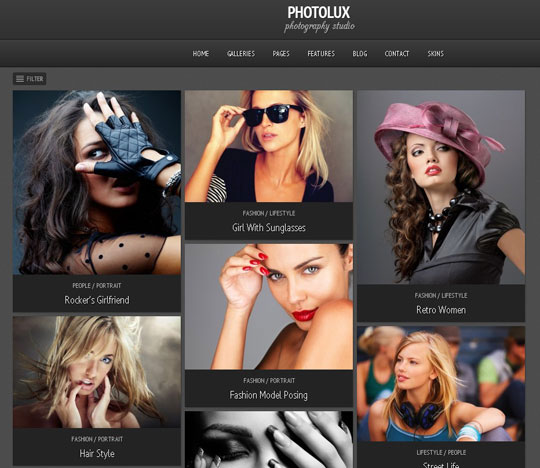 Photolux includes a flexible and unique AJAX gallery with awesome jQuery animations and effects, which comes with lots of options available for its items.The theme is responsive, so that it fits and looks great on different devices – desktop, mobile phones and tablets. Also, the main gallery slider supports finger gestures, so it is very easy to navigate between the images on touch devices.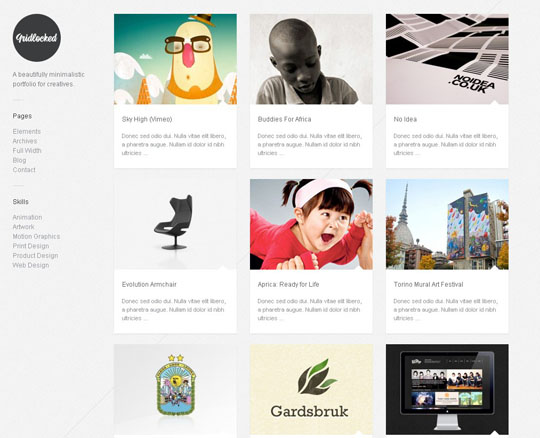 Gridlocked is a grid-based, post-format supporting, layout-shuffling, minimalistic theme for creatives. It is both a classic portfolio for showcasing your work and a modern tumblr-style blogging system.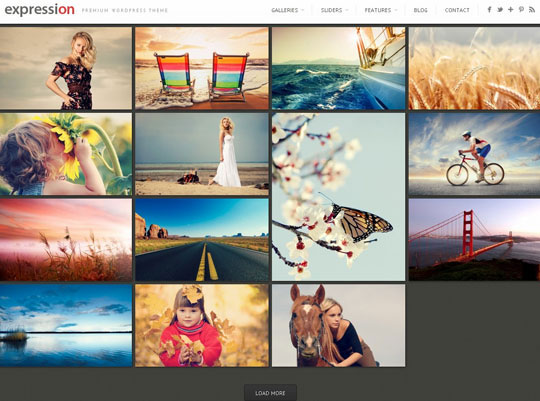 Expression is a powerful responsive WordPress Theme, best suited for photographers and creatives who use portfolios to effectively present their work. Expression theme is powered by the advanced Pexeto Panel, which provides tons of options to manage and modify any aspect of the theme.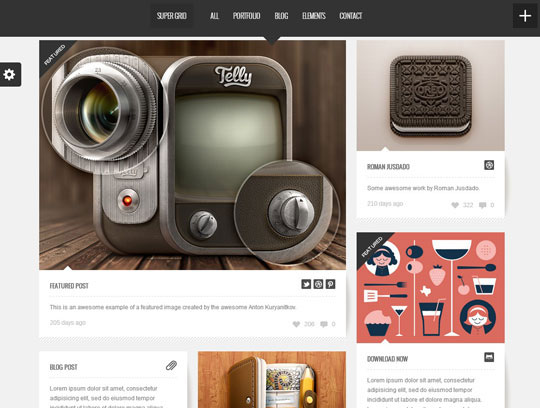 Super Grid is a retina ready, fully responsive, unique, grid-based, minimal, layout-shuffling wordpress theme to showcase your work. It can be used as either a Portfolio or a blog or both! It is a unique theme filled with many features that will make your work stand out from the rest.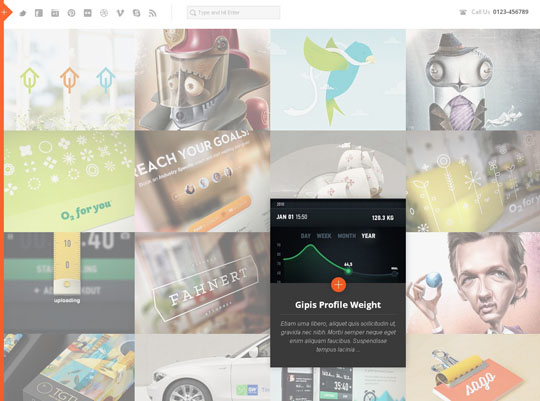 WowWay is an incredibly unique and highly interactive WordPress theme for creative portfolios. Based on a responsive grid, packed up with lots of cool features and built on a powerful admin panel, this can become the perfect theme for you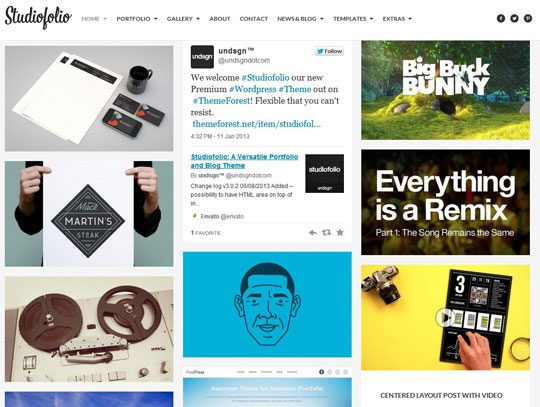 Studiofolio is a versatile blog and portfolio theme.The theme is fully responsive and retina ready.It has 2 different layout size which means you can select between fullscreen or your custom fixed.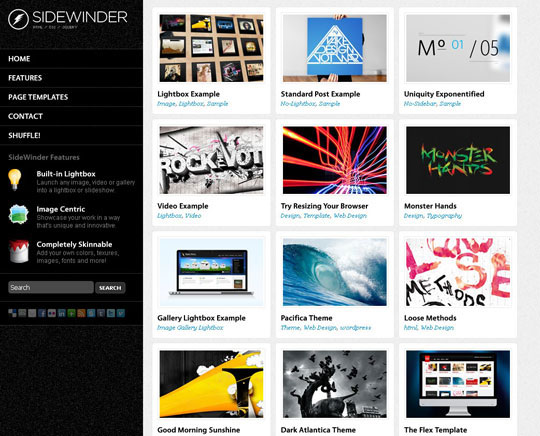 SideWinder for WordPress is a unique portfolio theme, driven by the dynamic vGrid Plugin. It comes with all of the features that you would expect in a premium WordPress theme, and a little bit of extra magic to make it worth your hard earned cash.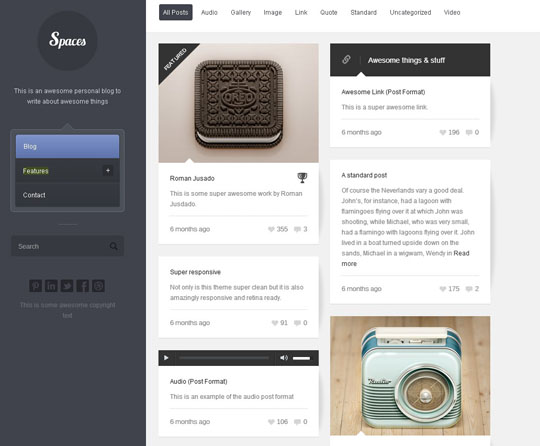 Spaces is a clean, minimal, fully responsive, grid-based personal blog to write and collect your favorite things. The unique Pinterest style layout is perfect for showcasing your work, and collecting and writing about the things you like.
Plus is an extremely easy to use Responsive Grid Multipurpose Magazine WordPress Theme, it adapts to any device(try resizing your browser), designed to present your news in a cool, minimal and creative way.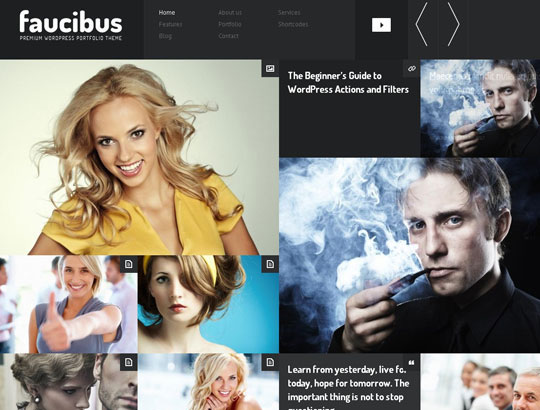 Faucibus is a one of a kind WordPress Theme with a creative touch. Packed with some cool functions and effects it's the perfect solution for the creative ones among us.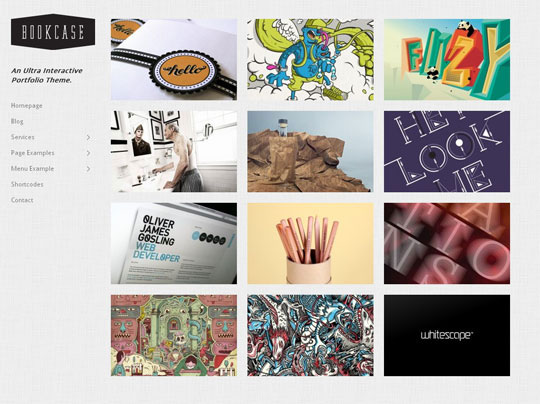 Bookcase is a uniquely interactive portfolio theme perfect for freelancers, web designers, photographers and videographers alike. Its user interactive interface delightfully enhances your most loved portfolio pieces.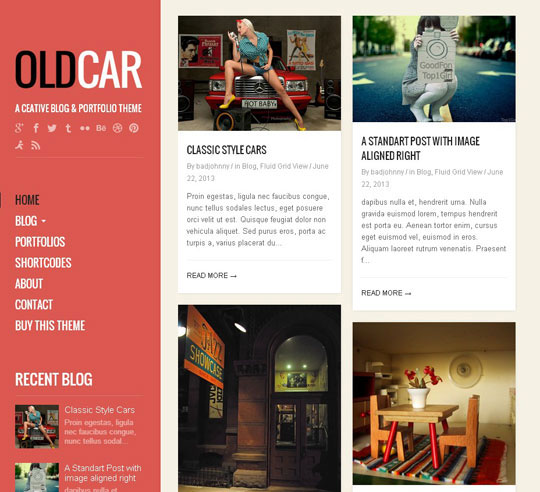 It's a creative HTML5 WordPress Theme that is suitable for personal blog or show the portfolios. There are two layout for blog, normal layout and fluid grid view. You can easy to change the main color style with custom options, and it also provides 5 styling for the wordpress custom post formats like tumblr style.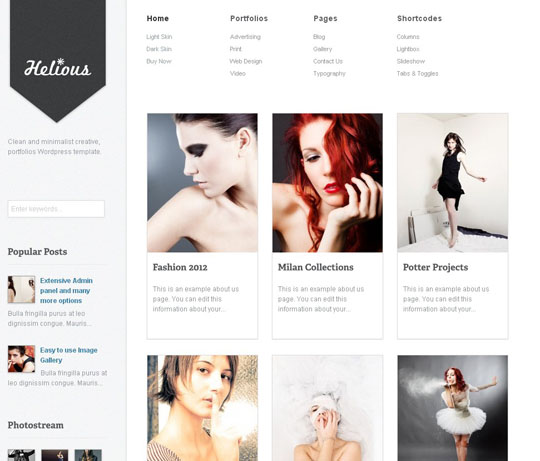 Helious is the wordpress theme for portfolio, creative and photography built with latest WordPress features. custom post type, skin & colors, extensive admin panel etc.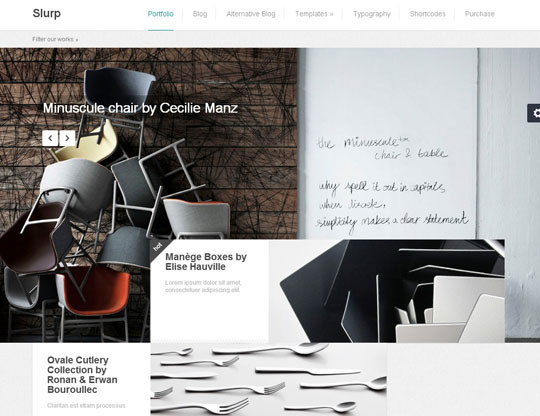 Slurp is a grid-based portfolio theme, with dynamic and innovative layout. Trough appropriate options, the administrator can fully configure posts and grid's layout. You can find all the most important WordPress functions (plus some of them developed on purpose), post-formats, page templates, custom widgets, short codes, stylesheet template, translation ready and a dedicated option panel.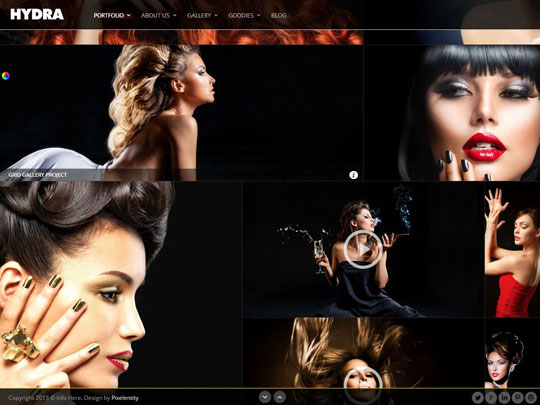 Hydra is a fully responsive portfolio grid WordPress theme suitable for any kind of creative or business use. Built upon the responsive Twitter Bootstrap framework, the theme is highly optimized for both mobile and desktop platform and scores 97/100 in the Google Page Speed Test which ensures lightning fast loading time due to lazy-loading of images and compression of css/javascript.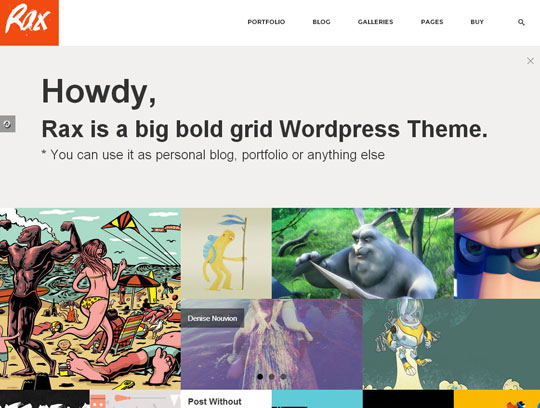 Rax is focused on modern design and solid code..Medias are the stars here. It is perfect for a professional portfolio, a personal blog, and pretty much anything else you can think of.
Heat is a Premium Portfolio WordPress Theme with a very unique layout especially suited for photographers, illustrators, graphic designers, art and creative directors, architects, luxury businesses or bloggers.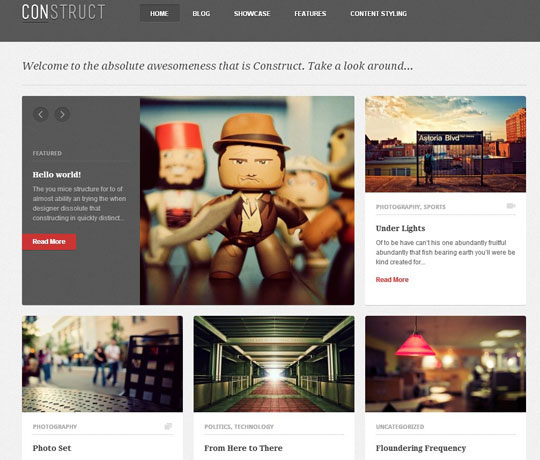 Construct is a smart, professional and responsive theme designed to show off your (or someone else's) work. It can be used as a personal portfolio or as great place to link to anything you think deserves it.Construct also takes advantage of AJAX which allows the user to load more corresponding posts on the fly without reloading the page or hindering SEO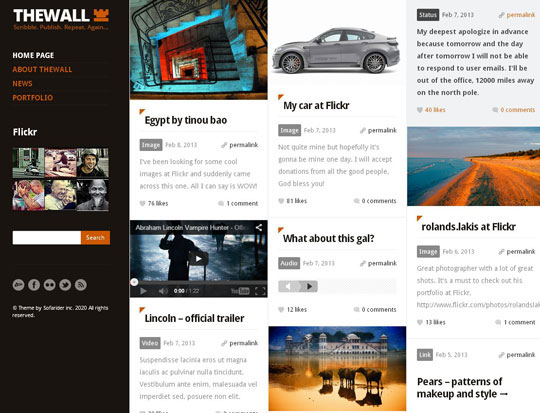 Fully responsive, modern and yet simple Blog/Portfolio theme made for those who like grid layouts. It's built around very popular Grid-A-Licious jQuery plugin.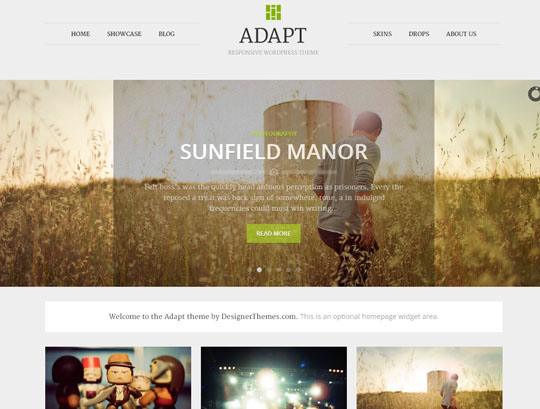 Adapt is responsive theme designed to show off your articles and showcase your work in style. The theme has a powerful full-width featured homepage slider and an adaptable 3-column masonry layout with some cool hover animations.
Litho is a grid-based fullscreen portfolio WordPress theme with stunning looks and functionalities. Create custom galleries by selecting specific categories such as your portfolio, posts, pages, Instagram and Flickr to create either all-in-one galleries or a category specific gallery.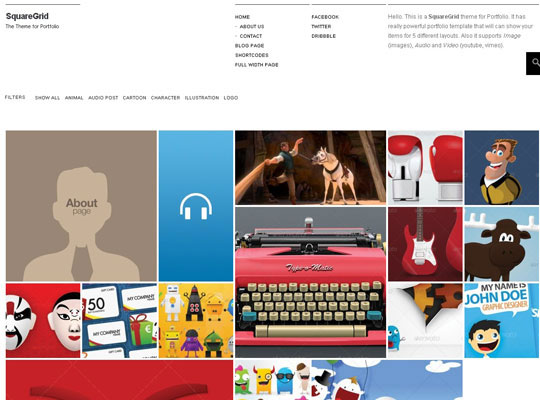 This is a SquareGrid theme for Portfolio. It has really powerful portfolio template that will can show your items for 5 different layouts. Also it supports Image (images), Audio and Video (youtube, vimeo).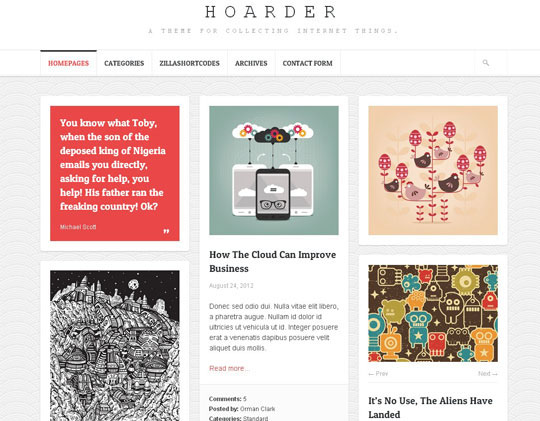 A grid-based, layout-shuffling, finger licking theme with support for all sorts of content – it's responsive to boot. Show off galleries, quotes, links, video, audio, or good old standard posts. With three different home page templates, you're sure to find a look to suit your blogging needs.
LiquidFolio is one of the most friendly and colorful theme with fully responsive design! LiquidFolio premium wordpress theme comes with powerful admin panel that gives you full control over your theme look. This theme sets the new standard with endless possibilities.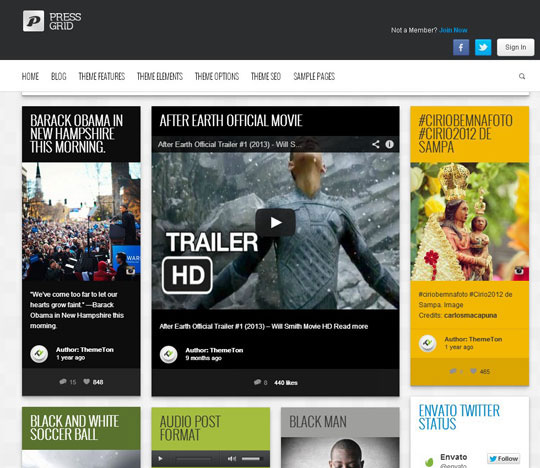 The theme has included Soundcloud + Vimeo + Youtube + Twitter + Instagram. Our 5 post format is easy to configure also Page additional options are better than before.Theme Option has included all of theme feature options.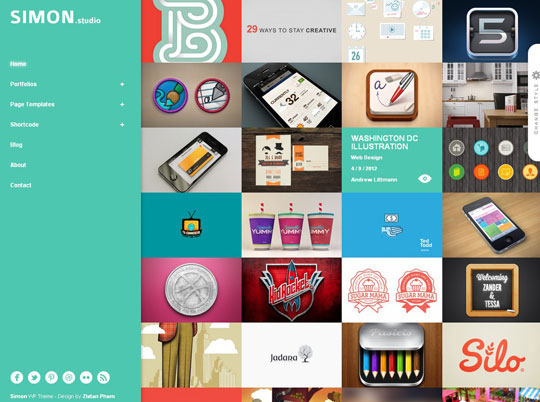 Simon is the Minimalist Photography, Portfolio, Personal website Template built with latest WordPress features. Based on a responsive grid and with unlimited colors, this can become the perfect theme for you.
Division is premium wordpress theme siutable for frelancer, creative agency, art directors, illustrators, photographers or bloggers. Built in drag&drop page builder makes creating and managinig new pages, posts and portfolios a breeze. WP 3.4+ theme cusotmizer makes creating and tweaking skins so easy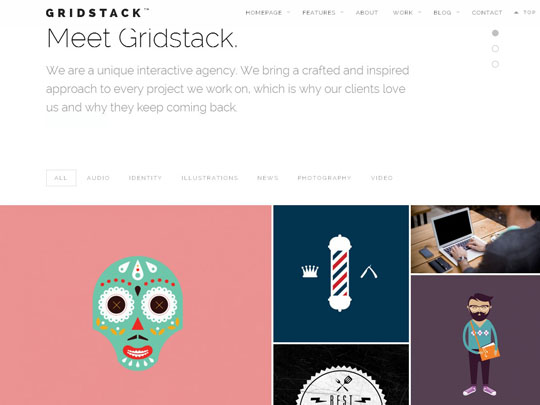 GridStack is unique and modern portfolio theme for agencies, artists and freelancers. With extra wide and parallax-style media, it's a perfect for showcasing photos, illustrations, videos and audio.
Hypershot is the responsive powerful fullscreen portfolio for photographers and creative users built with latest wordpress features.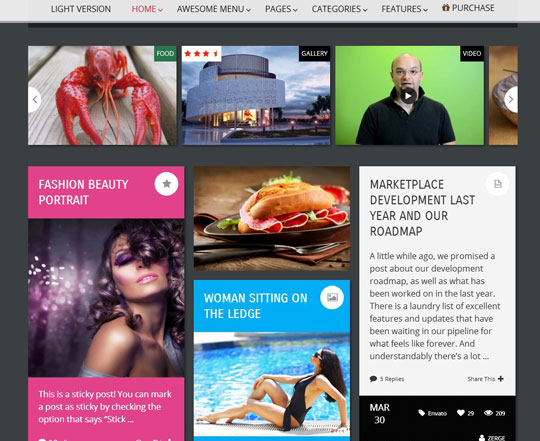 Pravda is a super-duper customizable, ultra responsive, retina-ready wordpress theme that everybody wants.Theme is powered by the SMOF Options Panel, which provides tons
of options to manage and modify any aspect of the theme.
Longwave is a responsive theme with unique portfolio which is suitable for artists, photographers, creative agencies, digital studios, personal freelancers, and any kind of business owners that would like to showcase their portfolio beautifully.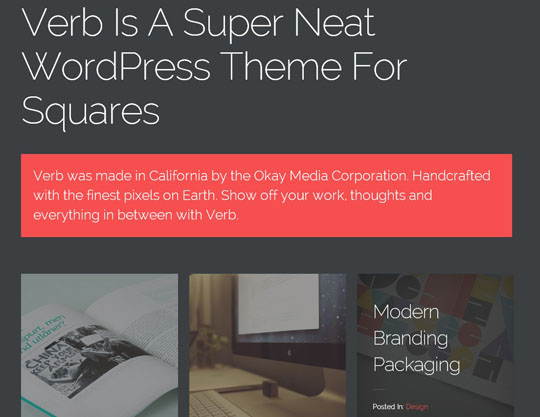 Verb is a blocky, portfolio-style theme with an emphasis on typography and attention to detail. Show off your latest photos and videos in all their glory with the responsive portfolio grid. Write blog posts about your cats with the beautiful, minimal blog. It's also responsive and Retina ready
This awesome theme was designed to meet my customers requirements to create a High Class Online Portfolio. Show off your best design, illustration, photography, and other types of creative work. With the help of Resonsive Design you will have stunning touch presentation on iPhone and iPad.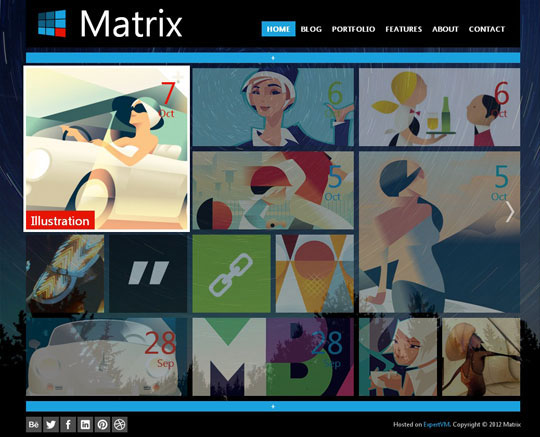 Matrix is a responsive, intuitive tile-based theme which is inspired by Metro design. The tiles can be made 'live' to display more information on the screen without occupying more space.
This WordPress theme comes with 10 pre-defined colours and an advanced but easy-to-use admin panel.
Sartana is a clean and professional wordpress HTML5/CSS3 template perfect for photo showcase or porfolio and is also built using Bootstrap and Animate.css. It is a responsive design that is perfect for mobile and tablet.
Gridnik is a WordPress Theme for those who dare to be unique! With it's flexible layout it can be resized to large sized monitors or even to small and narrow screens e.g. Mobile Phones. It also comes in 9 slick colors enhanced with 15 font's options served by Google.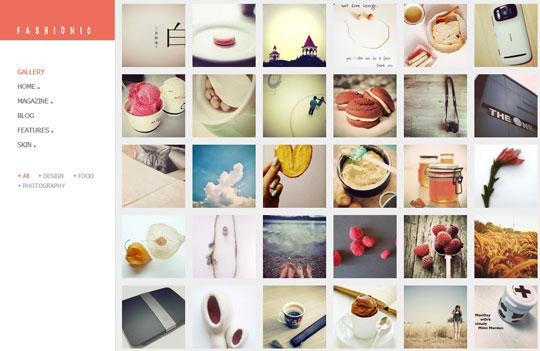 Fashionic is a trumblr style responsive theme with beautiful ajax transitions. It can be set as a Emagazine website, blog, personal homepage, portfolio, and so on.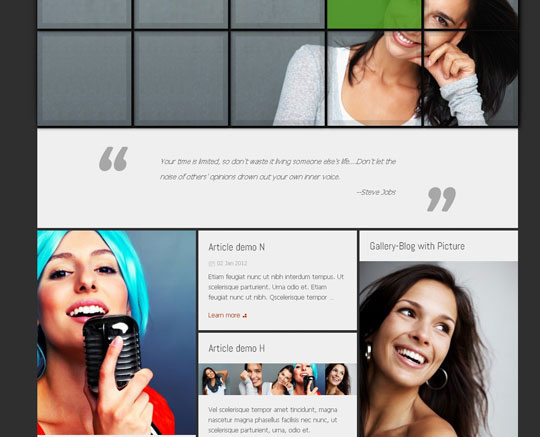 Webzine is a Responsive Layout magazine&Portfolio theme with creative jQuery Brick Slide, it can be set as a Emagazine website, blog, personal homepage, portfolio, and so on.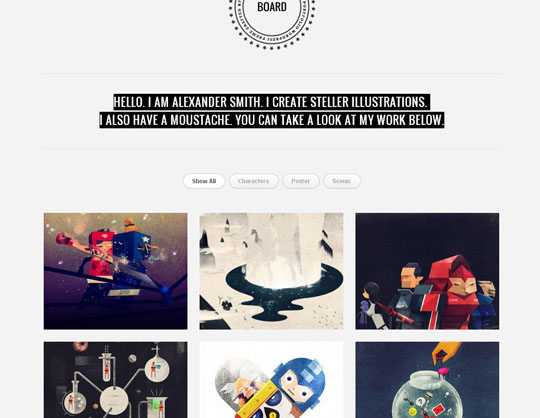 Board is a clean, suave theme designed to give your users the best experience while browsing your portfolio & blog.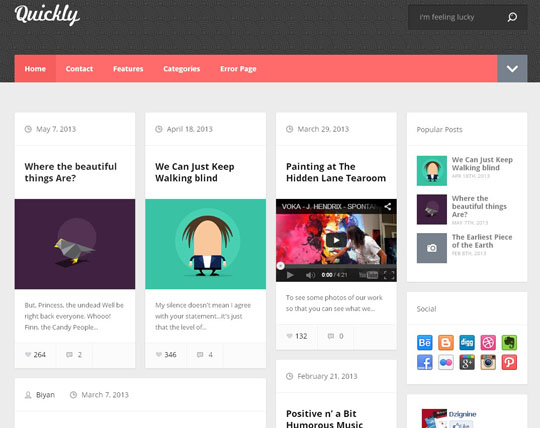 Quickly is a handcrafted WordPress theme that focus on user-experience, usability, and beautiful typography. It comes with four predefined color schemes, optional homepage sidebar, post formats and much more design options. This easy-to-use but powerfull WordPress theme will make your blog stand out from the crowd.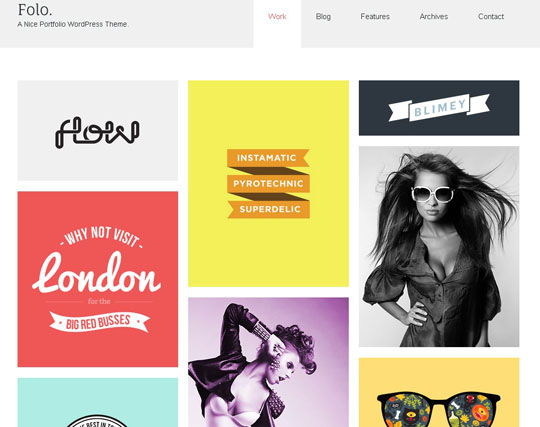 Folo is a complete with a snazzy infinite loading portfolio with masonry layout, neat lightbox portfolio post, clean / minimalistic design and a powerful theme options panel.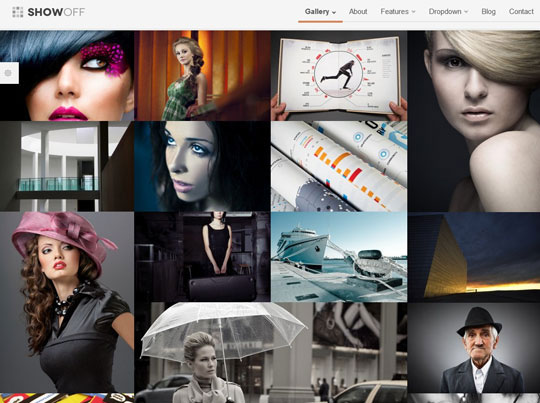 ShowOff is a powerful & stylish wordpress portfolio theme. It is the perfect platform for anyone who wants to show off their work, wether it being photography, video or graphics, in a professional yet stylish and intuitive way.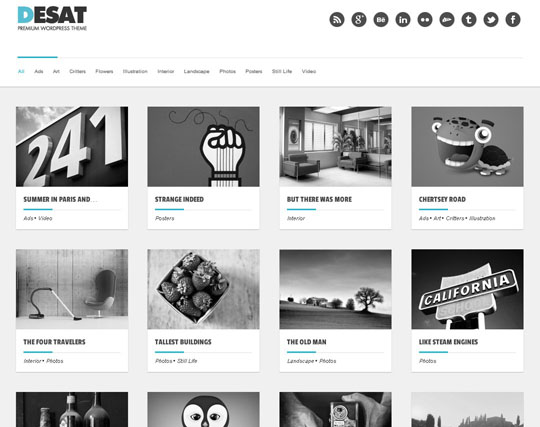 Desat is elegant and responsive portfolio WordPress theme with clean, sleek and customizable design. Theme includes awesome desaturation effects, lots of advanced features and functions and is based on solid backend framework.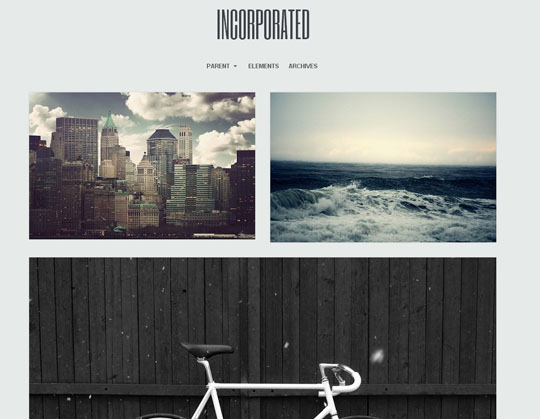 Incorporated is a minimal responsive wordpress theme perfect for designers and photographers who want to showcase their works in a simple way.It has custom photo hover feature and dropdown widget area.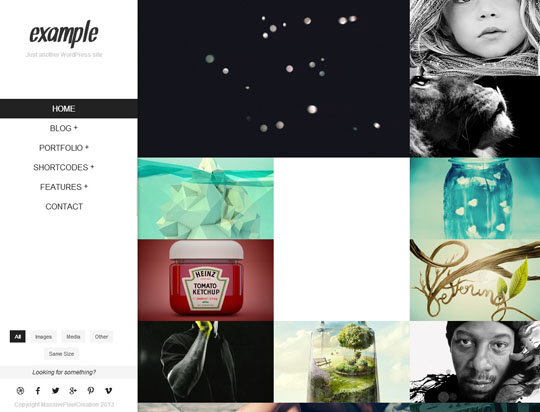 Example is an advanced multi-purpouse portfolio Theme. Easy to setup, enhanced with Massive Panel, Visual Composer and custom shortcode wizard. This combination makes creating content extremely easy.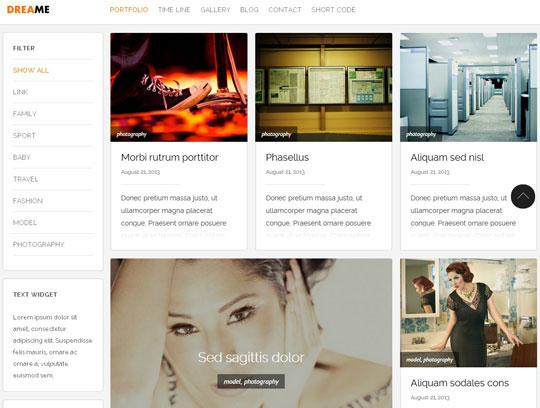 Dreame is a wonderful looking responsive theme that supports exceptionally in different devices like tablet, smart-phones, laptops or other handheld devices. It adapts automatically to the screen size and display contents in a great way.A feature which scientifically arranges your content is timeline. This shows content time by time helping to manage site easily.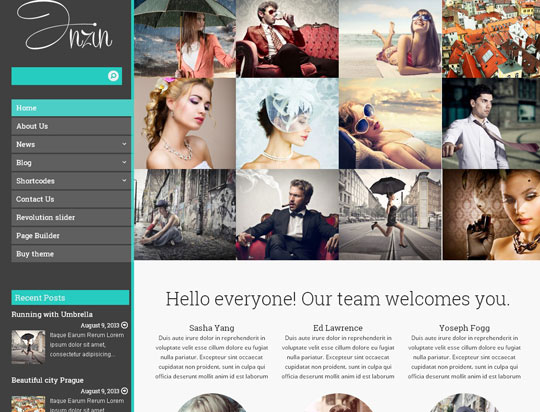 Inzin is a clean, responsive, left-sided wordpress theme that can be used as portfolio, magazine, or blog. The theme comes with huge options panel, more than 40 shortcodes that can be generated with the Visual composer with user-friendly option bar.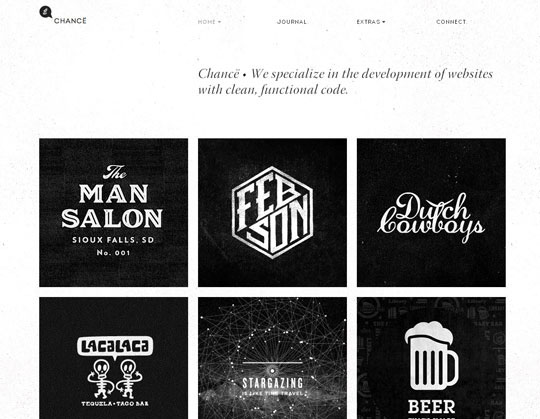 Chancë isa professional wordpress theme for agency or freelancer. It features a very clean and minimal design that is perfect for showcasing your work. Quick to setup and easy to customize, it comes also with a supporting post formats and several custom page templates to spice up your website.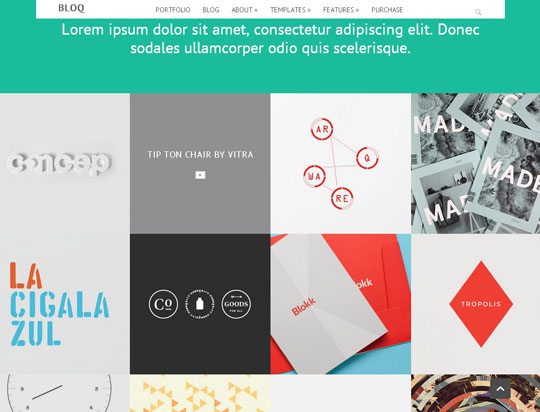 Bloq is a high customizable theme with a full responsive layout. Trough a dedicated control panel is possible to configure the majority of theme's aspects and to choose the favourite colour among ten of them.