For professional designers and graphic designers, creating a website can come with some difficulties. For example: the technicalities. Coding each and every website is not only very difficult, but time consuming too. While it's easier to pay a developer, the cost can outweigh the benefits. There are plenty of DIYs platforms, but designers need something more sophisticated that fits their high needs for creating beautiful designs and managing multiple clients & websites.
This is where Webydo steps in. Webydo gives designers the online software they need to create pixel-perfect websites without writing a single line of code. Every feature that's in the Webydo dashboard was created with designers' needs in mind.
In clear contrast to DIY templates solutions (such as Weebly, Wix or IMCreator), Webydo offers a sophisticated Design Management System (DMS) which gives designers the essential features they need within the system. With Webydo, designers can start designing a custom tailored website for their customers from scratch, using familiar professional tools used in softwares such as Adobe's Photoshop or Indesign. However, Webydo allows designers to design in browser, see their interactive web design in action immediately and create advanced cross-platform business websites with built in CMS (Content Management System) for their clients.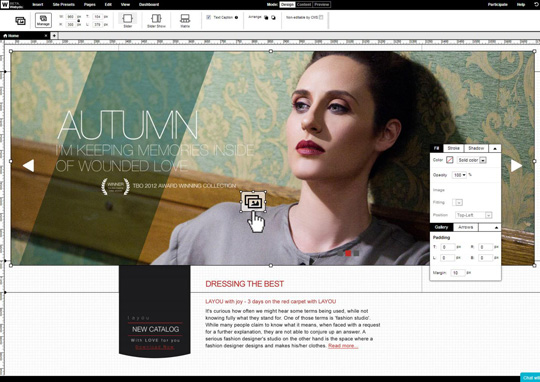 Webydo's website creator lets you design and operate professional websites without needing any coding or programming skills and is designed by designers and designed for designers. All the features that Webydo uses were suggested by their community of designers themselves. Who else besides a designer can understand the problems faced by another designer?
Like any other thing, we are here for making business and Webydo empowers professional designers by letting them create a whole business by using their online platform. That's why they created something called DMS, while still having an integration of CMS.
DMS is what allows the designer to design freely without writing code in a powerful professional work environment.
An integrated CMS is for the client so that it's is easy to use in order to update the site's content.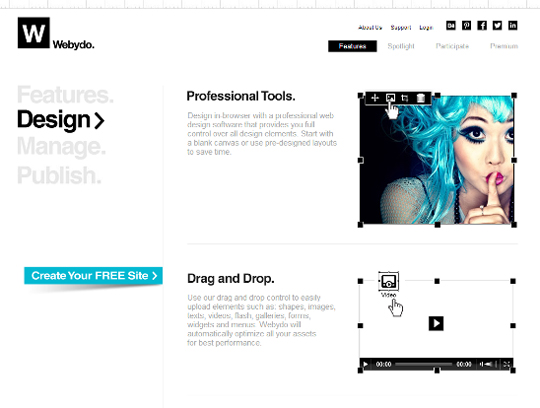 Tools
The professional web design software of Webydo gives you full control of over all the design elements of your website. You can in-browser editing so that you can see immediately how your design will look like when it goes live. You can start with a blank canvas and design the site from scratch or you can choose a pre-designed layout to save time.
Drag and drop
This feature is important because it makes things easier for you.
Compare this to using HTML or CSS code. In such codes you have to specify a position on screen wherever you want a specific element to appear. You have to insert numbers for rows and columns and things like that. You see? You are getting frustrated just by reading this.
On the other hand, with Webydo you can drag the different elements onto any position of the page and drop them wherever you want.
No codes involved
You can convert any design into code automatically using Webydo with pixel-by-pixel accuracy. The software automatically converts your design into an updated HTML codes + CMS. So you won't have to manually write the code line by line.
Many fonts
Webydo hosts hundreds of free open source fonts where each one of them is optimized for the web. Webydo understands that each website requires a different look and feel and hence different fonts. Choosing a font is not something trivial. It makes a large impact on your overall site design.
Now you can receive a massive 69% discount for Webydo's Professional Yearly plan, using a code exclusively for our readers at DesignBeep.
All you have to do is to register with Webydo (it will only take you 4 seconds), then come back here and write what do you think are the best features on Webydo?
This offer is only available for the next 96 hours.
Webydo's team will send you an email with the coupon code if you complete the above requirements.
So go and check the site out and design a website with it.