,    
Most of us often have curiosity to know what can work for your online retail store and what don't work. There are many online stores that are making good sales and many others that are not even being noticed by the people. As such there is no remedy to win the war of users' attention on the internet and drive them to spend money on your products or services.
However, if you still keen on taking your online business to the sky level, there is no magic wand for it. Don't be sad!! Below are a few most important things that your niche wants on your retail website design. Ensuring all these things in your ecommerce web design will help you thrive on the World Wide Web:
Simpler is Better
A website design is not an opportunity for you to showcase the end users how complex the advanced technologies are. The users expect everything to be simple and sophisticated on your websites, especially when we are discussing of ecommerce web design. You can surely integrate incredible design concepts, but not the cost of user-friendliness.
Discounts, Hot Deals, New Products and Encouraging Shipment Norms
Well, who doesn't want the discount? Even if you are offered a chance to save $2-3, you will be encouraged to cash on it and so as the people think of it. People treat themselves as very special beings and thus they expect special offers, hot deals, featured products and easy shipment terms on your online shopping cart.
Customize your Shopping
If you have a huge catalog or products to accommodate on your online store, you can showcase all of them on the front page. Thus, the big retailers allow customers to customize their shopping experience based on brand, category, age, gender, price and so on.
Advanced Search Options
When we think of online shopping, there are mainly two types of buyers: those who know what they are searching for and those who can of course spend some money but not sure of what they are looking for. Advanced search options are for the customers who fall in the first category. If the buyer know which brand he/she wants to go for and at what price or which model, why to waste time on showcasing them all the stocks?
Smart Product Listing
Say if you are selling more than a thousand types of products, obviously you can't showcase all of them on the home page. And it's not even worth to do that. In such case, feature only most salable and most interesting products on the home page.
Contact Information
Online shopping is the latest bandwagon out there, but there are people who still worried about the quality, security and post-buying services from the online retailers. Offering guarantees, warranties and a proper contact information will help users rely on your e-outlet.
Favorite List
The majority of good ecommerce website have the favorite list option wherein the users can save the products they like. Some stores also allow a user to share his/her favorite list with the other users.
Easy Payment Options
Online shops are always targeting global market. Now, every country has different payment methods. So, you have to integrate as many options as you can. At the same time, you also need to make sure that your payment process is smooth and quick.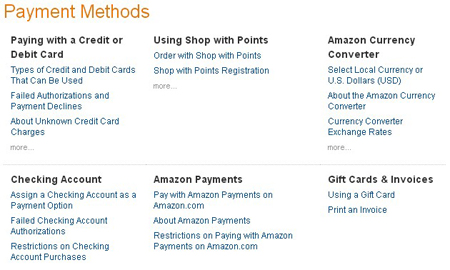 Member Registration
Surely you can offer a plain login form on your website where users can sign up for your membership. However, it is not wise to force them for the registration process. You can also offer a guest checkout option.
Walmart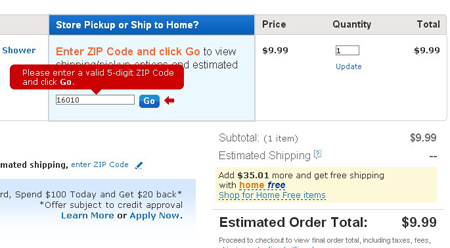 To-the-Point Company Information
Sharing a company name, logo and products you offer is necessary. But, it is not wise to claim big sentences in the self-promotion. Be straightforward and mention a brief of who you are and what you offer.
To sum up, all these tips in the post are very instinctive and considering them while ecommerce web designing will help you get most of it.