,    
Designing business applications is a challenging task and one needs to thoroughly know its knitty-gritties to come up with the best solution for his/her client. Most of us tend to use websites and web applications interchangeably. However, both these are quite different from one another. The primary objective of a website is to inform its users and includes static web pages with a bit of images, video and such other multimedia content. Today, many websites are powered by content management systems to offer users a more dynamic experience. On the other hand, a web application is an entirely different thing. Web applications allow their users to perform critical tasks that improve their productivity and efficiency levels.
Business applications are a very niche genre of web applications. These allow their users to streamline various processes and improve productivity levels considerably. Designing business applications, therefore, is a different ball-game. One needs to take into account various factors and end-user requirements to craft the best UI design for a business web application. Some of the most common types of business applications would include document management systems, invoice systems, CRM applications, banking systems etc. There are open and closed applications as well. The former refer to those applications which are easily accessible to anyone whereas the latter can only be accessed by an organization's staff over the internal network. So, let's find out which things are extremely important to design the best UI for business applications.
Know Thy Users

This is one of the foremost things you need to know and consider before you start designing UI for a business web application. Being one of the most important factors to be considered, this is often the most neglected part as well! Understanding the users thoroughly is the first step towards crafting the best-ever user experience for business applications. So, how do you know your users? Well, there are various ways to know more about them. You can interview the users and even rely on the shadowing technique of observation. All this helps you know in-depth about how your users use computers and their knowledge of the systems.
If this does not help, you can go for personas, a powerful tool that helps you know & identify your users. Besides this, task analysis helps a lot about getting to know your users well. It offers critical insights about the kind of tasks users perform, time taken by them for doing so, and how exactly they do the task. Seeing how the users use old business applications also helps you know about the errors and the kind of functionalities the new application requires. No matter who your users are, you will have to find out in detail about those who are experts at using the application and those who are beginners. Sometimes, you need to design a UI that takes into account the requirements of both such users.
Sketching & Prototyping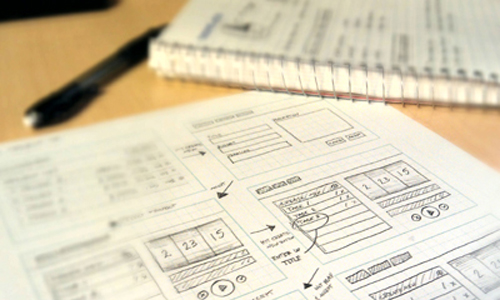 These two things are highly important if you want your users to experience nothing less than the best! You can go for sketching wherein you can sketch different ideas & concepts to arrive at the best solution. Remember that sketching is not the same as wireframing. The latter is different which includes the development of ideas & concepts. Once you have the best sketches with yourself, you can go for wireframing and explore these in detail. Creating prototypes is very much crucial as it helps you understand how the actual business application will look like in real. There are sophisticated prototyping software available including Axure. What's more, you can even create a prototype in PowerPoint.
Components

Never ignore the importance of components in a business web application. You need to carefully work out on web forms and dashboards. Try and make the login forms as simple as possible for your users. They like simplicity. Make sure that the dashboard of your web application is as intuitive as possible. Dashboards are important because they allow users to have access to different parts of the web application. So, ensure that it is clutter free and helps users navigate easily and access information with just a few clicks! The use of tables is indispensible when it comes to crafting business applications. Try and come up with tables that are interactive and help users generate information in a seamless manner. Besides these components, you also need to take care about reports as well. Most of the businesses need to generate custom reports. So, to give your users the best experience work on the design of reports with utmost care!
Designing for Efficiency

Efficiency is central to business applications. The ultimate objective of these applications is to make the users more efficient with their tasks. Design the UI in a manner which helps end-users to accomplish complex tasks in an easier, faster and simpler manner. As mentioned earlier, analyze the tasks performed by your users and if you find that these are long enough, make sure to break these into smaller ones. Focus on providing keyboard shortcuts to enhance the efficiency of your users. Provide them with as much keyboard support as possible. It will certainly make them more efficient. Work on the accessibility part of the web application. It is extremely important! Next, offer your users a personalized experience, they will certainly learn faster this way. Allow them to choose widgets, create shortcuts and much more. They will love it!
Designing UI for business web applications is definitely an art in itself and one cannot master it in a day or two. It requires lots of practice, consideration for end-users and most importantly the passion to offer users the right experience!
UI Design Patterns
You must be wondering, why should one consider UI Design patterns for designing business applications, right? Well, these are quite helpful in designing the right user-interface for your users. Considering the patterns at the sketching stage helps you eliminate common problems and even allows users to get acquainted with the business application in a faster manner. Choosing the right pattern certainly paves way for an enhanced UI experience.