Loadtestingtool.com is proud to present WAPT, a web application load, stress and performance testing. This will come to your rescue, if you too desire to find out how does your website work under load or if for instance, you would like to test your website, some business applications, web portals, mobile sites, and so on. In the following paragraphs you will find out that at least as far as money and efficiency are concerned this is the best tool one could use, when it comes to load testing.
Because the subject concerning the money issue was mentioned, let's talk about it first. If you wouldn't like to spend much money, you are welcome to purchase the regular version of WAPT, which costs $700. However, if your business is more advanced and therefore the professional tool is something that might interest you, then you should know that this is available at $1200. But, in addition to this, there is also the x64 load engine extension, which works only with the professional tool and which will be purchased for $900. And last but not least, one could get interested in the Modules, which include: ASP.net testing available at $250, JSON format only $250, Adobe Flash testing for $350, Silverlight testing at $300, GWT testing only for $350 and if one desires the all five modules in one package it comes at the special price of $950.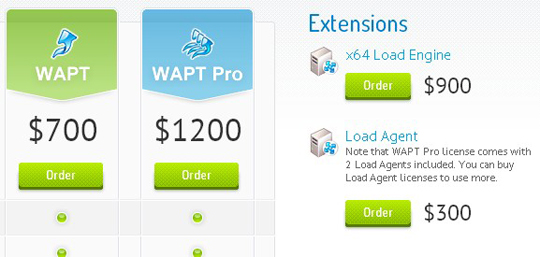 In order to give you more info about these two products, you should know that the WAPT version will offer you comprehensive test reports with over 20 tables, support of RIA technologies and mobile applications, test recording with any desktop or mobile browser, and so one. Whereas, the Pro version contains besides the regular features: remote management of time execution, database performance monitoring or integration with x64 load engine, which is ideal for larger volume tests. Oh, and the nicest thing of all is the fact that these two evaluation versions are provided with a period of 30 days trial, time in which all the features will be fully functional, except the maximum number of virtual users. Therefore, you have the possibility of testing these tools before actually making a purchase.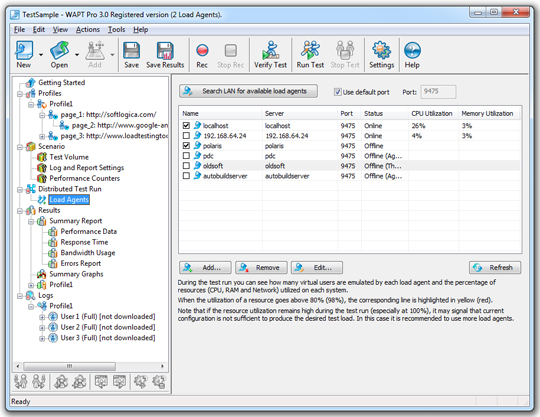 What makes this team extremely efficient is the fact that apart from their products, they also offer additional services that definitely help the users. For instance, they have a service called configuration consulting, in which they help you save your time and money, by performing the analysis of your project and by providing you recommendations for the optimal software and the hardware configurations, without charging you. Also, they offer a test development service, in which they make adjustments to your virtual user profiles after recording them, and then they explain everything they have done, so that in the future you and your team will manage to follow the exact steps. And eventually you could use their load testing service, a service which implies you hiring their team, in order to test your website, for which you will have to pay an affordable price, and instead you will have the work done in one week by a team of professionals.
So, this is what loadtestingtool.com could do for you. If you are interested in their services go to their webpage and purchase the appropriate item for you.