HTML5, CSS3 and responsive design are new features that you can take advantage of to give your blog an edge for the future. Unfortunately, most WordPress theme providers haven't caught up with the times yet, and only a few are offering high quality responsive themes. But there are a few companies out there that do, and MyThemeShop is one of them. We have a coupon code and a review of our experience with theme here.
MyThemeShop lists themselves as a provider of premium WordPress themes, launched to offer quality themes at competitive prices. Right now, MyThemeShop has over 16 themes that are all responsive, as well as a few free themes.
MyThemeShop Details

We tested some MyThemeShop themes and checked out the features, code and overall experience, which we were quite impressed with. Just as a disclaimer, we are not associated with MyThemeShop in any way, so here's our review.
– Multiple themes available to choose from.
– Themes are updated and new themes are released on a regular basis.
– Buying a theme gives lifetime access to that theme, support and any updates.
– Themes are all responsive and function on mobile devices and different browsers without the need for plugins.
– Themes are all fast to load, which helps with user experience as well as search engine rankings.
– The built-in options panel lets you control almost every aspect of the theme from typography to colors and functionality.
– Themes follow the SEO best practices and are coded cleanly by hand.
– Themes work properly with 3rd party plugins such as SEO and caching plugins.
– Themes include documentation with the theme, as well as PSD files and screenshots.
– Themes come with support through the forums which has a huge knowledgebase.
– Staff is friendly and helpful both pre and post-sale.
Coupon Code for MyThemeShop
MyThemeShop has some coupon codes, and we have one here that will help you save 20% on every theme purchase you make. Just enter it when checking out with the themes.
MyThemeShop Coupon Discount – DESIGNBEEP20
The List of MyThemeShop Themes
DotMag is a flexible magazine WordPress theme that features a slick featured post slider and a dual column layout that is guaranteed to engage your readers.
Fortune is a multipurpose, responsive Adsense WordPress theme that works perfectly for magazine and personal style blogs.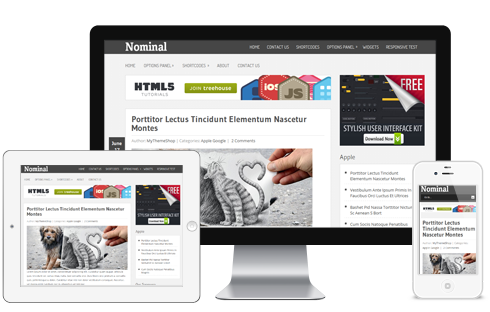 Nominal is a WordPress blog theme that is responsive, clean and optimized in every way. Nominal helps you elevate your blogging with its included features.
Trendy is a multicolumn WordPress magazine theme. With a featured slider and multiple post displays, you can maximize pageviews from your visitors.
Boxline is a clean and modern WordPress theme that is perfect for magazine or personal blogs. With soft grays, the splash of color makes action items really pop.
Textured is an awesome WordPress theme that makes use of a variety of textures to add subtle accents to your content.
Highlight the quality of your content with Minimalist. A responsive theme with clean, subtle accents, Minimalist will make your content shine.
Metro is a WordPress theme with a sense of elegance. Inspired by the Windows Metro visual style, Metro brings an ultra-modern style with a dynamite structure.
As we mentioned, MyThemeShop has a growing list of themes, all of which include the above features. They have a lot of premium themes and also some free themes with they offer support on as well. Here's the current list of themes from MyThemeShop.
How To Win
– Just drop a comment and tell us which theme(s) you like most.(All themes)
– Tweet or share on Facebook about this giveaway.
The giveaway will end on September 19th 2012 and the 5 lucky winners will be chosen using random generator.
Good Luck!!!
Giveaway Expired!!!
Here are the winners;
– Bahador
– Mario
– Andreea
– yammie
– Gautam Doddamani