In today's technology, Internet dominated world, there is almost nothing that Internet can not cater to. With advanced technology and advent of Internet, things like buying, selling, looking for a job, buying tickets etc. have become so much simpler. In fact, you can get all your questions answered from Internet. All you need to do is type your question and you will be directed to several websites containing the answer to your question. Although there are tons of question answer sites thriving on the web, here is the list of 10 best questions answering sites from where you can get the answers to all your questions.
Ask

Ask.com is undoubtedly the number one question answering site that caters to people across the world and delivers the best answers from web as well as people. Found in 1996, it is a well focused search engine. It was founded by Garret Gruener and David Warthen in California. However, the original software was implemented by Gary Chevsky from his own design. The site is currently owned by InterActiveCorp.
Visit Ask
Answers


Another great question answering site. You get answers to all your questions here. This site combines the best of community driven questions and answers with a large number of reliable editorial reference books. It provides you with the best answers from WikiAnswers and ReferenceAnswers database. If you have some specific and socially complex questions then the best place to seek answers is WikiAnswers. Here you can ask questions, answer them, edit and even collaborate answers in numerous categories. ReferenceAnswers is a reliable editorial and provides best answers to who and what type questions. In fact, this is the strength of its database.
You can also get video answers in reply to your question. They prove to be really good as seeing something facilitates better understanding. Video answers has a collection of around 200,000 videos which are further divided into more than 200 categories. These videos provide you tips and many how-to guides. The videos can be accessed form video.answers.com.
This is not all. Answers.com now even supports five international languages- Spanish, Italian, French, German, and Tagalog.
Visit Answers
Allexperts


Allexperts.com was created in the year 1998. and at that time, it was the first big scale question answer service available. The site ha a large number of volunteers which include people from different domains of life like engineers, lawyers, doctors, scientists etc. Thus you can rest assured that you will get quality answers to your questions. Answers are absolutely free and are generally provided within a day. This site provides a revolutionary service. It provides free answers to your questions on virtually any topic. It has a set of expert volunteers belonging to different fields. All you need to do to get your question answered is to click on a link.
The main purpose of this question answer service is to provide an easy to use guide with pages that load quickly. In fact. It is the only service that provides this facility on such a broad scale. Moreover, it also gives you the option of asking your question from a specific person that you select and you will get a prompt response. It is definitely a revolutionary service as it brings together people from behind the books. All their experts are volunteers and are highly experienced in their area of expertise. Their volunteers are there to help people.
Visit Allexperts
Answers.yahoo


Another good question answer service is answers.yahoo.com. It guarantees to provide every thing that is there to be known. Here you can ask questions on any topic. It also allows you to share facts, your opinions and personal experiences. Besides asking questions, there are many other things that you can do here. You can also categorize. When you ask a question, you can categorize it in a topic and thereby make it easier for others to find it and answer it. You can also share your thoughts and answer open questions. When you ask a question, it is open for others to answer for 4 days. It is up to you to extend or shorten the time period.
Here users can also select the best answer form a set of many. If you are looking for a specific topic, then you can use the category list on the left side of each page to find open questions that are related to your topic. You can also search for questions and answers related to specific fields.
Visit Answers.Yahoo
Answerbag


This service is all about answering your questions. It caters to a wide range of questions and provide everything you are looking for- facts, opinions, or some entertainment. They have a team of professional researchers and community members who work to answer all your questions and provide you with the best information. They believe in providing great answers to questions and allow you to share your knowledge and explore their service.
Visit Answerbag
Linkedin


This service came into existence in the year 2002 but it was officially launched in May 2003. After completing its first month, it had a total of 4,500 members. The company is publicly held. Today it operates the world's largest professional network on the Internet in more than 200 countries ans has over 150 million members. The service is currently available in 16 languages which are English, French, Spanish, German, Dutch, Italian, Czech, Japanese, Korean, Indonesian, Malay, Romanian, Portuguese, Russian, Swedish and Turkish. Its members share their knowledge in more than one million LinkedIn groups.
Visit Linkedin
Answers.wikia

This service is a collaborative publishing platform. It allows people to discover, create and share content on any topic. It has a network of over 200,000 wiki sites. These are entirely written by community members who share their extensive knowledge and passion on different subjects ranging from TV shows, movies, food, video games, fashion, current events etc. It has a number of communities. Some of the biggest communities are based on gaming and entertainment like Marvel Database and World of Warcraft. But it also has some really comprehensive sites on children' books, ice hockey etc. you will even find a wiki on solar cooking. Their aim is to bring out the 'expert' in everyone.
Visit Answers.Wikia
Mahalo

This is another great question and answer service that caters to a wider range of questions related to education, jobs, sports, finance, food and drink, humor, music, travel, taxes, language etc. you are surely going to get all your questions answered here.
Visit Mahalo
Blurtit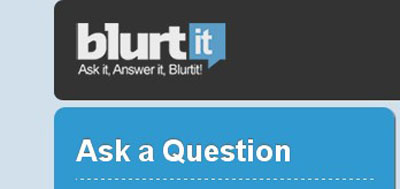 This is a very exciting online question and answer service community. It aims to revolutionize the way people learn and communicate. It provides answers to any question ranging from a current event, or any fact based issue. Here you get a 24*7 access to the world of information. It is a worldwide community and aims to provide answers to every question. It also allows users to find solutions to questions that do not have an exact answer.
Visit Blurtit
Quora


If you want to get connected to everything you want to know, then this is the place for you. It provides great answers to your questions and aims to be the easiest place to write new content and share information online. It also allows users to use boards to organize anything they read or think about.
Visit Quora